JALEN Green played down his monster dunk over towering teen prodigy Kai Sotto in the NBTC Division I All-Star Game on Friday, saying all he ever wanted was give the fans a treat.
The 6-foot-5 Fil-Am guard served up the highlight at the Mall of Asia Arena by taking the ball strong to the basket on a drive, absorbing the contact from the defending Sotto then throwing down a vicious dunk over the 7-foot-1 Ateneo slotman.
The highlight-reel dunk immediately trended on social media, but the 16-year old said he wasn't out to disrespect anybody.
"Of course, I want to come out and put on a show for the people who love me. Of course, there was always an effort to give it my all," said Green, who is ranked the best sophomore high school player in the US.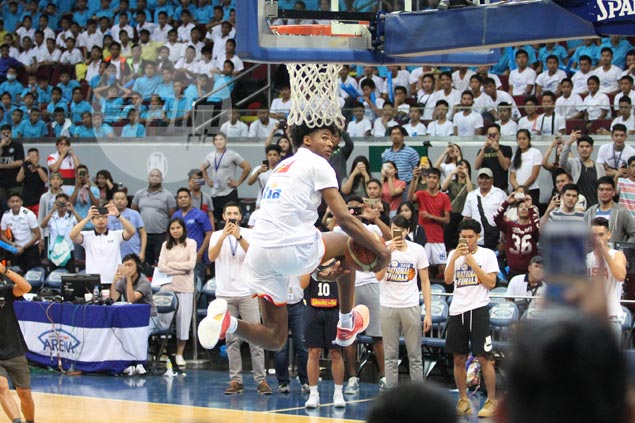 Continue reading below ↓
Recommended Videos
Green said is was both an honor and a pleasure to play in her mother's homeland.
"It was great. Since I've been here, the competition has been good. Better than the States, obviously. They don't call ticky-tack fouls, they let you play. That what's I want to do. I want to come out and play aggressive. Playing with the best players in the Philippines is always good," said Green.
Sotto, 15, also played down the dunk.
"Bakit big deal 'yun," said Sotto with a smile, when asked by reporters.
Chris Gavina, who coached Green for Team Heart in the match, said he has been looking forward to seeing the Fil-Am sensation tagged as the top prospect from the Class of 2020 by ESPN.
"I've been watching all his videos since I found out that he was coming here. I'm glad that I got an opportunity to see him live," said Gavina.
Green capped his explosive Philippine debut by scoring a perfect 50 points from all his four dunks to rule the slam-dunk contest of the event.
Green pulled off a between-the-legs dunk as well as a two-handed windmill jam to the delight of the spectators and the judges panel made up of PBA greats Danny Ildefonso and Kerby Raymundo, University of the Philippines cagers Juan Gomez de Liano and Bright Akhuetie, and Alaska rookie Jeron Teng
WATCH Jalen Green caps off his win in the #NBTC2018 Slam Dunk Contest with a 360 dunk @spinph pic.twitter.com/4zkGRjKr2b

— Reuben Terrado (@reubensports) March 23, 2018