CHICAGO - Moments after the Golden State Warriors swept through the 2018 NBA Finals following a 108-85 Game 4 blowout of the Cleveland Cavaliers last Friday night (Saturday morning, Manila time), the pungent smell of champagne and the aromatic fumes billowing from burnt expensive cigars wafted through the inner bowels of the Quicken Loans Arena.
In the hallway outside the Warriors locker room, agents, family members, and team security personnel milled about, their faces exploding with unbridled joy.
Clutching the Larry O'Brien trophy on his massive hands, JaVale McGee was seven feet of pure happiness. Steph Curry, Klay Thomspon and the usually stoic Kevin Durant were all smiles and high fives. Rookie Jordan Bell lugged a giant bottle of champagne and seemed determined not to let it go. Andre Iguodala morphed from serious to light-hearted. And David West, the oldest of these Warriors at 37, is young again.
Having previously covered 14 other NBA Finals as a credentialed writer, I've seen this ritual before. And It never gets old.
Winning an NBA title is the culmination of a months-long journey from October to June. The investment of time and the suffering it entails create a release that make grown men weep. It's a place where these Warriors ached to go again. And so there they were, on top of the world once more. Two years in a row and three of the last four. 
Had Kyrie Irving missed that late 3 in Game 7 of the 2016 Finals, the Warriors would have celebrated a four-peat. But given their accomplishments, which includes a historic 73-9 romp in 2015-16 regular season, it is no longer appropriate to just call Golden State mere champs.
They are a veritable dynasty. More powerful than Ming. Ruthless than Khan.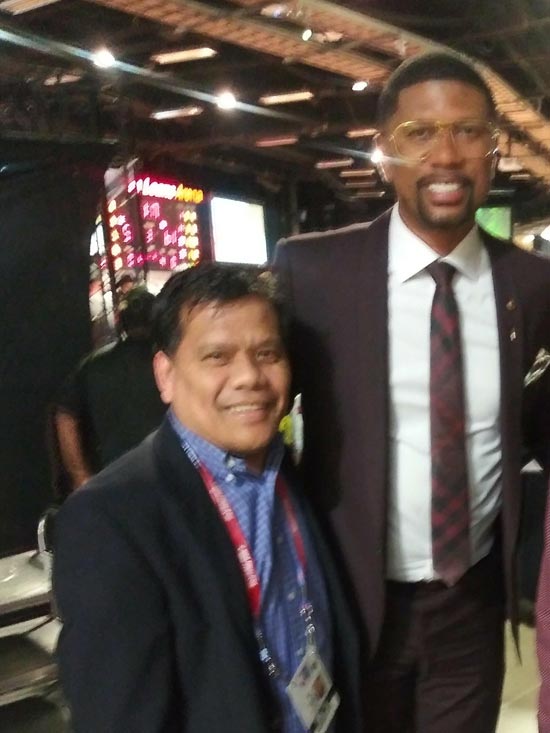 On the other end of a long and carpeted hallway sat the Cavaliers locker. It was lifeless out there, a room full of empty stares. They weren't just defeated, they were humiliated, 464-404, in four games. Broken by their nemesis, these Cavs will be certainly broken apart during what is destined to be a turbulent offseason. 
On an adjacent area where the media work rooms were situated, LeBron James had his post-game press conference. Unlike other prior occasions in this postseason when he decked an expensive Thom Browne suit or a swanky hoodie, LeBron covered himself with only a white T-shirt and some random pants. I guess its hard for the King to dress up when he had just been disrobed by back-to-back Finals MVP Kevin Durant.
A day after throwing his teammates under the bus, moaning about their inadequacies and unwillingness to "play for a championship," LeBron talked about playing with a "near-broken hand" after punching a white board following his team'e Game One meltdown. Instead of acknowledging the might of a vaunted foe, James made an excuse and ended up sounding self-motivated and so nauseatingly self-interested.
Apparently, the Cavs' mantra of "Whatever it Takes" does not include humility in defeat.
The fact is, even if LeBron had three healthy hands in those Finals, he couldn't muster a punch big enough to KO the Warriors. He scored 51 in the series opener and it wasn't enough. After hoisting 32 field goals in Game One, 20 in Game Two, and 28 in Game Three, LeBron only had 13 in Game Four. The Warriors simply took the fight out of him. And just as other legends have found their conquering match, like Evander Holyfield was to Mike Tyson and Pete Sampras was to Andre Agassi, the King has met his waterloo in Golden State.
Whether or not he stays in Cleveland is a story for another day. 
For now, its all about the Warriors. Their wonderful tale about the triumph of many against one. And the beautiful conquest of team play over individual brilliance.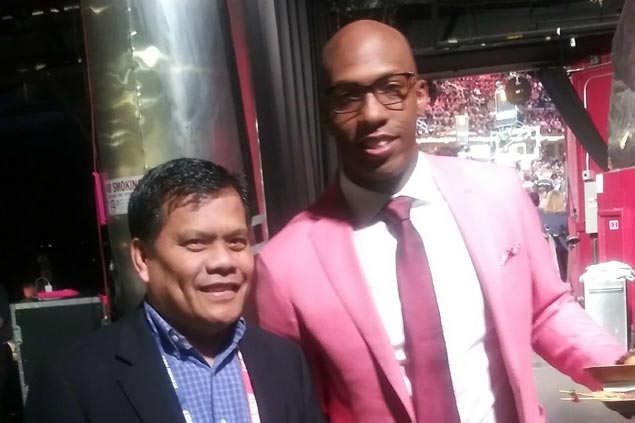 AND ONE. Sensing that Game Four was the only one I'd see in the 2018 Finals I made sure to make the most out of it. And I sure did have a hell of a time doing it.
The fun began three hours before tip-off at the media dining room where I toyed with a bowl of salad and feasted on sumptuous crab cakes. Shortly thereafter, I met my longtime friend and First Take host Stephen A. Smith of ESPN at courtside where we caught up and talked about Manny Pacquiao's possible date with Vasyl Lomachenko.
Jalen Rose, who once dated a Filipina, still yells "Walis, Walis Walis" each time he sees me. We spoke briefly at halftime and had a photo-op. I also got to meet the great Chauncey Billups, now an ESPN NBA analyst. The icing on the cake was meeting LeBron's favorite NFL player, Philadelphia Eagles quarterback Carson Wentz.
Beginning in 2012 I have decided to cover just the East swing of the NBA Finals. I don't know where I will be heading next June, all I know is that it won't be in Cleveland. I also know that just like the 15 Finals I've had the privilege of covering, the 2019 version will be a blast.