EMPOWERED women continue to change society for the better, and this bunch of Dabawenyas is adding to the cause.
They're not just the adventurous, outgoing women, but they got heart. And yes, they got game. These brave ladies make up Girls Got Game Philippines, a non-profit organization doing their share of free community service in the form of sports. GGG Philippines is composed of a bunch of twenty-something girls who now devote their time conducting free sports camps around the country.
Founded in 2015, GGG has two branches so far — the first one in Manila and another in Davao City which only commenced in January this year.
Heading the GGG Mindanao branch is 23-year old managing director Celina Jaldon, a former member of the Ateneo de Manila women's football team. It was Jaldon and another Atenean, Paola Salvador, who convened the Davao branch of GGG.
The team is composed of girls with diverse backgrounds, including Kai del Corro, a finalist in the 2016 Mutya ng Davao pageant.
ADVERTISEMENT - CONTINUE READING BELOW ↓
"It's very fulfilling to be a part of this team," Del Corro, one of the non-athletes, told Edge Davao.
"Ako naman not an athlete, but I'm the link to Gawad Kalinga. That's my contribution," added the former apprentice-reporter of Edge Davao who is now the GGG team's Athletes Manager.
The GGG camps usually run for two days and are for girls 10-12 years old. The participants are from marginalized low-income communities or areas that do not have much access to sports.
"We teach four sports: basketball, football, volleyball, and rugby. The camp usually runs for two days and within those days we make it a point that the girls have fun learning these different sports while integrating our key values when coaching: discipline, respect, teamwork, perseverance, and integrity," said Jaldon.
"GGG Philippines aims to empower young women through sports - fostering an environment of friendship where they can have fun and learn something they may have never experienced firsthand before or to entice them to redirect their energies into activities that could provide them with positive opportunities," she added.
ADVERTISEMENT - CONTINUE READING BELOW ↓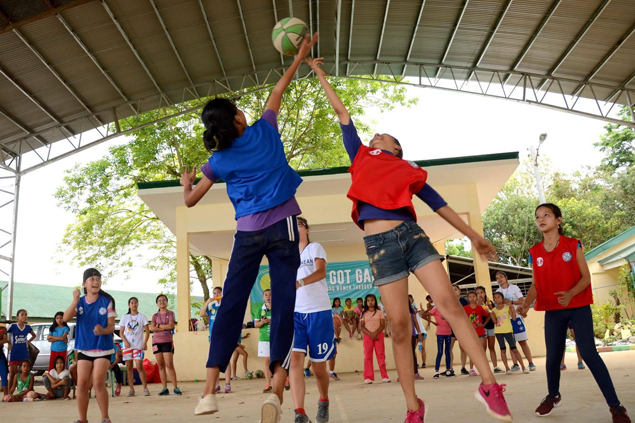 Aside from Jaldon and Del Corro, other members of the team are Paola Salvador, Karina Salvador, Karilla Mozar, Hiromi Takeda, Rica Andico, Ann Monroid, Vina Ansaldo, Daphne Sy, Blessie Delos Santos, Bea Reyes, Darlene Lallen, Anna Santos, Miguel Herrera, Philippe Manalaysay, and Marice Magdolot.
Not all members are girls, though. There are also male members who act as coaches.
ADVERTISEMENT - CONTINUE READING BELOW ↓
Jaldon described the core team as 'women (mostly) and men from diverse backgrounds, but are all involved in sports or appreciate using it as a medium to teach life lessons.'
GGG recently held its first camp last Aprl 1-2 in Barangay Mintal at the Mintal Elementary School with 40 girls aged 10-12 years old taking part. The next camp will be in Los Amigos, Tugbok on May 13-14.
GGG may have just taken off but at the rate things are going and with the team's passion and energy, these women have blazed a new trail in sports volunteerism.