WHILE many of the Gilas Pilipinas players are slugging it out on the court in an intense practice session Monday night, some of them like Jeff Chan and Ryan Reyes are fighting a different battle on the sidelines.
The games and practices they have with their own respective PBA teams, coupled with the intensity of once-a-week Gilas sessions, inevitably takes a toll on the bodies of some of the country's best basketball players. So on this night, you see Chan limping to the side, pointing to some tightness on his hamstrings. Or Reyes settling down near the baseline, grimacing over some discomfort on his right foot.
In the middle of this conflict is Gilas strength and conditioning coach Dexter Aseron, P.T.R.P., C.S.C.S., the man with the unenviable task of keeping the already fatigued players in prime condition to perform for flag and country.
But rest assured, he's armed with a plan on how to get this version of Gilas, which he describes as "one of the most talented (national) teams na nabuo" since he became part of the Gilas program in 2011, in top shape for the 2016 Fiba Olympic Qualifing Tournament in July.
With Gilas players in the middle of the PBA season, Aseron's job is limited to no more than a couple of drills and stretching - for now.
Continue reading below ↓
Recommended Videos
"What we do now, basically, is for warm up lang, dynamic stretches to get the players ready for practice with coach Tab (Baldwin)," said Aseron, who also handles strength and conditioning for Talk 'N Text since 2007.
"Hinahasa dito for now is shooting and the mental aspects of the game so they learn the plays and how each one reacts to the plays. On the physical side, it's all dynamic stretching and no strengthening work, kasi in-season shape naman sila. Sa teams nila, ginagawa na nila yun."
Aside from handling the warm-up drills, Aseron also mans the fort in terms of attending to each player's fitness soon as they step in the Meralco gym for Gilas practice.
"Karamihan sa kanila, pagod na pagdating dito kasi galing sa game the night before o may nararamdaman. Nagpapa-stretch sila o nagpapatulong, so we treat kung anong kailangan ng player para matulungan sila sa problema nila physically," Aseron said.
While strength and conditioning work for Gilas takes a backseat for now, Aseron plans to ramp up the workload next year as soon as the players are free from PBA duties and solely focused on the national team. And Aseron is looking to bolster the team's unique speed advantage.
"Strength kasi madaling ma-maintain, tuloy tuloy lang na weight training 'yan. But our focus next year is on their conditioning dahil yun ang strength natin, yung speed," said Aseron. "Kailangan top level ang speed natin sa international game so by the time we ramp up our activities next year, we will focus more on their conditioning."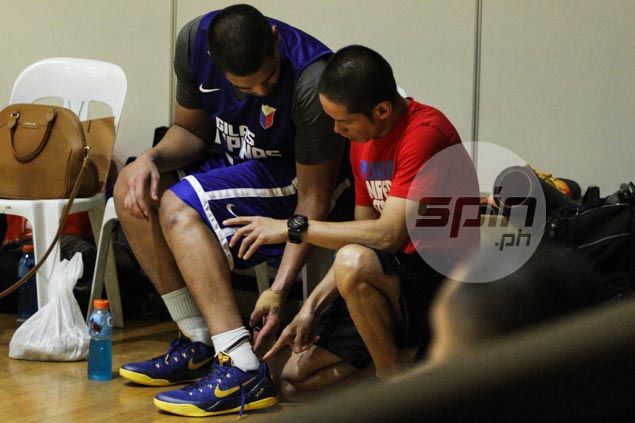 Aseron notes the different ways he plans to conduct conditioning work for Gilas when the team starts everyday practices by late May 2016.
"Conditioning work is every day. Sometimes we'll work on linear speed, other times lateral speed naman, then multi-directional speed. But what I'm sure is we'll work on it every day," he said, adding that strength training will also be done 3-4 times a week to complement the gains from their extensive conditioning plan.