CHOT Reyes stalked the 18th green of Wack Wack's West course, carefully reading the speed and every single break in his line of putt as meticulously as he broke down opponent's plays from stacks of game tape in his hotel war room during the last Fiba-Asia men's basketball championships.
The golf round – which he ended with a putt that slipped by the cup and a routine tap-in for par – was Reyes' first in close to three months, and represented a return to normalcy in his life after what had been a crazy two weeks that changed his life, perhaps forever.
"Ngayon nga lang ako nakalaro uli," said the Gilas Pilipinas coach two days after the Fiba-Asia showpiece, not necessarily complaining but thankful to go back to his daily routine and finally have the time to enjoy golf which happens to be one of his three biggest passions in life – basketball and fashion being the other two.
Crazy as they were, those 11 days of August marked perhaps the proudest moment in sports for this generation of Filipinos outside of Manny Pacquiao's exploits inside the ring. The impact of the feat, of course, is magnified a hundred fold because basketball happens to be the sport dearest to the Filipino's heart.
The epic win over Korea and the runner-up finish behind Iran was also a game-changer for Philippine basketball, which has had little to hark about since a national team coached by Ron Jacobs, bannered by Hector Calma, Allan Caidic, and Samboy Lim, and backstopped by two naturalized players won the 1985 Asian title in Kuala Lumpur.
That achievement, of course, glows even brighter if you look back on where we came from – decades of terrible beatings at the hands of China, those heartbreaks against nemesis South Korea, and, of course, those dark times during the BAP regime when we couldn't even compete in the SEA Games.
Needless to say, that glorious moment in Philippine basketball would not have been possible if not for Reyes, a flamboyant dresser and master motivator who served as the catalyst for a Philippine team that punched above its weight – thanks to a coach who pushed all the right buttons under the grinding pressure.
For that, Chot Reyes has been honored as Spin.ph's maiden Sportsman of the Year awardee.
Just to be clear, Reyes was a unanimous choice by the Spin.ph staff but was not without competition which came from Manny Pacquiao, who rose from a terrible knockout loss to Juan Manuel Marquez to beat Brandon Rios in November, and from De La Salle, which ended arch-rival Ateneo's five-year reign as UAAP champion with a rebuilt team that its own top benefactor conceded was still a work in progress.
However, the choice became easy to make when you consider that Gilas' Fiba-Asia dream run was, without a doubt, the biggest and most inspiring story of the year in Philippine sports.
Still, Reyes faced competition within Gilas itself, primarily from the players who made it all happen on the court, as well as from sports patron Manny V. Pangilinan, who went beyond what was necessary to bring the Fiba-Asia showpiece back to our shores and spent millions to make sure it was a tournament Filipinos can be proud of.
But we at Spin.ph believe that the Fiba-Asia tournament, the first to be staged in the country in 38 years, would not have become as memorable a story as it is now had Reyes and the Gilas team not reached the final or achieved its target of punching a ticket to the Fiba World Cup.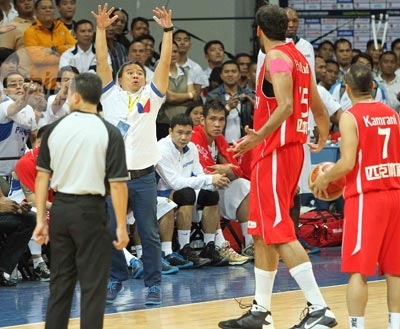 As for the players, they, too, deserved all the accolades that came their way in the aftermath of the shock victory over South Korea and the brave stand they put up against powerhouse Iran in the final while playing without naturalized player Marcus Douthit.
Still, we felt that no one had a bigger imprint on the famous triumph than Reyes.
The multi-titled coach made all the hard choices and fought countless battles from the time the team was formed all the way to the final against Iran. He handpicked the players given the limitations of the PBA board's commitment to the team, and kept the team's buildup on track despite a monkey wrench thrown by Taipei, which 'uninvited' Gilas from the Jones Cup.
But most of all, Reyes put the players in a position to shine in a system that started as the dribble-drive but soon evolved into something distinctly Filipino – not so different from the game we see being played day in and day out in courts put up in Manila's asphalt streets.
No wonder then that players like Jason Castro and Japeth Aguilar – two players who are better off cut loose than shackled by a rigid system – became two of Gilas' standouts in the Fiba-Asia. And small wonder that the Philippines became so unpredictable it became almost impossible to scout. The hardest game plan to prepare against, as Asia's top teams soon found out, is organized confusion.
They say players win games, coaches lose 'em. But that may not be necessarily true when it comes to Reyes, who is not one to shy away from the spotlight. In fact, he embraces it. He attracts attention on the sidelines with his fancy clothes and antics, dots his statements in press conferences with a lot of 'I', and makes sure he tweets big announcements well ahead of the media.
Reyes comes off as cocky, but he is not without humility. He had a frosty relationship with Aguilar during their time together at Talk 'N Text and once gave the enigmatic player a dressing down on Twitter, but he didn't hesitate to draft him for Gilas when he had the chance. Reyes took the national coaching job following the ouster of Rajko Toroman under acrimonious circumstances, but he sought the counsel of the former Gilas coach in the lead-up to the Fiba-Asia.
No one was under more pressure during the Fiba-Asia championships than Reyes, not only because of the enormous expectations placed on the home team but also because the coach failed miserably the first time he coached a national team back in the 2007 Asian championships in Tokushima, Japan.
Under such strenuous environment, when others may crack, Reyes delivered.
What Reyes and his gallant men delivered during those 11 halcyon days in August was a defining moment for Philippine sports that would be talked about in the years to come – and hopefully a major turning point for Philippine basketball as the country became relevant again internationally in the sport closest to our hearts.
But more than the silver medals they won in the Fiba-Asia, or the coming trip to the Fiba World Cup, Gilas' biggest achievement was that it made all of us believe that there is a future for Philippine basketball. They made us believe in the Filipino basketball player once again.
For that alone, we owe a depth of gratitude to Reyes and his band of bravehearts.