YOUNG players who want to see action in the Chooks-to-Go Pilipinas 3x3 League but still want to continue their collegiate careers need not to fret even after the league has turned pro.
League commissioner Eric Altamirano clarified that the professional status it gained only applies for 3x3 basketball and not in the five-a-side game.
"Chooks-to-Go 3x3 applied to become a professional but only in terms of 3x3. We only applied to professionalize our 3x3 league," he said in an online press conference on Wednesday.
Games and Amusements Board (GAB) chair Baham Mitra added that the professional license for both disciplines of the sport are completely different.
"They are professional 3x3 players, not professional five-on-five players. It's a different license and iba ang nakalagay sa lisensya. Yes, they're professional basketball players but they're professional 3x3 basketball players. If they play (in Chooks-to-Go Pilipinas 3x3), they have to get their license for 3x3."
There's still another way, though.
Players who still have collegiate playing years and want to suit up in the 3x3 league can be considered as "guest players" to still be able to be eligible for their mother leagues.
And they only need to write to GAB about it.
"Kung merong players from the collegiate league, welcome yan. We can admit them as guest players," said Mitra.
Continue reading below ↓
Recommended Videos
"They have to write us. It's just a piece of paper. It's no problem to us and there's no reason for it to be a burden for them. We're here to assist them. GAB naman was established to look at the welfare of the professional athletes, and kung ano man ang maitutulong namin sa athletes and sa league, we'll do it."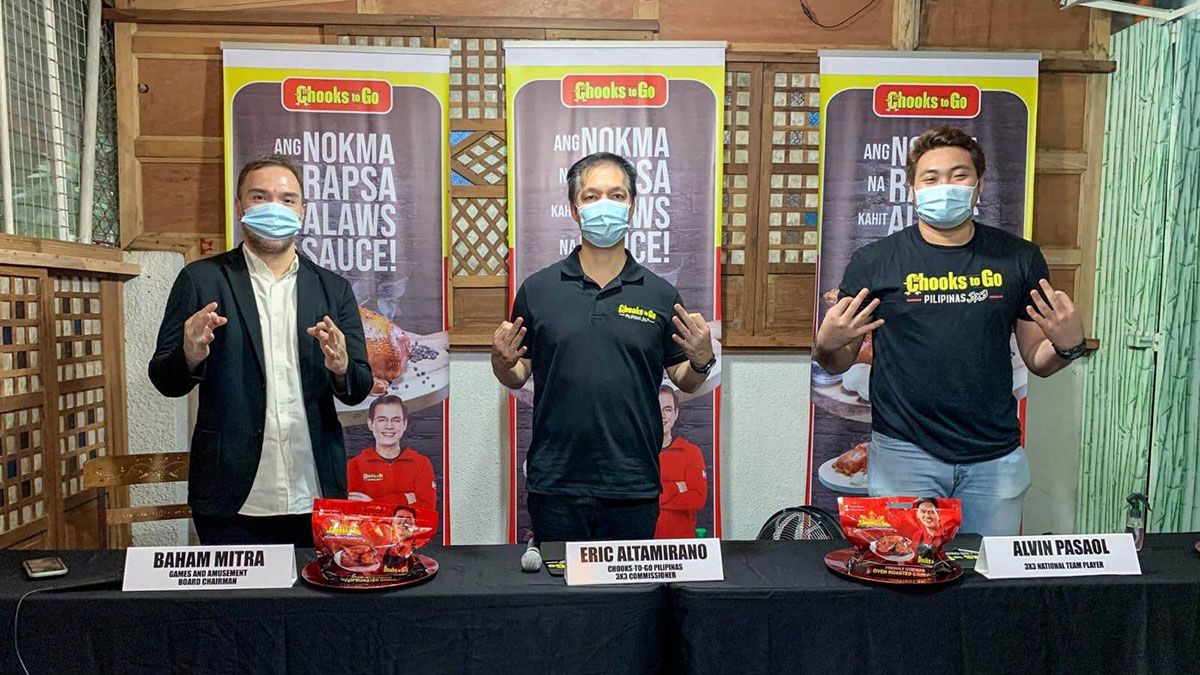 It's a clear interpretation on the GAB's part, but Mitra said that it's better for the players themselves to check first with their mother leagues.
Still, Altamirano only sees Chooks-to-Go Pilipinas 3x3 gaining professional status as a good thing.
"Since we started the league last year, we're already thinking about turning pro. Last year, nag-travel kami all over the world and we noticed that a lot of countries who participated have professionalized their 3x3 leagues," he said.
To the soft-spoken mentor, the move allows aspiring 3x3 players to see a new path for them to take if they feel that they can blossom in the half-court game compared to the more familiar five-on-five.
"I really believe that by turning pro, we'll really firm up our quest to be a dominant force in 3x3 all over the world. Gusto namin na yung liga na ito will be something aspirational for the 3x3 players," he said.
"Siguro iisipin ng iba na 'di sila pang-5-on-5, so there's another platform that they can really aspire to become a basketball player. There's something for them na pupuntahan if they start playing 3x3 at an early age."
___
Spin fans unite at the Spin Viber Community! Join the growing community now and complete the experience by subscribing to the Spin Chatbot.