THEY may be celebrated players and coaches, but they were not spared from the wrath of the monsoon rains that caused heavy floods in the metropolis over the past week.
From defending NCAA champions San Beda Red Lions to perennial UAAP title contenders University of Santo Tigers to coach and councilor Gerry Esplana, just about everybody had their share of misfortunes as calamity struck the country again this second week of August.
As early as Monday morning, disaster already hit the Lions' lair inside the San Beda premises in Mendiola.
The team just returned from its early practice at The Arena in San Juan when they were greeted with knee-deep flood inside their dorm. The continuous rain also cut off water and electricity from their quarters.
"It was my first time to experience it," said sophomore guard Baser Amer. "When we arrived at the dorm Monday morning, the streets were flooded and there was no electricity and water, that's why it was really hard."

Good thing the Bedan community, alumni, and the generous Olen Lim, mother of player Melo and wife of former coach Frankie, came to their rescue.

"There was food in the canteen. The alumni also came to help and especially Tita Olen Lim. She brought food for us," added Amer.

Everything was back to normal Friday at their dorm, including electricity, Baser related to Spin.ph.
College of St. Benilde star player Carlo Lastimosa was among those stranded in his condominium unit along Taft Avenue at the height of the massive flood.

"I can't go out of my condo because the water outside was waist deep already," said the 2010 NCAA Rookie of the Year. "The water easily rises here in Taft, and it is slow to subside."

The top gun from Cagayan de Oro readily took the chance when the rain briefly subsided, and bought food at a nearby convenience store.

"When the rain stopped for a moment I went to Mini Stop to buy canned goods and noodles so that there's food in case the rain would still continue," he said.

Stranded for four days, he was finally back practicing with the Blazers when the weather began to improve by Friday.  

UST's campus in Manila was hit by floods at the height of the monsoon rains, and ace point guards Jeric Fortuna and Clark Bautista were right in the middle of it.

Fortunately, the backcourt tandem of coach Pido Jarencio found care from the Farinas family, who owns the building that housed their dorm along Lacson Ave. where flood was waist deep.
"We were stuck at the dorm for three days. Me and Clark were living with the Farinas (family) for they own the building," said Fortuna.

"They (Farinas) took care of us by giving us food and water," he added.

Another flood victim was University of the Philippines Fighting Maroon sophomore Paolo Romero.

Romero and his family were among the thousands affected by the flood in the Cainta, Rizal area. The Romeros had to stay on the second floor of their house for three days because water in the first floor of their house was waist deep.

"It's just today (Friday) that electricity is back. Yesterday (Thursday) we were able to clean and fix the house because the flood already subsided," said Romero.

Bayanihan was evident in the neighborhood, Romero said.

"We and our neighbors helped each other," he said. "And some relatives also came to help us clean (the house)."

Players were not the only ones affected.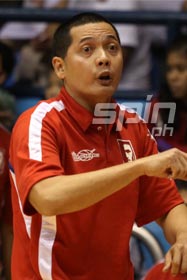 Gerry Esplana, coach of the Emilio Aguinaldo College Generals, was hard-hit as the entire first floor of his house in St. Jude, Malinta, Valenzuela was flooded.

"That was worse than Ondoy," recalled Esplana, a councilor in Valenzuela. "We had to leave the house for our safety, and transfer to a safer place just within Valenzuela."

His players living in other areas were also affected, like Jolas Paguia in Marilao, Bulacan, Francis Munsayac and Diminador Pillas in Marikina, Jeff Mallari in Malabon, and John Monteclaro in Pasig.

Esplana, however, assured that other members of the team were safe inside their quarters.

The EAC coach also helped out by giving out relief goods to his neighbors and offered free water through his refilling stations.

The case of Lyceum head coach Boni Tan was perhaps the worst.
Tan could not do anything but watch his cars get submerged as flood rose to 10 feet  in their area in Banawe corner Retiro Streets in Quezon City at the height of the heavy rains.

This marked the second time Tan went through the same experience after typhoon Ondoy.

Veteran coaches Koy Banal of Arellano and Aric del Rosario of University of Perpetual Help were also not spared.

Banal who lives in Concepcion, Marikina, experienced two days of flooding in their residence, although there were no damage to their properties as the water level didn't get too high.

Lester del Rosario, Perpetual Help assistant coach and son of Aric, said water inside their house rose to knee deep.