[Here is the latest installment in our popular Where R They Now series]
THE first commissioner of the Vietnam Basketball Association (VBA) is a Filipino.
One of the stars of a Letran Knights team that won three straight NCAA titles in the 1980s, Tonichi Pujante had to start from scratch the moment he accepted the job, so much so that he spent his first day as VBA commissioner drafting the official rules and regulations that would provide the foundation of the fledgling league.
The former Knights star has gamely acepted the challenge of growing basketball in a country with a football (soccer) orientation, even if it means going down to basics.
For the past five months, he has put in the work to not just promote the sport but make steps that would improve it from a technical aspect, a higher level of play and officiating that involves more than just a referee blowing a whistle.
"Aside from reinventing myself I would like to impart my technical know-how and help develop the game here. I also intend to leave Vietnam a better basketball country after my tenure. These are the reasons why I took this job," he told SPIN.ph in an interview via Viber.
Pujante draws from a variety of experience from his days as a basketball player dating back to his La Salle high school days in the NCAA, to his glory days with the Knights to his tenure as a member of Perpetual Help's coaching staff and as an organizer of the One La Salle Alumni Basketball League.
"Sometimes I do micromanage. I take on a hands-on approach with our referees and officials. Before we started the VBA we conducted workshops on officiating but the training is really on the job," Pujante, a former teammate of Samboy Lim in those successful Letran teams in the eighties, pointed out.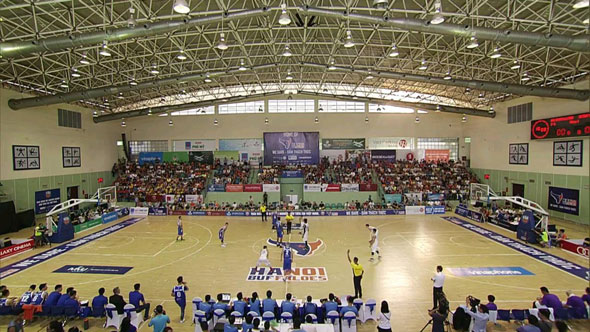 To assist Pujante, the Samahang Basketbol ng Pilipinas (SBP) has provided Raffy Britanico, Don Arguelles, Jong Banayat and Allan Maronilla to help out with technical support and officiating duties.
"We have to educate the referees on the different level of play. This is not developmental basketball but professional basketball," Pujante pointed out.
The VBA is currently composed of five professional clubs representing four cities: the Saigon Heat, Hanoi Buffaloes, Ho Chi Minh City Wings, Cantho Catfish and Da Nang Dragons. The season started last August in a format similar to the now defunct Metropolitan Basketball Association (MBA) with a home-and-away format and a four-game round robin tournament that will culminate in a championship game on November 20.
During the interview, Pujante said Da Nang had just scored a major upset against a heavily favored Saigon team. Their most popular match-up involves Saigon against Hanoi.
"These two are rivals, parang La Salle vs Ateneo," Pujante said, noting the roles the two cities played as capitals of the opposing sides during the Vietnam War.
Watching a game is not cheap, with tickets starting at 250,000 dong per game or the equivalent of P500. Despite this, the games attract good crowds that also include OFWs, Pujante said.
Instead of Fil-foreign players found in the PBA, the Vietnam league has the Viet-kieu who locals consider as imports. Allowed two per team, these heritage players are Viet-American or Viet-European whose parents migrated abroad.
As part of improving the level of play and providing exposure for the Vietnamese, Pujante said he will propose on getting a VBA squad or a selection to play as a guest team in the PBA D-League to the VBA CEO and board of directors.
Homegrown Pinoys dream of reaching the NBA, the Vietnamese dream to play in the PBA as Asian imports, according to Pujante.
"Malayo pa ang level nila sa atin pero modesty aside, from below par when I got here nag-improve naman in the past months," he said.
The commissioner said the reception to the VBA has been positive. Two team owners will build new arenas in Saigon and Hanoi. Three expansion teams might join in 2017 after the inaugural season.
At the end of the day, Pujante sees himself not just promoting a sport but bringing the Filipino's life-long passion for hoops to a foreign land.
"As a Pinoy, it's fulfilling imparting something. Alam ko dito it's not only my name, my father's name, my school's name - nadala ko pangalan ng Pilipinas," he said.
He also has big dreams for Vietnamese basketball.
"Pinipilit nating maging maayos. At end of the day I see Vietnam working to reach a competitive level in Southeast Asia and eventually, at the Asian level."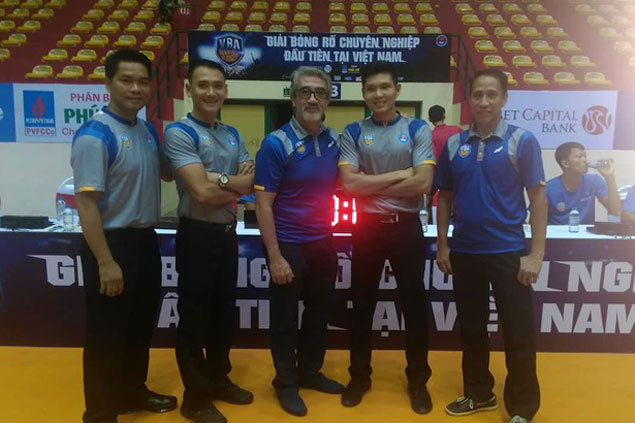 POV,Zoom In