COACHES were left impressed after seeing Fil-American Kamaka Hepa make his Philippine debut during Tuesday's NBTC National High School Championship at the Mall of Asia Arena.
Several top UAAP and NCAA coaches were in attendance on Tuesday morning, watching from the stands while the 6-9 Hepa led Filam Sports USA squad against many-time NCAA champion San Beda.
Among the head coaches present were Tab Baldwin of Ateneo, Franz Pumaren of Adamson, Olsen Racela of Far Eastern University, Boyet Fernandez of San Beda, and TY Tang of College of Saint Benilde.
Hepa's team dropped a 76-80 loss to the Red Cubs, but the 17-year-old proved as good as advertised as he scored 27 points to go with 13 rebounds, five assists, and seven blocks.
Hepa has been in the radar of local college teams for a few years now. The son of a half-Filipino father, Hepa is seen as a potential NCAA Division 1 player and was labeled as the United States' No. 29 prospect for the Class of 2018 by website 247 Sports last year.
San Beda Red Cubs coach JB Sison said scouts will definitely go after the teenager following his impressive display.
"Malamang maraming scouts ngayon. Siguradong pag-aagawan siya. Busy ngayon 'yung phone niya sigurado," said Sison after facing Hepa and his team on Tuesday.
[See Fil-Am Kamaka Hepa makes a splash in Philippine debut]
Hepa should also be a top prospect for the Philippine team, but the teenager is unlikely to own a Philippine passport after saying he only learned enough about his Filipino roots prior to making the trip to the country.
ADVERTISEMENT - CONTINUE READING BELOW ↓
His father Roland is half-Filipino while his grandparents trace their roots to Asingan, Pangasinan.
However, acquiring a Philippine passport before turning 16 is a must for players hoping to represent the country in international tournaments.
"My father is a half-Filipino and I'm actually not too sure because he hasn't talked to me much about it. When I told him about this trip, that's when he started to explain more about it. But he hasn't told me too much," said Hepa.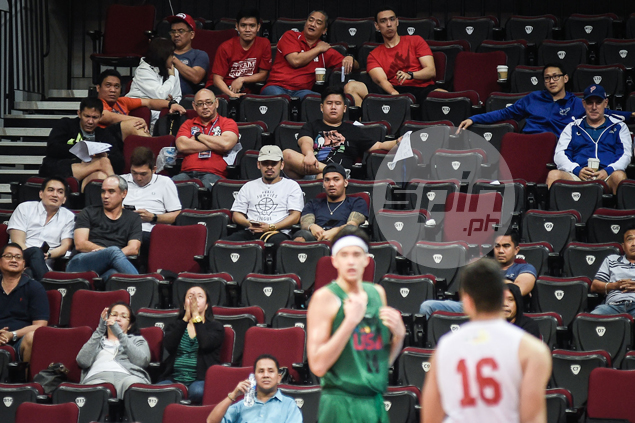 Still, coaches see Hepa as a major asset for any local college team owing to his athleticism and versatility.
"Kanaka Hepa can definitely play here. I heard he has so many offers from Division 1 schools in the US. He is very agile and an athletic big man," said Fernandez.
Hepa said he was unaware that Filipino college coaches were in the stands on Tuesday, but said he wasn't entirely satisfied with his play as he put the blame on fatigue and foul trouble.
"I thought I did okay but I was a little bit tired because I'm not used to 10-minute quarters. But it was a fun game to play with my teammates. It was our first time playing together. It was nice to build chemistry," said Hepa.
Sison said Hepa will definitely be an even better player once he learns the Filipino brand of basketball.
"May basics eh. Kung linagay mo siya dito, lalagyan mo lang ng experience sa game ng larong Pinoy, mas magiging magaling siya. Pero 'yung talent and skill, nandoon tapos may height pa. Sobrang laki ng upside," said Sison.
Fernandez said Hepa can make an immediate impact for any Philippine-based school that can recruit him.
"He will be an asset to any school here," said Fernandez.