IT was a harrowing experience, to say the least.
Before a horrified crowd of more than 20,000 fans at the Philippine Arena, Gilas Pilipinas and Australia slugged it out in a free-for-all during their Fiba World Cup qualifier witnessed by millions on television, both here and overseas.
A physical play between Roger Pogoy and Chris Goulding ignited the fire that was made worse when Daniel Kickert charged into Pogoy and hit the Filipino guard hard with an elbow that knocked down the Cebuano shooting guard.
All hell broke loose from there.
There were plenty of shoving and pushing as some fans made their way into ringside and either joined the fray or threw water bottles. Punches were thrown in bunches, and a couple of flying kicks as well.
Heck, there was even one instance of a chair-throwing incident involving former national team player Peter Aguilar – father of Gilas big man Japeth – on Nathan Sobey.
As the smoke of battle cleared, a total of 13 players – including nine from Gilas – were ejected at the 4:01 mark of the third quarter and the Boomers comfortably ahead, 79-48.
As bad as that brawl was, it certainly wasn't the first for a Philippine basketball team, and it also wasn't the worst. The SPIN.ph staff sat down and recalled a couple of those moments, listing them in no particular sequence of gravity.
Continue reading below ↓
Recommended Videos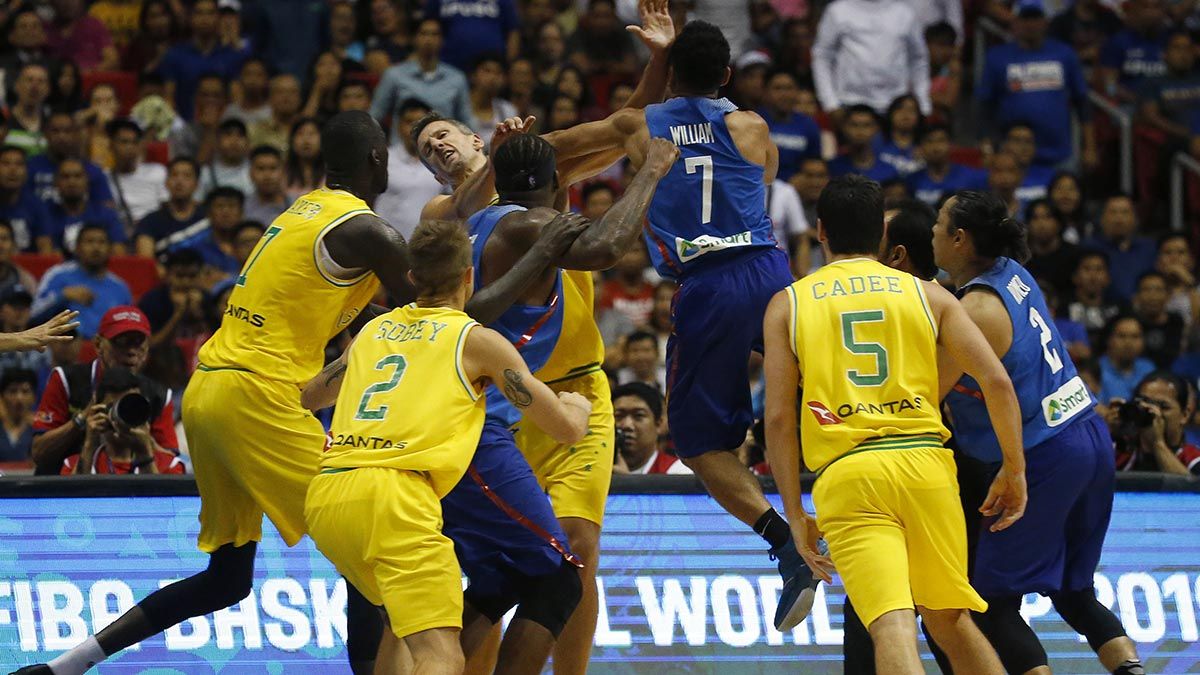 1981 Southeast Asian Games in Manila – Philippines vs. Malaysia
This goes down as one of the most memorable in local basketball history as a full-blown melee marred the title game between the host team and the Malaysians at the Rizal Memorial Coliseum that took place during Martial Law right before the late strongman Ferdinand Marcos' very eyes.
The fight broke out after PH guard Frankie Lim and a Leung of Malaysia engaged in a series of physical plays, with Itoy Esguerra, Ed Cordero, JV Yango, and Ricky Relosa later joining the fray.
"Ang tagal na nun," said Esguerra, now a deputy coach at Magnolia in the PBA, when asked about the incident decades later.
"Akala ko kasi susuntukin si JV Yango kaya inunahan ko na," added the dead-shot but tough-playing former national team and PBA player.
Filomeno 'Pilo' Pumaren was then coach of the national team that won the game and championship, 91-74. But what was remembered from that televised game was the pile of players exchanging punches and kicks while the late strongman, surrounded by barong-clad security men, watched uncomfortably from his ringside seat.
1987 PABL (Philippine Amateur Basketball League) Invitational game between PABL-Philips and Swift-USA.
The PABL held an invitational tournament in 1987 (Philippine Cup) featuring the Philippine team carrying the colors of Philips Sardines and preparing for the ABC Men's Championship (later known as FIBA Asia Championship) against ballclubs from Chinese Taipei, Egypt, and a US-NCAA selection sponsored by Swift.
The Filipinos and Americans ended up fighting for the title, and Game 1 of the best-of-three series couldn't be more intense as a melee erupted with 30 seconds left in the highly-physical encounter at the Rizal Memorial Coliseum.
The rumble started when an American player elbowed Benjie Paras in the neck, emptying both benches in a fistfight which lasted for about five minutes, witnesses recalled.
"May player sila (U.S.) Dorsey ang pangalan, napunit niya yung playing jersey ni Benjie," Jerry Codinera, now coach of Arellano, recalled. "After nun, medyo mainit na. Nung pumasok si Jerry Cojuangco (PH team ballboy), bigla siyang tinadyakan nung Dorsey. Bumakat nga yung marka ng sapatos sa dibdib niya. Kaya sinugod ko na. Sinuntok ko tsaka sinipa."
It didn't help that security failed to control the situation and saw spectators joining the fray. One former PBA player, a mere spectator, ended up landing the biggest punch of the night.
The late referee Cado Mercado, who was also a police officer, tried to restore order by twice firing his gun in the air, but to no avail.
Alvin Patrimonio ended up with a cut on his right hand, Joey Mendoza had a welt on his cheek. The Americans were not spared either, as 6-foot-9 Jim Felton sustained contusions on his face.
American coach Jerry Webber, who accused a policeman of poking a gun at one his staffers at the height of the fracas, later ordered his team to walk out, handing the Filipinos – coached by Joe Lipa - the victory, 83-81.
Swift-USA though, swept the next two games of the series to win the championship. Six of its players went on to play in the NBA including Corey Gaines, a New York Knicks assistant coach until last season, and Tom Tolbert, who currently does radio color commentator for the Golden State Warriors.
1985 Southeast Asian Games Philippines vs. Singapore
No gold or title was at stake yet during the preliminaries between Northern Consolidated Corp. (NCC) team and Singapore, yet a scuffle broke out just when the game was entering its homestretch at the Thai-Japanese Bangkok Youth Centre.
As always, one physical play led to another, triggering a rumble best remembered for naturalized player Dennis Still, all of 6-foot-9, charging on the hapless Singaporeans.
"Ang natatandaan ko lang tambak na ang Singapore and malapit na ding matapos yung game," said Allan Caidic, the legendary Filipino shooter who was one of the top guns of the late coach Ron Jacobs with the national team back then.
"Tapos naging physical yung game, hanggang ayun nag-away na."
Caidic couldn't recall if any of his teammates got ejected, though he's certain NCC won the game by a rout. Of course, the Philippines clinched the gold medal with an unbeaten record.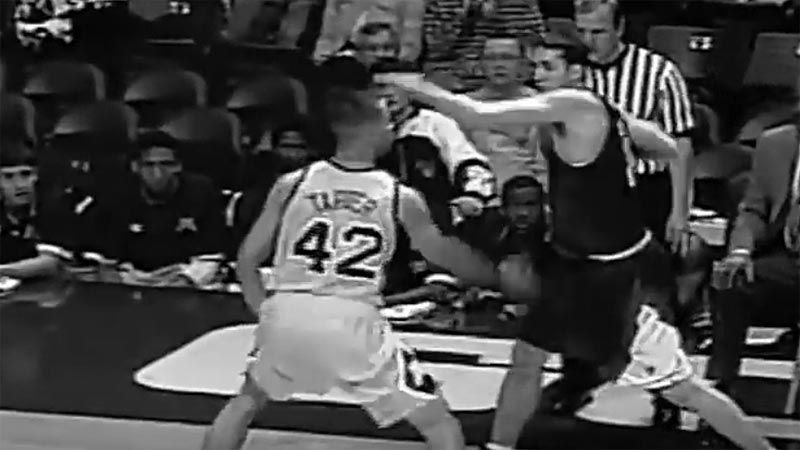 1998 Exhibition game Centennial Team vs. Minnesota Gophers
The Gilas-Australia brawl brought back memories of a similar incident for coach Tim Cone that happened 20 years ago.
"Certainly like it was yesterday," Cone quickly replied when asked if he still remembers the full-blown riot between the Philippine Centennial team and the Minnesota Gophers in the U.S.
The Centennial team was then on the 11th and final leg of its exhibition matches touring the U.S. as it prepared for the Asian Games in Bangkok.
Ironically, Gilas coach Chot Reyes was part of that entourage as Cone's chief assistant.
The incident was sparked by a shoving match that escalated into a fistfight between Andy Seigle and Miles Tarver that took place in front of the Philippine team bench.
Everybody got into the act after that in an ugly scene whose vivid image was of a poor referee crawling for safety out of a pile of players.
"(I) learned then that things can quickly spiral out of control no matter what your intentions as coach. Certainly an unfortunate incident," said Cone.
Seigle and Tarver were both ejected as well as Terrance Simmons for the Gophers, who then had future NBA players Joel Pryzbilla and Quincy Lewis.
The Gophers won the match, 98-55.
There could still be a lot more and SPIN.ph welcomes any suggestions to the list.