CHICAGO - If mining for international talent were a car race among NBA teams, the Dallas Mavericks are the Ferraris in a track revving with Toyotas.
They discovered Dirk Nowitzki, the gold standard among foreign players whose Hall-of-Fame credentials include one title, a regular season and Finals MVP award, plus 13 All-Star appearances.
Currently, the Mavericks have a glowing diamond in the rough, rookie sensation Luka Doncic, who is averaging 19.6 points, 6.5 rebounds and 4.4 assists through 13 games. Only 19 years young, he is mesmerizing the league with the ease with which he has adapted to the NBA, shooting 47.4 percent from the field and 38.6 percent from 3-point distance.
The success of these finds isn't mere happenstance or stroke of good luck. It is the residue of the hard work, time, and plenty of money invested on a well-oiled scouting machine.
According to SportsDay of The Dallas Morning News, the Mavs' international scouting department "has three full-time and well-paid employees who live in foreign countries, a half dozen experienced world travelers based in the U.S. and a president and a general manager with a worn-out passport."
The June 2017 report noted that the Mavs "have books on players signed with international teams who one day be NBA caliber" and their team director of player personnel - Tony Ronzone - has been to 90 countries.
Continue reading below ↓
Recommended Videos
Ronzone has seen more places than Marco Polo could have ever imagined, including North Korea where 7-foot-8 Michael Ri was scouted and turned out to be non-NBA material.
All intel gathered lands on the lap of team owner Mark Cuban, whose love for basketball and whose deep pockets allow the Mavericks to scour the universe in search of the next big star.
Outside the Mavs locker room at the United Center where they beat the Chicago Bulls last night, 103-98, I asked Cuban: "Have you heard of Kai Sotto from the Philippines?"
He paused and said "the tall kid, right?" I nodded, proudly.
"How old is he?" Cuban fired back. "Sixteen," I replied before informing Mark that Kai has a reported standing offer of five years and $1 million from Real Madrid.
"Good for him," said Cuban. "But I can't talk about him because of eligibility rules."
Still, I asked if he would "hypothetically" sign a talent from the Philippines like Kai.
Cuban smiled and said "I don't care where he's from as long as he is good." Assuming of course all requirements are met and all NBA rules are observed.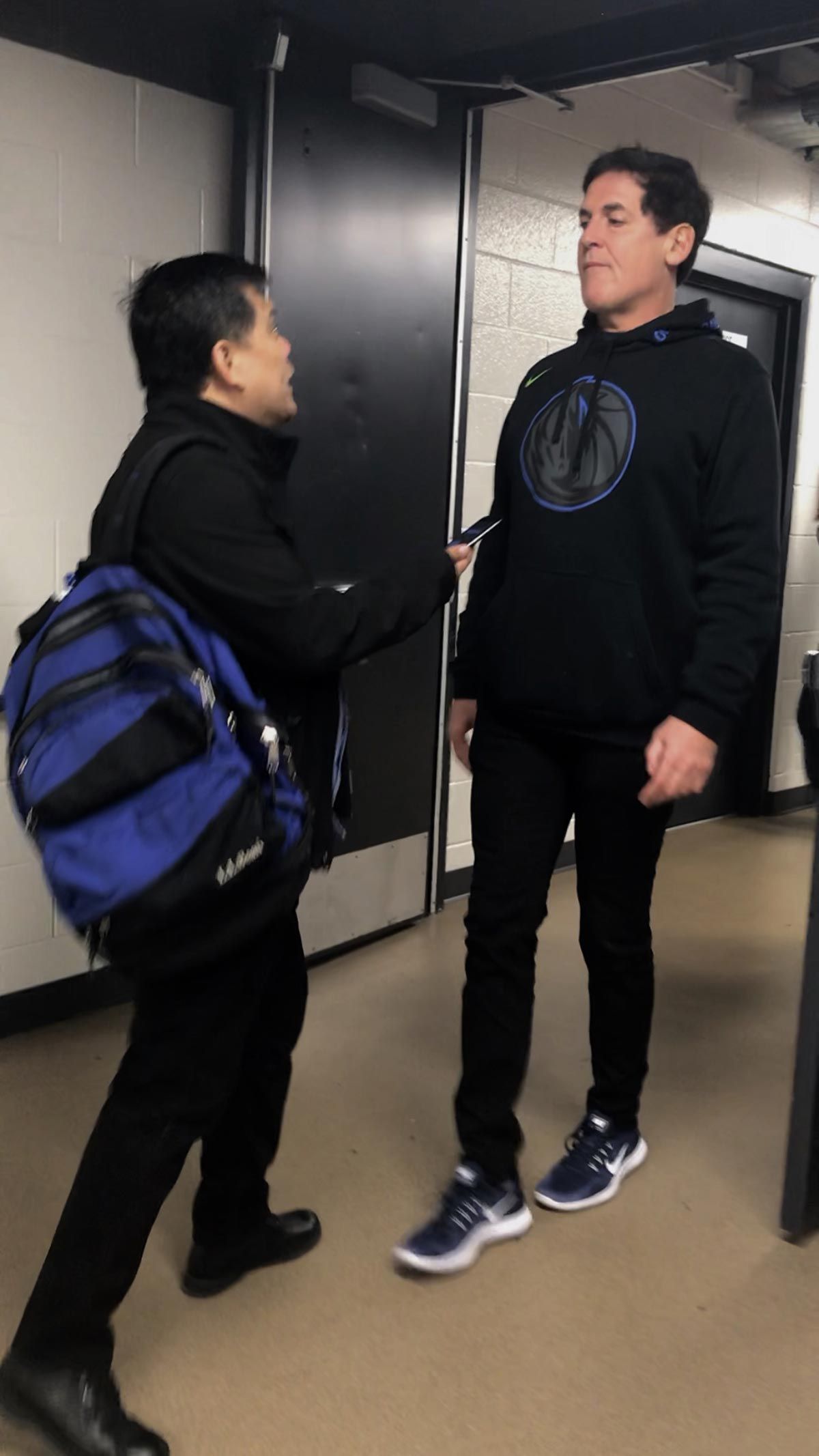 MEETING DA MAN. Although I've seen him in person in the 2006 NBA Finals when i covered the East swing in Miami for Games 3, 4 and 5, I've never really met Mark Cuban.
But that hasn't stopped us from exchanging e-mails over the years, especially during the times when Bobby Ray Parks Jr and Kiefer Ravena tried to enter the NBA via the Mavericks G-League affiliate.
I already knew he was a "super nice guy" but as I watched how he carried himself and interacted with the fans in the arena I'd say he's definitely the most unpretentious billionaire in the planet.
Decked in black jeans and a matching black hoodie with a royal blue Mavs logo on the chest, he wore a pair of black and white Nike Flex free run shoes and sat quietly on a table inside the media dining room.
His left hand held a fork that toyed with a plate of salad and veggies and his right hand clutched a cellphone, his eyes laser focused on whatever he was reading. I knew better than to interrupt a grown man and his decent meal.
When he was done, I finally introduced myself and thanked him profusely for responding to my e-mails. He brushed it aside with a "no problem," making it sound as if my correspondence weren't a hassle given how hectic his schedule is while running multiple empires.
When you're as popular as he is, there is no such thing as a muted, uneventful entrance. People of all ages screamed his name as he emerged from the tunnel and onto the basketball court. The 60-year old part-time TV star, whose show Shark Tank continues to be a ratings juggernaut, signed autographs and took enough selfies to make a politician blush.
Mark Cuban is a man of the people.
Just minutes before tip-off, I asked him if he would ever bring the Dallas Mavericks to the Philippines.
"I'd love to," he replied.
I'm sure our basketball-crazy Filipino brothers would love that, too.
One day, someday.