AUNG Myint buried four three-pointers in the first quarter of what was shaping up to be the greatest game of his life.
There's just one problem: his hot shooting made his Gilas Pilipinas counterparts envious.
Matthew Wright and Marcio Lassiter took turns hitting one trey after another to propel the Philippines to a 69-point massacre of Myanmar, 136-67, on Saturday in the 30th Southeast Asian Games at the Mall of Asia Arena.
The duo played a virtual pop-a-shot as Gilas slowly pulled away in the second quarter on the way to a sweep of its three games in Group A - and a place in the semifinals.
In all, the Philippines shot 17-of-45 from threes, good for 37-percent, with Wright scoring 29 points on an 8-of-16 clip from deep and Lassiter draining all of his 15 points from downtown.
Stanley Pringle and June Mar Fajardo, two of Gilas' top scorers in the past two games, didn't even bother to take off their warmers as the surprisingly packed crowd was limited to cheering for them whenever their faces were shown on the giant screen.
ADVERTISEMENT - CONTINUE READING BELOW ↓
The closest the crowd got to see the five-time MVP? When he peeked in the frame when the cameras were focused on Vic Manuel, who carried Gilas with 24 points on another hyper-efficient 10-of-14 shooting from the field, together with 11 rebounds, five assists, two steals, and one block.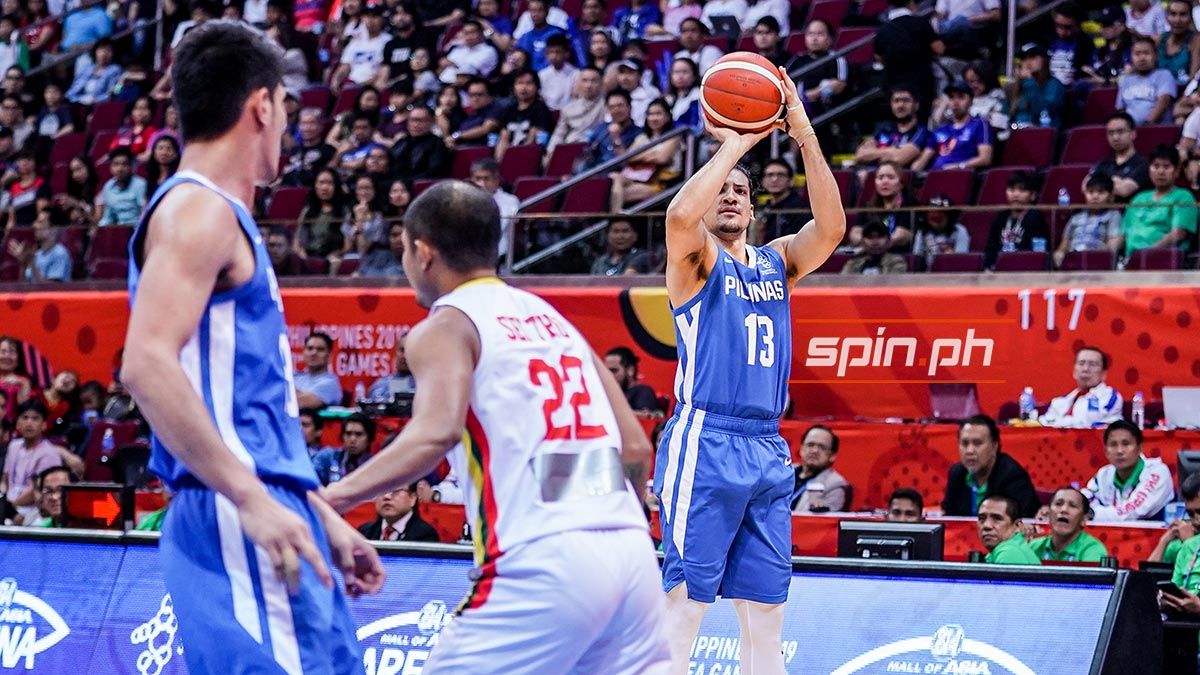 ADVERTISEMENT - CONTINUE READING BELOW ↓
Troy Rosario also added 16 points and nine rebounds, Kiefer Ravena had 15 points, and Japeth Aguilar got 12 in a game where the Filipinos dished out 43 assists and committed only one turnover.
Heading to this game, the Philippines enjoyed an average winning margin of 101 points in their last two meetings with Myanmar in the 2017 SEABA Championship and the 2017 SEA Games in Kuala Lumpur.
Yet there was Myanmar early on, scoring 24 points in that opening frame, the most it has scored in a canto in these games, thanks to Myint and Justin draining six triples.
The Philippines looked sympathetic at times as it constrained itself to heaving threes rather than pushing the ball.
But Gilas coach Tim Cone should be pleased with the way his players took the game seriously heading to its semifinal clash against the Rajko Toroman-guided Indonesia on Monday.
"We were trying to find a balance between playing the game hard and respecting the game and yet not trying to run up the score. We didn't want to run up the score and embarrass anybody," he said.
ADVERTISEMENT - CONTINUE READING BELOW ↓
"No one likes to be humiliated, so we just tried to be respectful and try to continue to play the game hard, create good habits going to the next game, and again, not try to run up the score."
Cone, however, could not fault his players for having fun of their own as Gilas' lead swelled to 55 to open the final canto and reached its biggest at 72, 131-59, after a Tenorio floater in the last 2:22.
Myint finished with 28 points and seven assists as he was the crowd's darling for the night, while Chin Ta had 14 as Myanmar bowed out of the competition winless at 0-3.
The scores:
PHILIPPINES 136 - Wright 29, Manuel 24, Rosario 16, Lassiter 15, Ravena 15, Aguilar 12, Slaughter 10, Tenorio 9, Standhardinger 6, Ross 0.
MYANMAR 67 - Myint 28, Ta 14, Justin 6, Aung 5, Tun Tun 4, Sar 4, La Ja 4, Zaw 2, Zaya 0, Wine 0, Oo 0, Htut 0.
ADVERTISEMENT - CONTINUE READING BELOW ↓
Quarters: 32-24, 77-36, 104-49, 136-67.