DOES this sound familair?
South Korea, a team that has broken the Philippines' heart one too many times in the past, once again loomed as a major stumbling block for Gilas after a 76-75 win over Fiba Asia Cup newcomer New Zealand on Saturday night.
The South Koreans had brought a young, tall team to Beirut that was not given much of a look after getting bracketed with the Tall Blacks in the preliminaries then losing to host Lebanon, 66-72, in its debut on Tuesday.
But the perennial Asian contender showed it's still a force to be reckoned with in this 16-nation, 13-day showpiece when it cut the Tall Blacks down to size, in the process forging a three-way tie for the group lead in Pool C.
Only a slightly superior tiebreak quotient (+3) enabled New Zealand to lay claim to the top seed over Lebanon (+2) and Korea (-5).
[See After China, four more tough teams stand in Gilas' way in Fiba Asia Cup]
The bad news is, the Koreans, as the third-placer in Pool C, fell into the path of Gilas in the quarterfinals. Korea now takes on Pool D second-placer Japan (2-1) in the first round of the playoffs, with the winner facing Pool B topnotcher Gilas in the quarterfinals.
Continue reading below ↓
Recommended Videos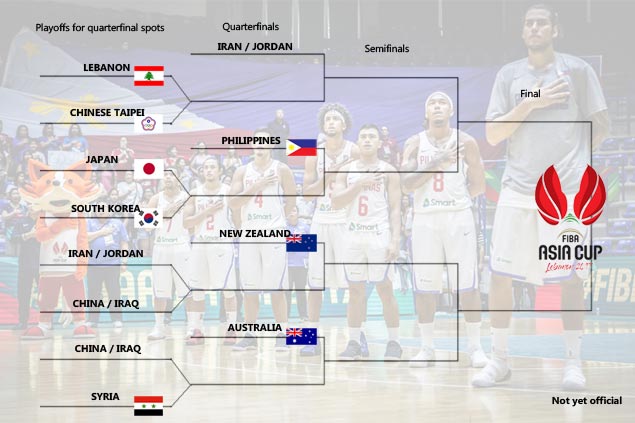 That thought alone brings back nightmarish memories for the Philippines, which has dropped a number of tough losses to the Koreans - none more heartbreaking than the one in the 2002 Asian Games in Busan clinched by Lee Sang Min's last-gasp three-pointer.
Also, this young Korean team, led by Oh Sekeun and Lee Jong Hyun, beat Gilas, 83-72, last July 19 during their last face-off in the 39th Jones Cup in Taipei.
[See Gilas fires blanks against Korea, kisses Jones Cup title bid goodbye]
Oh and Lee, who led the Korean upset of the Tall Blacks, also scored 14 points each against a Gilas side that shot 1-of-26 from three-point distance in the Jones Cup showdown.
Gilas' Fiba Asia Cup side, however, has more offensive weapons that the team that lost to Korea in Taipei, among them Jayson Castro, Terrence Romeo, and Gabe Norwood who have led the Philippines to a 2-0 start in Beirut.
The only holdovers from that Jones Cup team are Christian Standhardinger, Roger Pogoy, Jio Jalalon and Matthew Wright. That Gilas team, however, had an import then in Mike Myers.