CEBU –Tim Cone marveled at the depth of the current crop of Gilas Pilipinas, but felt the national team still needs to improve on its defense, for one thing, ahead of its first international tournament.
Gilas showed its depth as its shock troopers led them back from an early 15-point deficit to still win comfortably against the Visayas All-Stars, 125-112, on Sunday night.
"They displayed more depth than we had," Cone, the Visayas coach, said. "That's what the Gilas team is going to have to have: a lot of depth; and they showed good depth.
"They got backups for every position and they're all weapons," the Ginebra coach added. "They just kind of wore us down with their weaponry."
[See Abueva, Romeo lead fightback as Gilas beats Visayas All-Stars in first game together]
One bench player who stood out was Calvin Abueva, who fired 21 of his 26 points in less than 20 minutes as he conspired with fellow sub Terrence Romeo in leading the comeback.
"I made a coaching mistake: I didn't recognize Calvin coming into the game in the third quarter and we didn't have a good matchup for him, and he kind of changed the game around," Cone admitted.
Continue reading below ↓
Recommended Videos
"They have so many game-changers there – Calvin, Romeo, (Jayson) Castro," he added. "They're all game-changers that can change the game on a dime."
Then it was June Mar Fajardo who put on the finishing touches for Gilas.
"Once they got the lead, they just focused on getting the ball to June Mar, and June Mar brought them home," Cone said. "It's kind of the way San Miguel plays – down the stretch, get the ball to June Mar and he'll make some plays for you."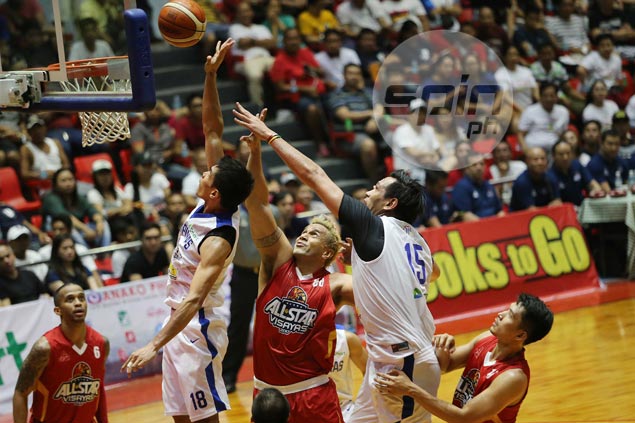 Still, Cone believes Gilas 5.0 is a work in progress.
"They still got a lot of work," the champion coach said.. "They got to work on their defense. They may have trouble with our pick-and-rolls early, but then they started switching. But that's not good enough in the long term; you've got to do more than just switch on pick-and-rolls. Other teams are going to figure that out in Fiba. I'm not sure in Seaba, but definitely in Fiba."
"But they just got together," he added. "They're still working on their defensive schemes and their main concern is getting the offense going, so the defense will come along."
Overall, Cone feels the composition of the team is what fits national coach Chot Reyes' dribble-drive system.
"I trust Chot completely. If I did it, I'd probably do it differently, because I run a different type of system," Cone, who runs a hybrid triangle these days, said. "It really depends on the system you're going to run, and he chose for the system he's going to run."
"It's a well-put-together team and it has a chance to grow," he added.