BERT Calaquian, a successful, self-made businessman, beloved husband, father and grandfather, and a diehard basketball fan, died at the age of 72 a day after that infamous brawl between Gilas Pilipinas and the Australia Boomers at the Philippine Arena in Bulacan.
His children are still in grief to this day, but find solace in so many things, among them in the thought that their dad had gone to (basketball) heaven much earlier when Gilas beat Korea in the 2013 Fiba Asia Championship semifinals, and during that Philippine team's return trip to the Fiba World Cup in Seville, Spain.
"Printing [business] and basketball, those two things he was very passionate about," says his daughter Mariel Ching.
We came across Calaquian from an image snapped by SPIN.ph photographer Jerome Ascano of the delirious crowd at the Mall of Asia Arena that cheered Gilas on during that memorable semifinal against Korea.
That viral photo, which we reshared on social media on the seventh-year anniversary of that win over Korea, has become one of our favorites for the same reason that compelled Ascano to focus his lens on Calaquian from among the many fans in the crowd that night - the pure joy and passion in the man's face.
A single image that captured all the emotions of that moment.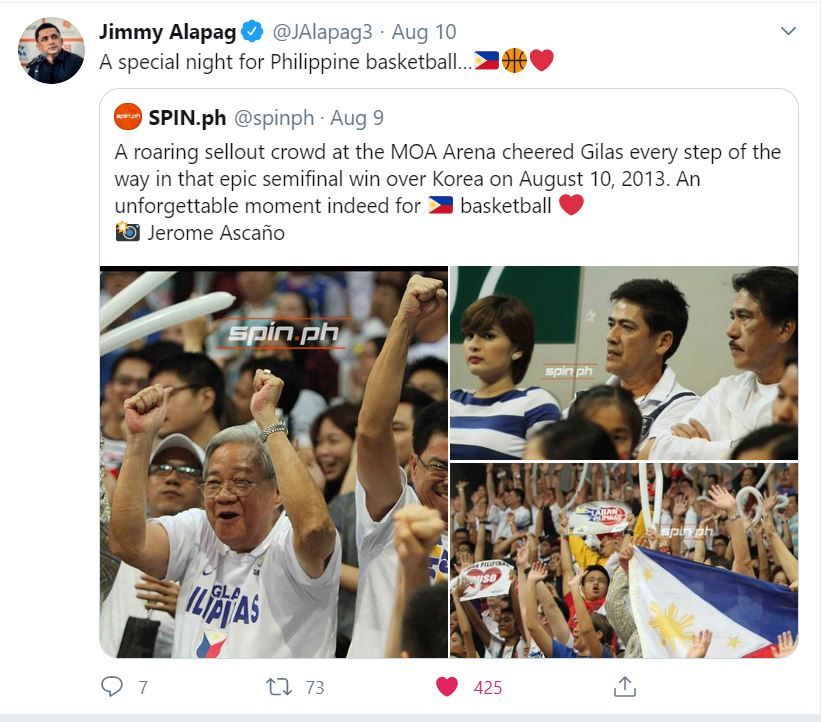 ADVERTISEMENT - CONTINUE READING BELOW ↓
Seven years later, we finally learned more about the man behind that riveting image. And we loved him even more, even though we only had to piece together bits and pieces of his life through his wife and children.
Calaquian, we learned, played a lot of basketball growing up in Sta. Cruz, Manila and was good enough to play for the Commerce side in Far Eastern University's intrams back in his day, mixing with the likes of former Tamaraw stars Turo Valenzona and Boy Arazas as well as former PBA player Tino Reynoso.
He founded Primex Printers, Inc. in 1979, but never ran out of ways to reconnect with the game he loved, whether as coach of a team in an inter-ad agency tournament or as commissioner or chairman of a league in Filinvest, or by watching UAAP games of his alma mater, sometimes by his lonesome at the old Blue Eagle Gym.
If he was watching a PBA or UAAP game at home, he couldn't resist the urge to call up son Jobet or other friends for in-game analysis. He was once the loudest spectator inside the Xavier gym while watching grandson Andre's PAYA 10-and-under game, leaving Mariel with some explaining to do to fellow parents.
"Dad was cheering like he was watching a Gilas game," Mariel says laughing.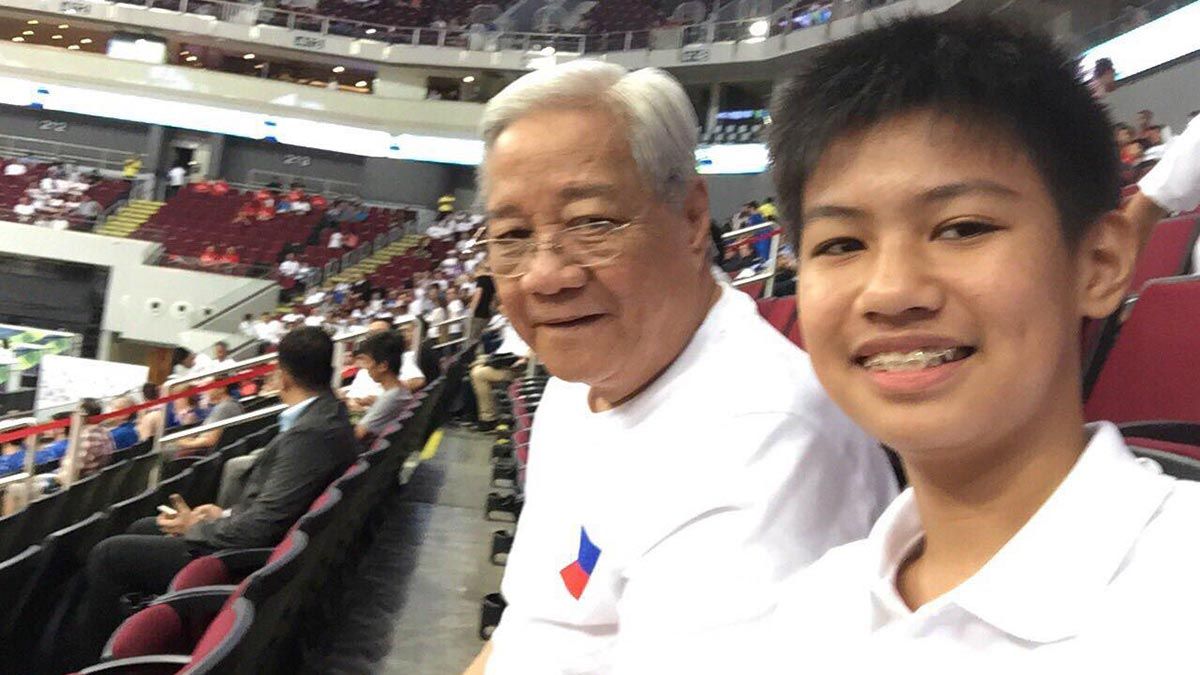 His love for basketball was matched only by his devotion to his country. That was why he took great pride in having turned Primex into a world-class brand, and immediately rallied behind Gilas Pilipinas' bid to reclaim its place in the Fiba World Cup through the 2013 Fiba Asia Championship in Manila.
"The moment he heard about it, he asked me to buy four [season] tickets," said Jobet. "He was saying the Philippines used to be great in basketball [during his time] and he wants to see it be among the best in the world again."
He and Jobet watched all seven Gilas games from a few rows behind the host team's bench, paying for pricey tickets they rarely used. His voice grew hoarse and weak after each game but not his spirit, egging his fellow fans around him to keep cheering when he couldn't.
By the end of the Korea game, he had lost his voice but was the happiest person in the crowd.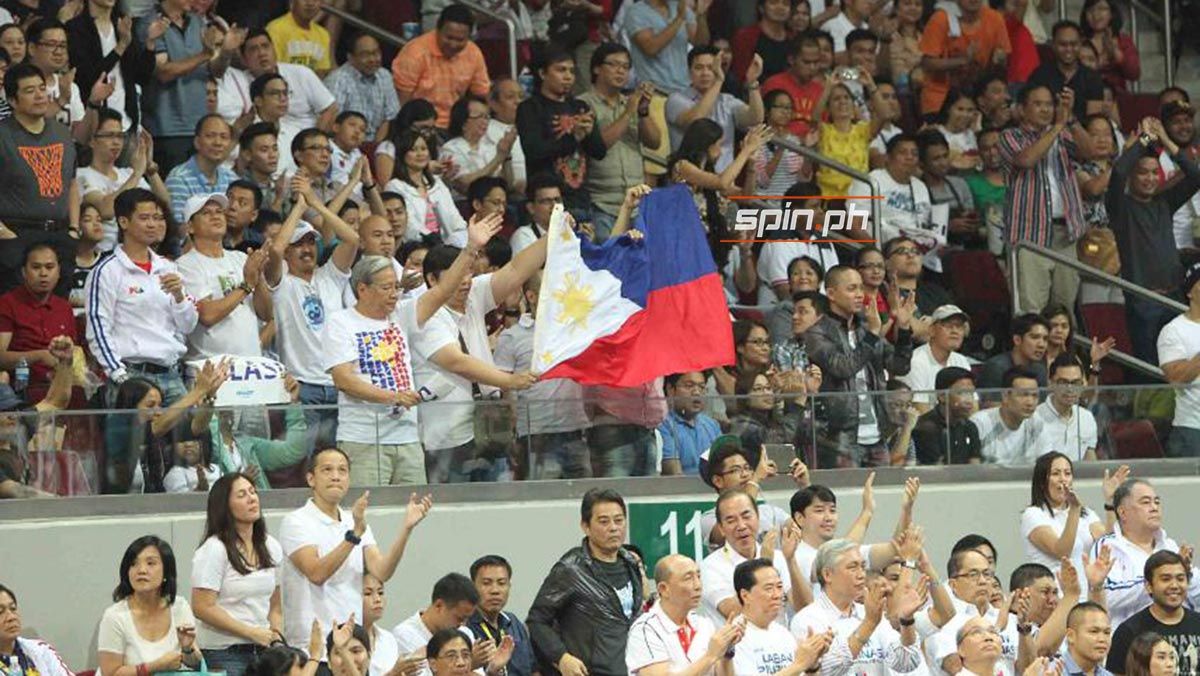 ADVERTISEMENT - CONTINUE READING BELOW ↓
Like everyone else, father and son rode an emotional roller-coaster as they watched the hosts start strongly, waver midway through, then turn back a late Korea charge, singing along to Queen's We Will Rock You as Gilas finally exorcised the 'Korean Curse' to book a ticket to the Fiba World Cup for the first time in 33 years.
WATCH:
They emerged from those eight days with so many wonderful memories, beginning with the Philippine flag that Jobet brought along for the duration of the tournament which Marc Pingris and Jimmy Alapag borrowed for the awarding ceremony - and returned with the signatures of all the members of the silver medal-winning team.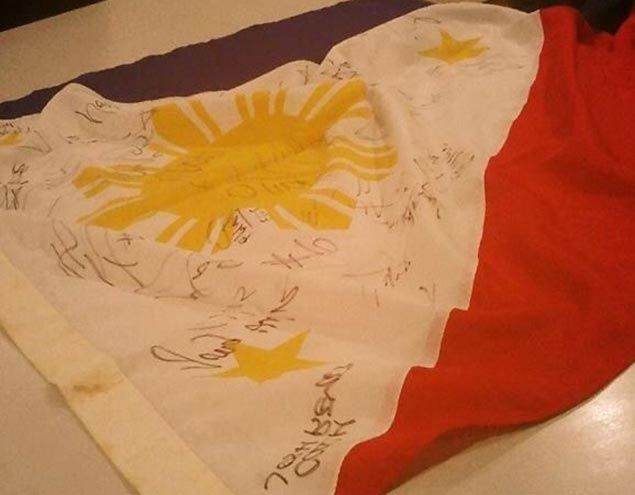 Before that day could end, Calaquian had one more wish: let's watch Gilas Pilipinas at the 2014 Fiba World Cup, which he and Jobet fulfilled by enduring a long flight to Seville, Spain that included a couple of stopovers. Needless to say, that trip was one of the most unforgettable they did together.
"It was one of the highlights of my dad's life," says Mariel.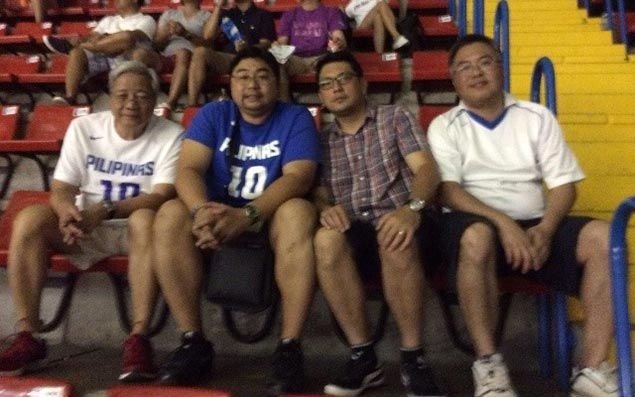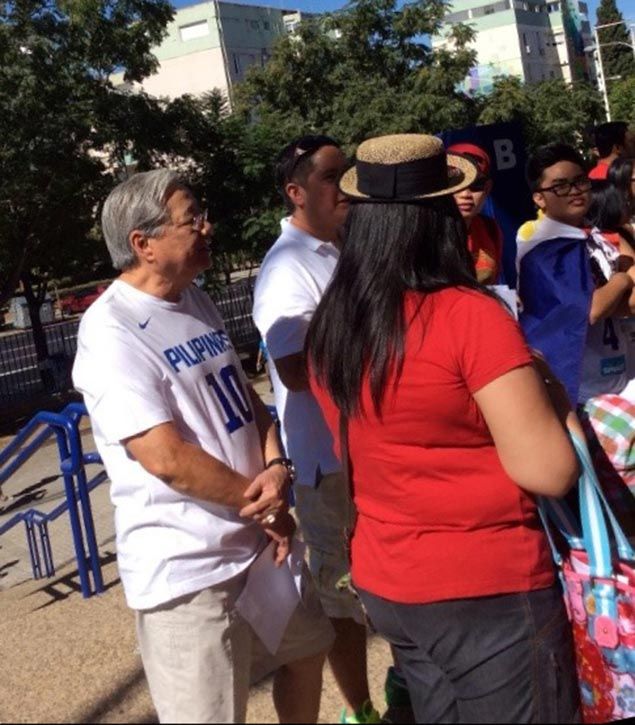 ADVERTISEMENT - CONTINUE READING BELOW ↓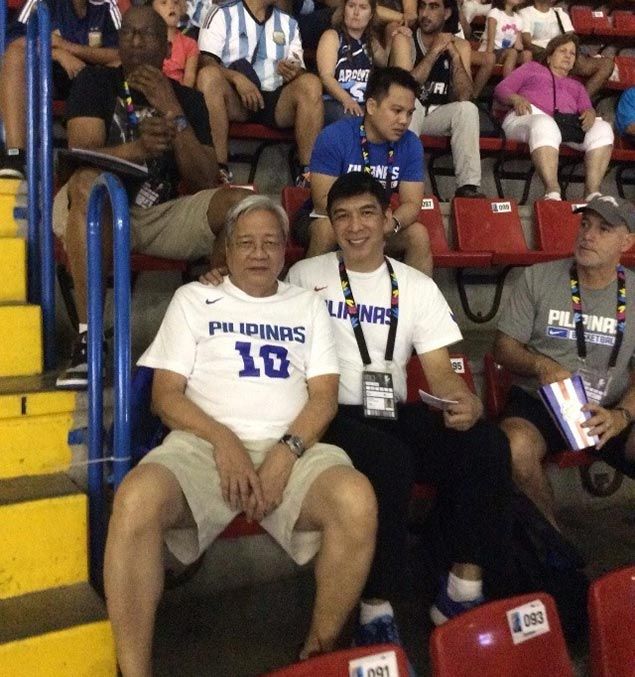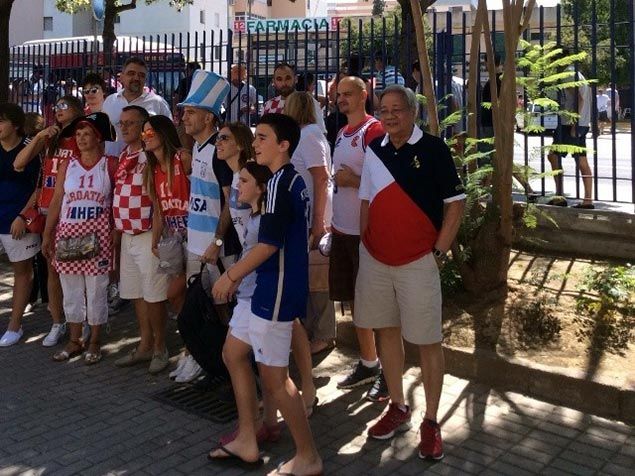 Asked what drew his dad close to that Gilas team, Jobet, a basketball buff himself, said: "We felt it was one of the best assembled (national) teams in the modern era, at iba maglaro. May puso talaga."
Calaquian died on July 3, 2018 due to lung cancer. The day before, his family and close relatives gathered inside his room at the Manila Doctors Hospital watching Gilas' game against Australia, cheering as if dad was watching with them.
"My dad was already unconscious at that time, pero ang ingay namin sa room n'ya," says daughter Margot Prado. "We were cheering as if kasama namin s'ya."
Down to the very end, Calaquian had Gilas close to his puso. Among the images carefully chosen by loved ones and laid down atop his casket was a collage of his photos from those two unforgettable weeks when he witnessed the Philippines reintroduce itself to the basketball world.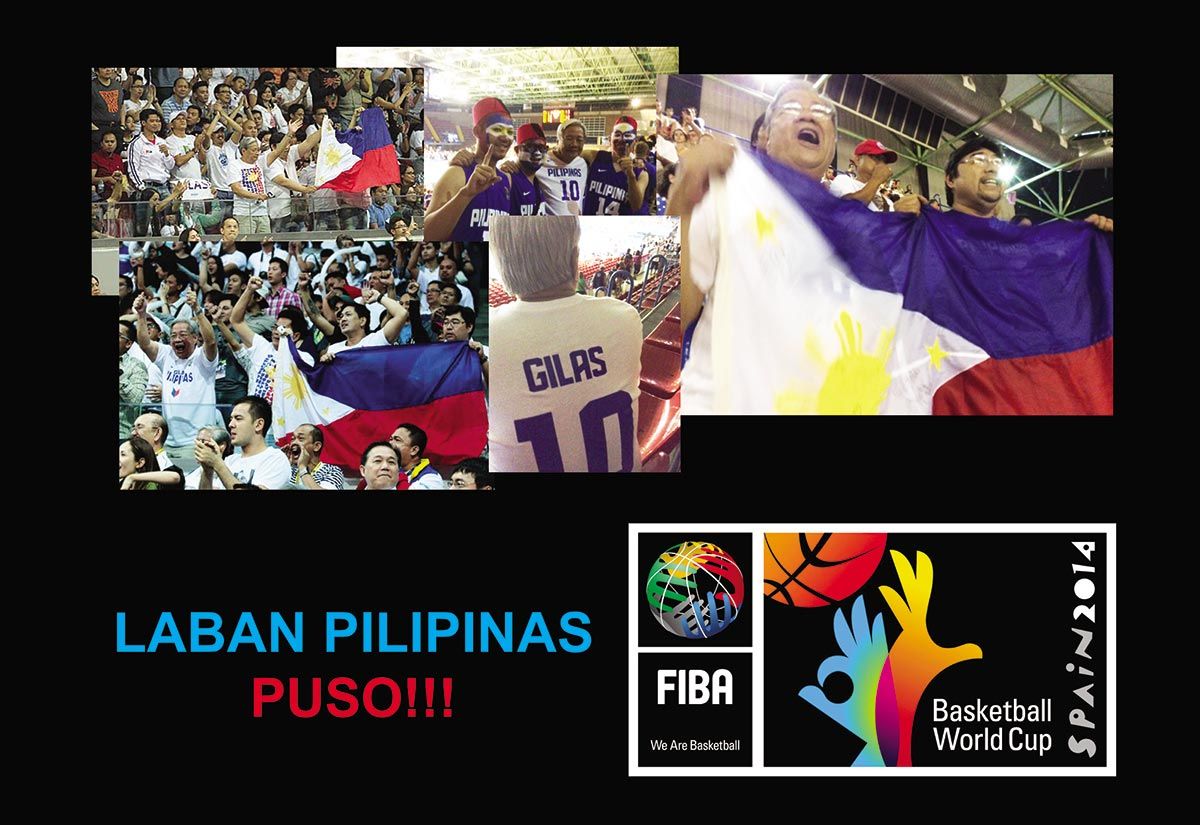 Exactly the way he liked it.
Spin fans unite at the Spin Viber Community! Join the growing community now and complete the experience by subscribing to the Spin Chatbot.