THE Fiba World Tour 3x3 Manila Masters may have ended a week ago but the event competed in by three Philippine teams, two of which were backstopped by PBA players, is still being talked about by Filipino basketball fans who have fallen in love with this fast-rising game. Spin.ph takes a look at the five things we learned from the Manila Masters.
1. Terrence Romeo is really made for 3x3 basketball
After playing for two straight years for the Philippines, Romeo has found a niche in 3x3. During his college days with Far Eastern University, Romeo was widely criticized for his individualistic play. But there was no such conflict during his stints for Manila West as Romeo emerged as the face of Philippine 3x3. A mixtape of Romeo's impressive moves in the recent Manila Masters is now getting a lot of hits on YouTube.
Romeo is now taking on a new challenge as part of the Gilas Pilipinas pool for the 2015 Fiba-Asia Championship. We hope he can leave a mark as well.
2. Calvin Abueva can be a fan favorite
He has been booed countless times in the PBA floor due to his rugged plays, and at times was accused of playing dirty by fans, but Abueva proved during his stint with Manila North in the Manila Masters last week that he can be endearing as well.
Those same plays helped Manila North earn a spot in the final where they lost to NoviSad AlWahda of United Arab Emirates. Abueva's play was also enough to give his team a berth in the Fiba 3x3 World Tour final set October in Abu Dhabi.
We expect 'The Beast' to attract a new army of fans once he makes it to the final Gilas Pilipinas lineup for the 2015 Fiba-Asia Championship. Talk about a 'villain' turning into a fan favorite.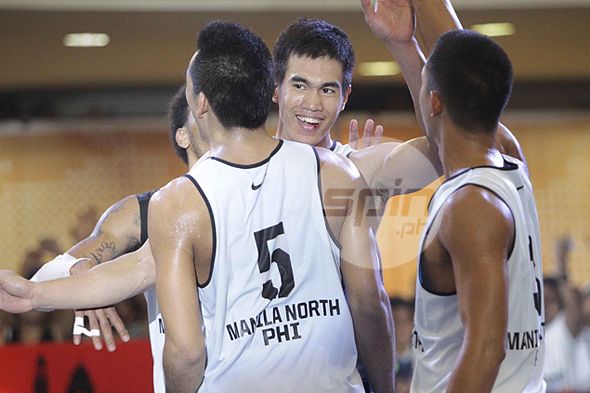 3. Troy Rosario is PBA-ready
During the Manila Masters, Rosario gave a glimpse of what to expect from him in the PBA. The former National University standout, a possible top two pick in the coming PBA draft, held his own against bigger players during Manila North's campaign in the Fiba 3x3 stop in Manila. In a team that had Abueva, Vic Manuel, and Karl Dehesa, Rosario also showed he belonged as shown when he scored a tip-in to give Manila North a win over Slovenian squad Ljubljana in the preliminary round.
4. Cebuano high schooler Joshua Sinclair is a player to watch
His Manila South squad didn't win a single game in the Manila Masters but the game of the Sinclair, a Fil-Australian and an incoming fourth-year player for Sacred Heart School-Ateneo de Cebu, didn't go unnoticed, especially to many Spin.ph readers who saw the kid play for the first time on TV and at the Robinsons Place in Manila. This early, the versatile 6-4 player has expressed interest to join National University whose head coach, Eric Altamirano, also trained the two PBA-backed teams in the Manila Masters tournament.
5. The Philippines can really excel in 3x3
For the second straight year, a local team reached the final of the Manila Masters. And although the Abueva-led Manila North squad bowed to reigning World Tour titlist NoviSad, the respectable showing of the Philippine team proved that Pinoys can really excel in 3x3.
As early as last year, the Philippines have showed promise in a game played in most sandlot courts around the country. Manila West captured the Manila Masters title and came in fifth in the World Tour final in Sendai, Japan.
With Fiba pushing for 3x3 to be included in the Olympic calendar as early as the 2020 Tokyo Games, the elusive gold medal the Philippines has been looking for may yet come from 3x3.