BASKETBALL officials are set to extend an invitation to Kai Sotto to join the Batang Gilas program, saying it's hard to pass up a chance to train and develop a kid of such enormous potential for future national teams.
Batang Gilas team manager Andrew Teh said he has already spoken to former PBA player Ervin Sotto and the two are expected to meet soon to discuss the possible inclusion of his son in the pool of players making up the national youth teams.
Teh said it's not every day that the Batang Gilas program can get a chance to bring in a homegrown player like Sotto who, at 13, already stands 6-foot-9.
"We want him to join the Batang Gilas program," Teh told SPIN.ph on Tuesday. "Nag-usap na kami ng tatay (n'ya) and we'll be sitting down to talk one of these days."
"It's not every day that you see a kid who is already 6-9 at 13 years old, so we don't want to waste that opportunity to at least see how good he can be," Teh added.
ADVERTISEMENT - CONTINUE READING BELOW ↓
[See Kia Sotto dreams of making it to NBA, idolizes Garnett and Ninong Ranidel]
The Batang Gilas manager, however, was quick to temper expectations, saying there are no guarantees of basketball success even for a player of Sotto's prodigious potential.
"Of course, we don't know how good he can be, but you still want to see him go through our training and see him develop into the player he can be," Teh said.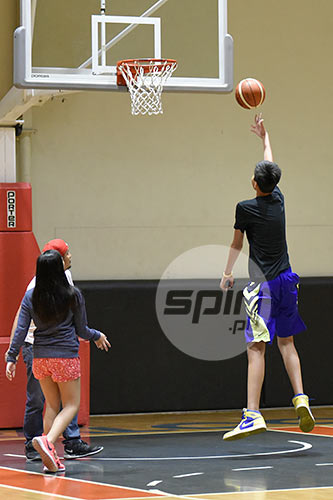 At the same time, Teh acknowledged he can't help but be excited about the future of Batang Gilas, especially over the thought of the 6-9 Sotto possibly teaming up with Fil-Aussie Ethan Kirkness forming a 'Twin Towers' frontline for the Batang Gilas Under-16 team.
Kirkness, who at 14 already stands 6-9, has recently acquired a Philippine passport and has talked with Batang Gilas officials about joining future national youth teams.
[See Kirkness on the radar as SBP casts wider net for Batang Gilas program]
"These are exciting times for the Batang Gilas program," said Teh. "Who knows, we might have twin towers in the next Batang Gilas Under-16 team."
Teh said Batang Gilas is set to compete in the next Seaba Under-16 tournament and the Fiba-Asia Under-16 Championship, with an eye on making the World Under-17 Championship in 2018.
[See Amid hoopla, Compton warns not to heap pressure on teen prodigy Sotto]
ADVERTISEMENT - CONTINUE READING BELOW ↓