TAIPEI - He is regarded as the greatest Taiwanese basketball player of all time - a high-flying forward with a picture-perfect jumper who has earned monikers like 'Doctor Basketball' and 'Loach Dragon' from adoring fans back home and 'American Ninja' from Filipino fans who had the privilege of seeing him play.
Chen Chih-lung, in fact, was so good that Taiwanese journalists swear current national players still avoid wearing his No. 12 jersey, for fear of being compared to the cage legend.
It has been 16 years since Chen, 48, retired but he is still a revered figure in this progressive nation where he once served as a legislator and is now one of the assistant coaches in the national team.
The 6-foot-3 high-flyer is also well-known among Filipino basketball fans owing to his long service to the national team that had seen him fight numerous battles from the 1987 Asian Youth Championship in Manila to the Asian championships in the late nineties.
It turned out he only has fond memories of Filipino players and their passionate fans.
"The fans were unbelievable," the American-Taiwanese player, whose team also had a guest stint in the old PABL, said through a Taiwanese reporter who acted as interpreter.
"It was a great atmosphere playing before Filipino fans," Chen continued, recalling one game he and the Taiwanese team played at the old Rizal Memorial Coliseum in Manila and the noise from delirious, feet-stomping home fans.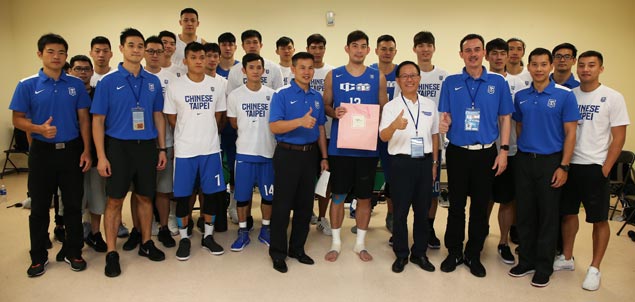 Chen, the first Taipei player to play in the mainland's Chinese Basketball Association (CBA) where he played alongside a young Yao Ming with the Shanghai Sharks, said the Philippines played American-style basketball at a time when the rest of Asia where still mostly playing a mechanical type of game.
Asked who among the Filipino contemporaries he remembered the most, Chen mentioned a tall player named Aquino (Marlou) before breaking into a smile as he recalled a player named Lim.
"Yeah, Samboy," he said when told of the former PBA star.
Samboy, of course, played some of the best games of his career with the Ron Jacobs-coached Philippine team carrying the colors of Northern Consolidated and left an indelible mark among Taiwanese fans with his memorable performance in the 1985 Jones Cup in Taipei.
Playing alongside Allan Caidic and naturalized players Chip Engelland, and Dennis Still, the former Letran star scored 20 points in the 108-100 overtime win over a US selection that included future NBA players Kenny Gattison, Harold Pressley, Joe Wolf, and Kevin Henderson.
[See Emotional homecoming for Samboy on the occasion of his 55th birthday]
That US team also included now Harvard coach Tommy Amaker and Jay Bilas and was handled by legendary Purdue coach Gene Keady.
Chen waved his hand and put it above his head to describe Samboy - his way of saying that the PBA great sure could fly.
Well, Chen could, too. Back in the day.