JONG Uichico and Boyet Fernandez's stints with Gilas Pilipinas likely won't be a one-off.
Samahang Basketbol ng Pilipinas (SBP) program director Tab Baldwin said he was pleased with the work done by the two as well as the rest of the coaching staff which he enlisted for the second window of the 2021 Fiba Asia Cup qualifiers in Manama.
"I was so pleased with the coaching staff that I will be petitioning that they continue to be involved," he told Coaches Unfiltered.
Uichico worked as the head coach for the two-game series against Thailand and is also serving as the head of the SBP's coaches academy.
Fernandez, the San Beda mentor, served as one of the assistants and was one of those chiefly responsible for scouting the opposition.
Aside from the two, other members of the Gilas coaching staff in the second window of the qualifiers for the 2021 Fiba Asia Cup were Sandro Soriano, Andrei Tolentino, and Alton Lister, who failed to join the trip to Manama.
ADVERTISEMENT - CONTINUE READING BELOW ↓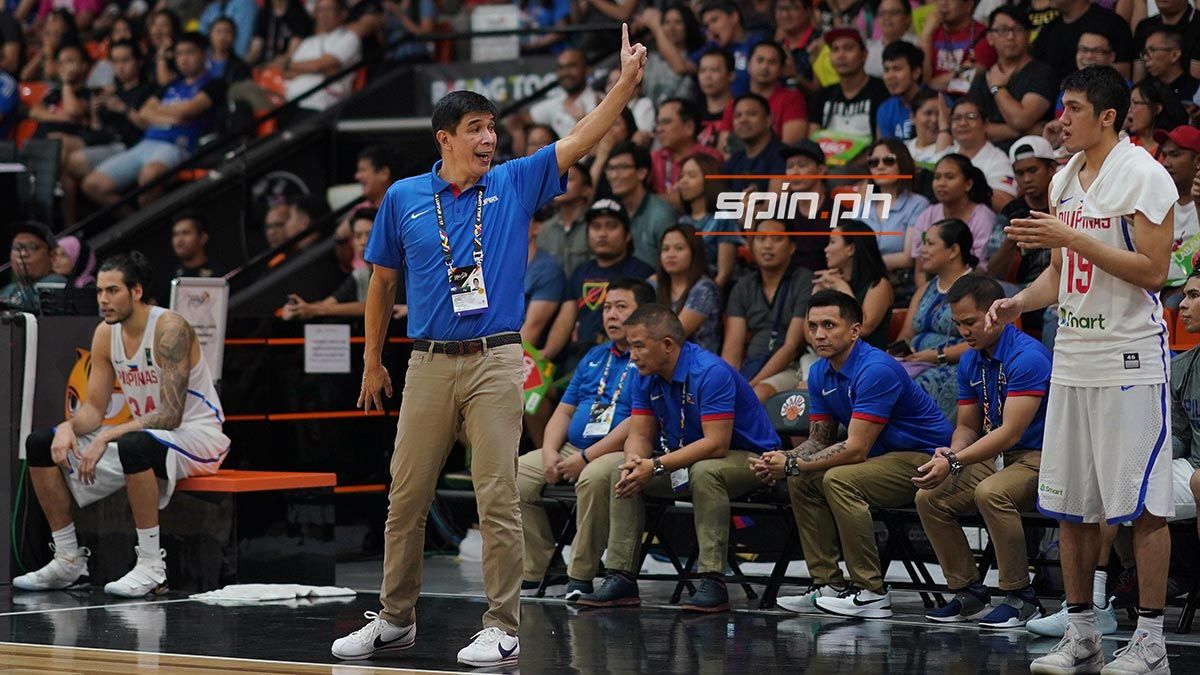 Baldwin believes that having a wealth of able minds, whether it be local coaches or international tacticians, could only mean well for the national team moving forward.
That also includes mentors who were tapped back in the first window last February like TNT consultant Mark Dickel and Phoenix head coach Topex Robinson.
ADVERTISEMENT - CONTINUE READING BELOW ↓
"Whether we expand that group or not, I hope so cause I think there's room for more expertise," he said. "We have a great group, and the extent of which we can involve all these coaching expertise, I'm excited about that and continue with that."
Baldwin said Uichico was a welcome calming presence on the Philippine bench for the cadets.
"Jong is a good friend. He's a good coach and he's probably one of the easiest guys you'd ever want to work with," he said.
"I was talking to coach Mark and he doesn't know coach Jong very well. And coach Mark said to me, 'Coach Jong must be the most chill coach I've ever seen on the sidelines in my life.' Well in fact, he is. Coach Jong has so much experience, has a relaxed demeanor, and is very easy for the players to work with."
That relaxed vibe Uichico presents is a welcome antithesis to Baldwin's intense nature, which to the American-Kiwi mentor made their partnership that effective in Bahrain.
ADVERTISEMENT - CONTINUE READING BELOW ↓
"Yes, I'm not the easiest guy to work with and I'm a bit a bully for a lot of people. I stick my nose in sometimes, but coach Jong and I, we discuss everything and he was aware that I will inject myself.
"Everything was according to plan and I hope it didn't look like we weren't in unison with one another cause we had constant meetings. It was all very clear to us on how it would work," he said.