WHEN members of the new Gilas Pilipinas pool gather for the first time on Monday at the Meralco gym, they better not expect a picnic outside of the pre-practice niceties.
Tab Baldwin isn't.
The national coach wants to hit the ground running when Gilas begins its preparations for the Olympic wildcard qualifiers in July, setting the tone for the Monday-only, once-a-week practices spread over seven months by saying he expects each one of the players to compete for his place in the team.
Seventeen of the best players in the PBA loaned to the national team program will be at Baldwin's disposal, giving the American-New Zealander more depth and size than he ever had in the Gilas squad he took to the final of the last Fiba Asia championship in Changsha, China.
While he's absolutely thrilled about that, Baldwin was also quick to point out that five of those 17 players will not make the final 12-man team to the Olympic qualifiers, or may be more depending on the availability of naturalized player Andray Blatche and Fil-American guard Jordan Clarkson.
By that, everyone should know that no one is guaranteed a spot in the team.
"That people will be given something without having to work or compete for it, you know that's not the nature of sports," Baldwin told Spin.ph.
"In sports, we should be competing for something as precious as wearing the Gilas uniform. It's incredibly honorable to wear that and it should never be assumed that it's the right of any player. It's not, it's a privilege."
ADVERTISEMENT - CONTINUE READING BELOW ↓
[See Tenorio, Slaughter, Aguilar, Sangalang confirm attendance in first Gilas practice]
That mindset should be there from the first day of practice, when Baldwin will be clear with what he expects from the players and what he will demand from each of them over a seven-month period until the 'cream rises to the top.'
He can't wait to get started.
"I'm really looking forward to it. There's really I lot a wanna do with this group of players in terms of building them into a strong basketball team," Baldwin said.
"I've never really spoken to any of the players, I'm waiting until we assemble on Monday, and we will be starting things out by trying to set the tone of what it's gonna mean to be in this team and the fact that the guys, six or seven of them or more, maybe, depends on Clarkson, depends on Blatche, will not be included in the final team, so it's gonna be very competitive, and I want it to be competitive."
Baldwin isn't sure if the early start, which will give Gilas around 20 to 25 once-a-week practices before the players get together for the final month of the buildup, will be better than the two months his Fiba Asia team got on the way to a runner-up finish behind China in Changsha.
But the veteran internationalist intends to make the most of it as they prepare for what he expects to be a 'brutally difficult' tournament against some of the best teams in the world.
[See Q&A: Can Jordan Clarkson play for Gilas in Olympic qualifiers? SBP responds]
Asked what he intends to accomplish during those Monday-only practices, Baldwin said, "I'd like to think that during that seven-month period we'd be able to introduce the system that we'll be using and then we can refine those and work on them at the last period that we have before the tournament.
"But also we would like to develop a very strong team chemistry. This is difficult when you are only meeting once a week but we want to try and do that. And I want to make the players understand that when they come into the Gilas environment, they will bring all of their talents but they also bring a mentality and attitude that is specific to what we're trying to accomplish."
And what does he expect from the players?
"We want them to be great communicators; I want all of them to be great leaders and ambassadors for the team and the game, and I want them to understand that this tournament will be brutally difficult. But we wanna go there and we wanna set our sights on winning games and qualifying for the Olympics.
"I expect all the players to grow physically and mentally and collectively as a team. And those that do a best job of that will be the ones who will ultimately be named to the team."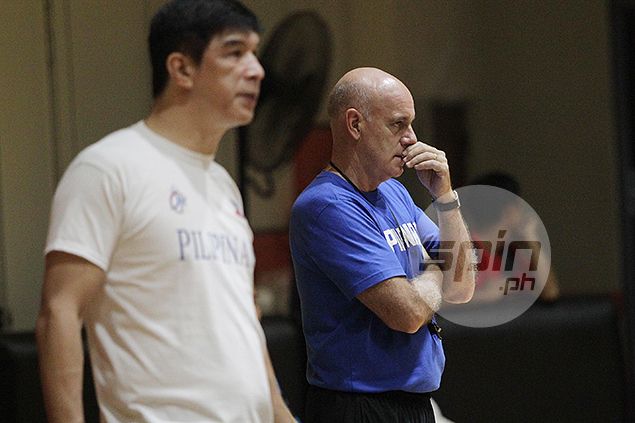 ADVERTISEMENT - CONTINUE READING BELOW ↓