FOR about a week, Gilas Pilipinas players stayed together in one hotel, eating, training, and doing everything together even if they were playing on home soil.
For coach Chot Reyes, it's a way of simulating life on the road for these millionaire pros, more so now that they are set to wage battle in places like Beirut and Australia after the first hurdle to reaching the Fiba World Cup qualifiers has been passed.
Although the players are now back in the loving arms of their respective families, Reyes believes the experience of living together as a team for the entire duration of the Seaba Championship should augur well for the bond and camaraderie of a team that's set to complete in four international tournaments from August until July of next year.
"Lahat ng international competitions, naka-quarters kayo and you do everything together," he said of Gilas' decision to stay in one hotel during the Seaba tournament when the team could have opted to just go home to their families after every game.
"This is no different. This is competition," said Reyes, 53. "Ang exception nga lang, dito lang siya sa Pilipinas. But we're quartered, just like any international competition."
[See Chot Reyes takes pride in seeing Gilas 'play the right way' during Seaba romp]
Continue reading below ↓
Recommended Videos
Gilas could put the practice to good use now that it romped off with the title in the Seaba on Thursday night, automatically giving it a berth in the home-and-away format of the World Cup qualifiers beginning this November that will see the team travel to Australia and perhaps Japan and Chinese Taipei.
Prior to that, the team will also see action in the Fiba-Asia Cup in Lebanon, the Jones Cup in Taipei, and the Southeast Asian Games in Malaysia.
"Kailangan masanay din. Sakripisyo talaga," admitted lanky big man Raymund Almazan, a first time Gilas player, who, for a week, could only see his new-born baby and his wife before, during, and after the game at the Big Dome.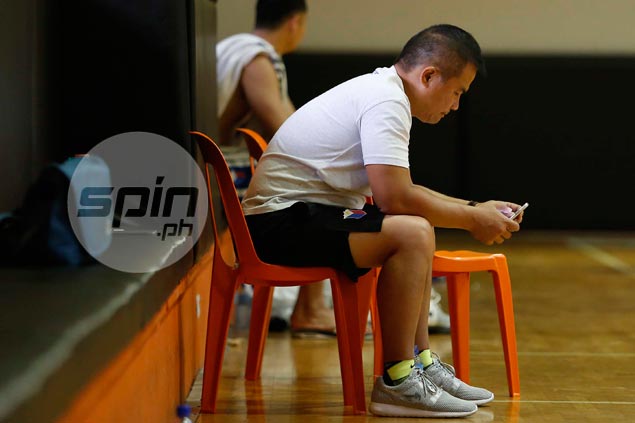 On Mother's Day, Almazan even had to ask for permission after the game to have a quick dinner with his family to celebrate the occasion.
"Pero kailangan by 12 (midnight) nasa hotel na ako, kasi yun ang curfew sa amin," he added.
Lights out and curfew were among the house rules imposed by Reyes and manager Butch Antonio on the team.
While Reyes would not elaborate on the other house rules which he'd rather keep 'secret,' the most well-known condition was prohibiting the team from being active on social media for the entire Seaba campaign.
"Yeah, that's part of the house rules. Wala lahat. 12 midnight nung first day, we're all signed off until after the championship game," said the Gilas coach.
"Kaya buti na lang, hindi ako nakakabasa ng SPIN," Reyes added jokingly.
[See Here are four Gilas players who stood out in eyes of Seaba rivals]
Shortly after beating Indonesia, 97-64, to complete a six-game sweep of the tournament, the entire Gilas team proceeded to Kamayan-Edsa for a championship celebration and sumptuous dinner exclusively with members of the team's family.
At the end of a long day, the players were finally back and enjoying the comforts of their homes together with their loved ones.
But not for long.