SINCE his international debut in the last Jones Cup, the name Calvin Abueva has suddenly cropped up in conversations among Asian teams.
So said Sam Daghles, a veteran internationalist from Jordan who said other Asian players including his own teammates are talking about Abueva who, along with fellow Gilas Pilipinas new boy Terrence Romeo, has turned heads with their impressive play in the last tournament in Chinese Taipei.
"Yeah, I did hear a lot about him. He's doing good things and I am happy Tab (Baldwin) gave him an opportunity to play," said Daghles upon his arrival in Manila with a Jordan team coached by Rajko Toroman that will play a series of tune-up games in preparation for the Fiba Asia Championship next week.
Daghles is quite familiar with Abueva, having played against 'The Beast' during his stint as Talk 'N Text's Asian import in the last PBA Governors Cup. The Jordan star guard said he has kept abreast with Gilas and Abueva's exploits in the Jones Cup through different sports websites.
Apparently, other Asian players are taking notice as well.
"(Some players say) that he is playing really well," said Daghles, who will be leading Jordan's campaign in the Changsha showpiece from September 23 to October 3.
Continue reading below ↓
Recommended Videos
[See Abueva gets emotional after Jones Cup debut: 'Ang sarap maglaro para sa bayan']
The agile wingman, however, said he has yet to make any preparations against Abueva or Gilas yet because Jordan is not in the Philippines' side of the bracket in the Fiba Asia.
"I don't really scout much of my rivals whom I won't face in the preliminaries," he said. "If they (Gilas) were in the group in the first round, I will be scouting him. But they are not in our group, first round or second round.
"But I'll get to watch him (Abueva) in the Fiba Asia a lot."
Asked how he expects to fare against Abueva if and when they finally cross paths, Daghles said, "I can guard anybody. I've played against different defenders, I played in a lot of different leagues, I just make adjustment and from there, move on."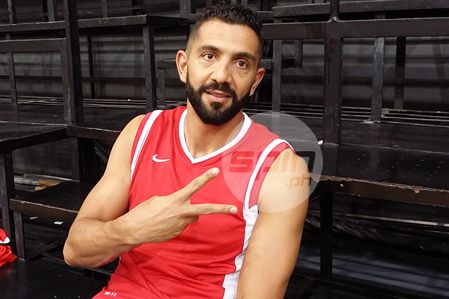 Former Gilas coach Toroman, meanwhile, said he will make sure to warn his players about 'The Beast' in the event the two teams square off in China.
"We were always afraid of Abueva when we (Toroman's former team Barako Bull) played against Alaska, but his performance were not that good against our team, so I hope it continues against me in the Fiba Asia," Toroman said with a smile.
"There are three referees there, but I will tell my boys about him. He is an energetic guy. He has done a lot of things for Gilas in the last Jones Cup," Toroman said.
But since he has not seen Abueva play since his rookie year, Toroman was asked to assess the development of the former Rookie of the Year awardee.
"I was amazed by his performance, though I was only able to watch one game of the Philippines in the Jones Cup and he has matured so much," said the Serbian mentor.
"He has matured and he has improved a lot," he added. "But Fiba Asia is not the PBA, it's totally different, so he needs to adjust."