A MISFIRING Philippine squad couldn't shake off its early struggles as it suffered an 82-89 defeat at the hands of Palestine squad Sareyyet Ramallah in the 2017 FIBA Asia Champions Cup on Saturday in Chenzou, China.
The Philippine Five went misfiring for most of the first three quarters as they fell behind by as many as 15 with Jamal Abu Shamala waxing hot for Palestine.
Jeron Teng and LA Revilla anchored a mini-comeback for the Chooks to Go-backed squad, but the closest the Philippines ever got is by four points after Raymar Jose's foul shots trimmed the deficit to 73-69.
Palestine, however, retaliated with fire as Habash and import Tony Weeden fired back-to-back threes to give Sareyyet a 79-69 lead with 4:38 to go and never looked back.
The last time the Philippines ever threatened was in the 2:42 mark when Carl Bryan Cruz drained a corner three pointer to trim the lead to six, 75-81.
But Palestine had an answer to every Philippine uprising as Abu Shamala responded with a lay-up before Habash put away the Philippines for good with a three pointer, which pushed Palestine to an 86-75 spread with 1:58 left.
Ravena had a fitting follow-up to his 22 point debut with 24 points – 18 of which coming in the second half. Teng also bounced back from a one point outing as he finished with 18 markers.
But that all went for naught as a limping Isaiah Austin struggled to make an impact as he was limited to 13 points and eight rebounds.
The 7-foot-1 beanpole limped off the court near the end of the first half but returned right after the break but was never the same since.
Weeden led Palestine with 22 points, Abu Shamala had 21 points and 12 boards while fellow American import Todd O'Brien had an all-around game with 20 points, 11 rebounds and five assists.
The Palestinians made 10 of their 26 attempts from downtown compared to the paltry shooting from the Philippine side, which made just five of their 28 attempts.
With the result, the Philippines are now tied with Palestine at 1-1 after the latter dropped a 102-100 overtime loss to Thailand's Mono Vampire.
The Philippines will play less than 24 hours later as it takes on Southeast Asian neighbor Mono Vampire at 2:30 p.m.
THE SCORES
PALESTINE 89 – Weeden 22, Abu Shamala 21, O'Brien 20, G. Habbash 14, Sakanini 10, El Diraoui 2, Sahwani 0, K. Habash 0, I Habash 0
PHILIPPINES – Ravena 22, Jeron Teng 18, Austin 13, Cruz 8, Jose 8, Revilla 6, Manuel 3, Tamsi 2, Torres 0, Jeric Teng 0,
Quarterscores: 21-13, 41-33, 64-54, 89-82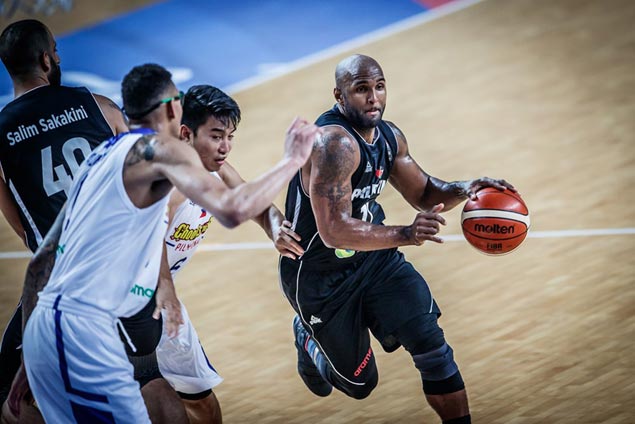 Recommended Videos