KUALA LUMPUR - Bobby Ray Parks scored 14 points in the game against Thailand on Sunday night but left a bigger imprint on defense in Gilas Pilipinas' debut in the 29th Southeast Asian Games.
The 6-3 son of PBA great Bobby Parks worked his tail off on defense against Tyler Lamb, holding down the Thai-American guard before forcing him to foul out with the game on the line in the fourth quarter.
Lamb had 17 points and six rebounds but shot 6-of-17 from the field. It was also no coincidence that the game turned drastically after he fouled out as Gilas put away an 81-74 victory.
Still, Parks said slowing down Lamb wasn't the work of one man alone.
"Lamb is a prolific scorer. You just really have to contain him. We limited him. We did a great job as a team," the ABL MVP last season during his maiden stint with Alab Pilipinas said.
[See Gilas cadets survive fright from Thailand]
"Everytime he is able to make mistakes, it feels good. He is my assignment and defense is what I bring to the team," Parks added.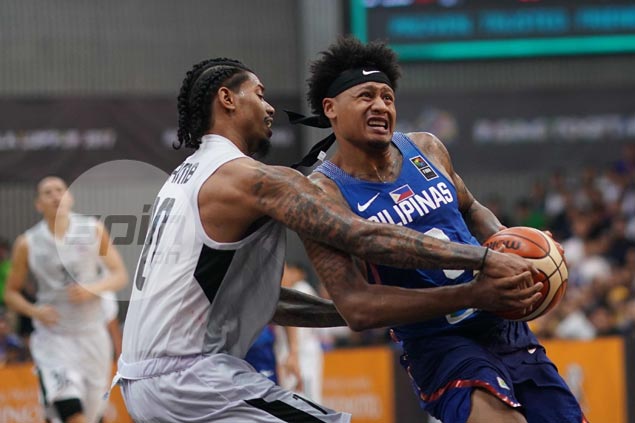 Continue reading below ↓
Recommended Videos
A mad scramble for the ball between Parks and Lamb led to the Thai-American's fifth and final foul - a turning point in a game where Gilas still trailed late in the fourth quarter.
"It was huge for the team. It was an assignment that was given to me. I just want to redeem myself. Coming into the SEA Games, my mindset was to be aggressive," said Parks.
Parks, who recently signed up to play a second season with Alab in the ABL, said he is motivated to make his mark on defense in a team that has a lot of explosive scorers.
"Everybody in this team can score but being able to do it on both ends of the floor, it makes it special. It makes me feel great just to be able to lock down such a great scorer," Parks said.
[See Kobe Paras plays down bench incident, says all he wants to do is bring 'energy' to Gilas]
For complete, hassle-free flight and hotel booking to Southeast Asian countries and other destinations, visit Traveloka.com at https://www.traveloka.com/