MEET the new Bobby Ray Parks, Jr.
This was the promise of the two-time UAAP MVP out of National University who claimed that he trained like a monk in the US for the past year, totally rebooted his game 'broken down from scratch,' to become an all-new player.
"Ang laki talaga ng pinagbago ng game ko, binreak-down talaga ng trainer. I feel like a new person, compared to what I was before, I feel like a new player," said Parks at the end of his first practice with Gilas Pilipinas on Wednesday afternoon at the Meralco Gym.
"I've been working on it. I was gone for a year, I worked on a lot of stuff," he said. "My handles are tight, getting to the cup, thinking in the game and shooting helped a lot too."
[See Parks the latest addition as Gilas returns to practice]
Looking back, Parks said he felt his game during his UAAP days was 'awful.'
"I watched (videos) like the way I used to play, during my college days, I felt I was terrible," he said. "(Back then) I was going one speed, then pull up or I am going to the cup, going to the hole.
Continue reading below ↓
Recommended Videos
"But now I slow down at my pace, I play at my own pace," Parks added.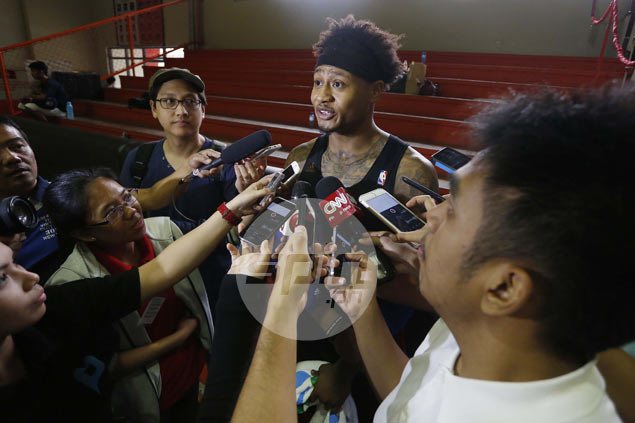 The 6-3 combo guard credited the big leap in his game to trainer Tyrone Gordon, who diligently followed his student to the Philippines when Parks returned to the country last month.
Gordon, a Dallas-based skills trainer, only left last Monday and will return again soon as Parks is determined to get even better.
"I would just want to get better each and every day, there's no certain marker. Each and every day I step in the gym, gusto kong gumaling. You gotta be a student of the game, you gotta learn," he said.
The son of the late seven-time PBA best import awardee Bobby Parks revealed that part of his training in the US was to break down his skills training and start from scratch.
"It was a total reset. My game was broken down from scratch, from dribbling to cones again to gloves to in-game situations. Ang laki ng pinagbago talaga ng game ko binreakdown talaga ng trainer ko habang andun ako," he said.
"Again, I feel like a new person compared to what I was before," he said. "I'm definitely more confident in the work that I put in."
"It's (my game) just different, it is just smarter."
Right now Parks plays the 1, 2, 3 spots for Gilas, but vows to fight for the slot in coach Tab Baldwin's final 12 roster that will compete in the coming Fiba Olympic Qualifiers set in Manila from July 5-10.
"Coach Tab tells me, kahit saan pwede niya ilagay. Today nasa 3 and 2 ako, ang na-fe-feel ko naman gusto niya kong maging creator and score and defend of course," he said.
But when asked if he is daunted to be fighting for Gilas spots against some the biggest names in the PBA, including the former members of the Gilas pool, Parks gave a confident answer.
"A title (them being PBA players) doesn't mean anything. I've been working hard, they've been working hard, so we'll just see what happens," he said.
Watch Parks in action in Gilas practice: