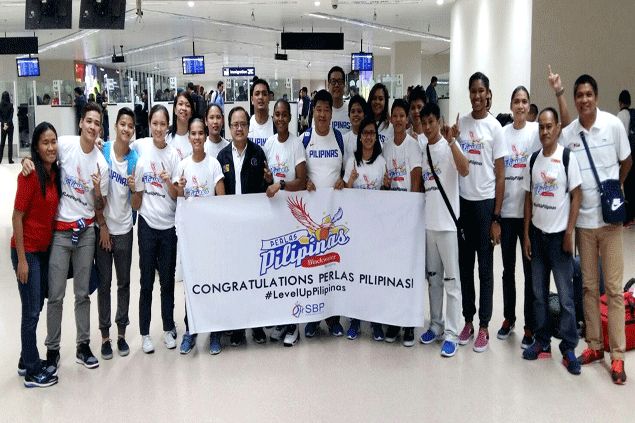 THE country's promotion to Level 1 of the Fiba-Asia Women's Championship more than made up for the heartaches Perlas Pilipinas had to endure following a Southeast Asian Games campaign that turned out to be a big letdown.
Team captain Ewon Arayi admitted the historic feat in Wuhan, China last week came at a time when the Filipina cagebelles have hardly gotten over their stunning loss in the SEA Games last June where they failed to clinch a podium finish.
The fancied Filipinas, tipped to win the gold medal, managed to finish only at fourth place, their shot at winning the title badly hurt by two huge losses, including one against eventual silver medalist Indonesia.
It marked the first time Perlas failed to make the podium of the SEA Games since finishing runner-up thrice in 2007, 2011, and 2013.
"Nabura na lahat ng sakit ng mga failures nung SEA Games," Arayi said in a brief interview with Spin.ph.
Coach Patrick Aquino, who took most of the heat for the team following the Singapore tragedy, said the Fiba Asia was the perfect time for Perlas Pilipinas to redeem itself.
"We were already there (SEA Games). Everybody was expecting us to win the gold, then suddenly, biglang nangyari 'yung di mo inaasahan," recalled Aquino, whose team defeated eventual gold medalist Malaysia, only for its hopes of winning the championship dashed away with its loss to the Indons.
"Kaya I told the girls, prove them (critics) wrong. You deserve more than these (bashing)," Aquino related to Spin.ph a day after Perlas Pilipinas arrived in the country from the Chinese province.
The Philippines' campaign in Level 2 of the Fiba Asia actually took off on the wrong foot when it lost to Malaysia on opening day.
Aquino referred to the setback as a 'wake-up call.'
"I think if we didn't lose to Malaysia that way, baka nag-overconfident ang team," he said.