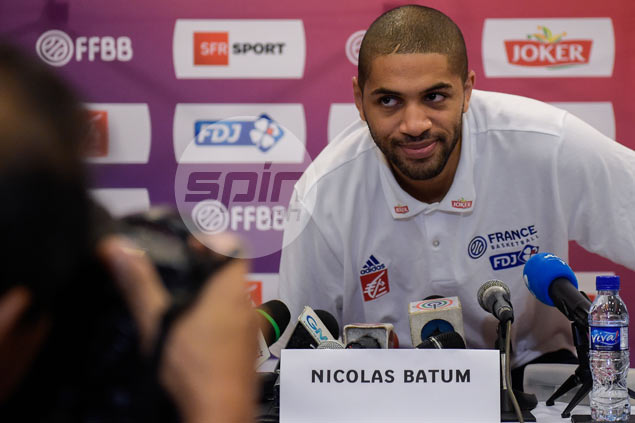 NICOLAS Batum is looking forward to making his France debut on Saturday against Turkey in the Fiba Olympic Qualifying Tournament semifinals at the Mall of Asia Arena.
Batum said he is excited to finally hit the court after waiting out until his contract with the Charlotte Hornets became official before he could join France in the Fiba OQT.
"I just want to be on the court," said Batum on Friday during media availability day.
However, France coach Vincent Collet expressed concern that the NBA star may not be in game shape as he has yet to play a full game for the Les Bleus.
The 27-year-old Batum, who signed a fresh deal with the Charlotte Hornets, is in shape but has yet to play a full 5-on-5 game with the team since he wasn't cleared to play by the NBA, Collet said.
"He is in good shape but the problem is he hasn't played 5-on-5 with the opposition. That would be a problem," said Collet.
Batum, however, was quick to allay the concerns, saying he has kept himself in shape during the break.
"I can't wait to play basketball as I've been practicing the last two to three weeks," said Batum.
The 6-foot-7 Batum insisted Turkey will be a tough semifinal opponent with a team led by shifty point guard Ali Muhammed and twin towers Omer Asik and Semih Erden.
"It's going to be a tough game. We've played Turkey like a ton of times. It won't be easy. We will try to battle for 40 minutes. They have big men inside and they have a great point guard," said Batum.