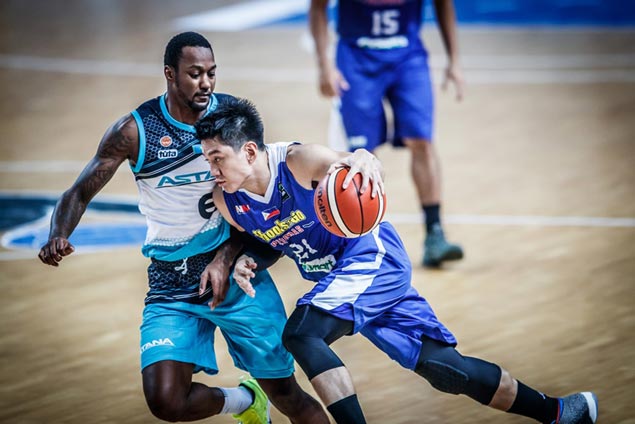 BC Astana import Justin Carter got a lot of flak from Filipino basketball fans for a message he posted on Twitter moments after the Kazakhstan ballclub lost to Chooks To Go-Pilipinas in the FIBA Asia Champions Cup.
The 30-year-old Carter tweeted on his account @_smooth_J the message "Just lost to the sorriest team I ever played against," shortly after his team lost to the Filipinos, 73-65, Friday night during the opener of the meet at the Chenzou Olympic Sports Cente Stadium in China.
Just lost to the sorriest team I ever played against

— Justin Carter (@_smooth_J) September 22, 2017
Carter, a product of Creighton but was undrafted in the NBA, naturally got a lot of replies mostly from Filipino fans calling him a 'sore loser.'
There were those who informed the American, one of four imports tapped by BC Astana for the club championship, about Chooks To Go being composed mostly of college players, while others noted the team is not even the best formed unit from the Philippines that was only assembled on short notice.
and that makes you what?!?

— hooplife (@sportsandlife) September 22, 2017
It hurts, right? ???? Beaten by a young team, with just a week of practice.

— Eds ???????? (@edsacosta06) September 22, 2017
that team was formed a week only, college players, pro rookies. How much more if u will face the strongest club of Philippines?

— Fritz RN (@fritzryan20) September 23, 2017
Carter actually has a lot of say to BC Astana's loss.
The 6-foot-4 Maryland native finished with 10 points, shooting shot miserably from the floor.
He was 3-of-21 from the field, including 2-of-10 from three-point range. Carter added four rebounds and four assists.
This didn't make you cool after a loss. You're shooting 3/21, and your team got 6 National team players. Be humble bro, God bless you. pic.twitter.com/567qKgy1SY

— W Gameplay (@WGameplayPH) September 23, 2017
Chooks To Go trailed by as many as eight at the half, but rallied behind Kiefer Ravena and import Isaiah Austin to pull off the rousing win.
Ravena led the Philippine side with 22 points while Austin had 17 points, 18 rebounds, and six blocks.