AT the age of 18, Mason Amos has a shot at joining some of the Philippines' biggest basketball names in the Gilas Pilipinas lineup.
Not bad for a late-bloomer who didn't pick up the game until high school.
"Unfortunately, I didn't [play basketball immediately] ... In high school, I would try [to play] it and it was really a rough sport," Amos shared with former PSC chairman Noli Eala in his Power & Play program.
Born to a Kapampangan father and Filipino-American mother — both athletes who met in Australia — Amos picked up the sport when his ex-New Zealand National Basketball League player dad introduced him and his two younger brothers to the sport.
Now he's already 6-foot-7 and blessed with the rare gifts of size and a deadly shooting touch. And playing mostly against bigger Australians, Amos immediately got used to the physicality of the sport.
ADVERTISEMENT - CONTINUE READING BELOW ↓
"I got used to the physicality because Australians are big and you always had to face someone bigger than you or as big as you."
At 12 years old, the Fil-Aussie star started to follow UAAP and PBA games through his father, which ultimately became his gateway to Philippine basketball.
"My dad showed me some clips of the UAAP and ever since then, I've been keeping in touch with it — watching the games on YouTube [until] it became a dream of mine, and so did the PBA," Amos said.
"I've always wanted to experience the [UAAP] atmosphere. It was really loud and I've never seen anything like it."
He soon will. Amos is taking up Interdisciplinary Studies at Ateneo and soon will suit up for the Blue Eagles in the UAAP where he is expected to be thrust into a central role following the departure of Dave Ildefonso, BJ Andrade, and Ange Kouame.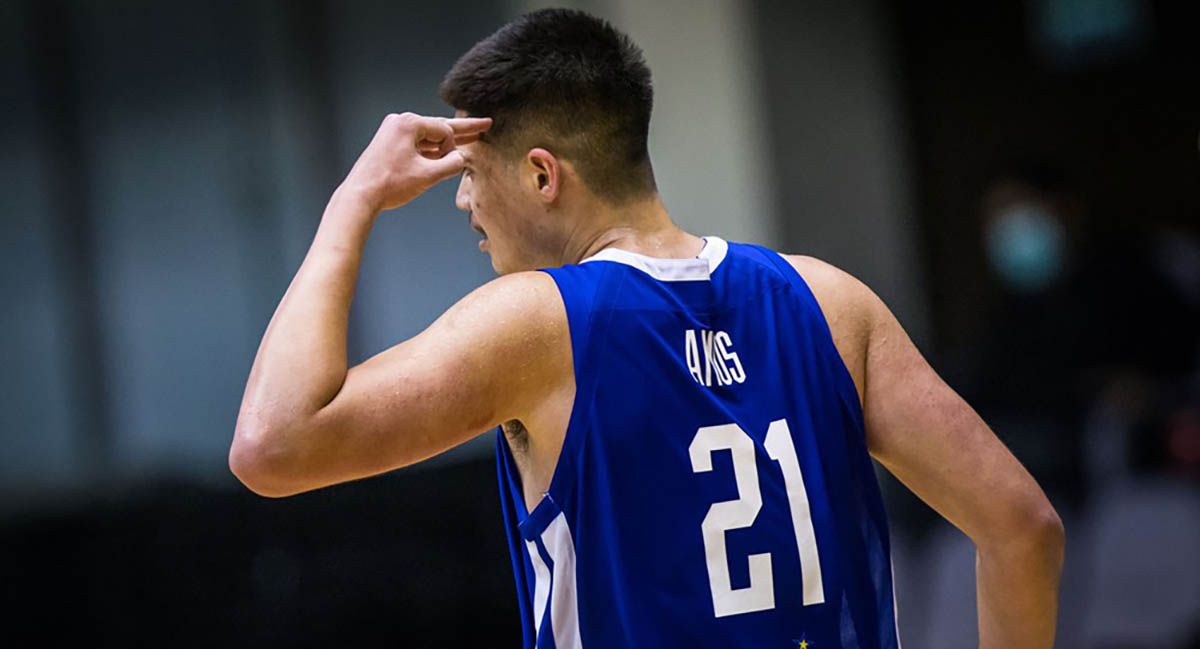 "I had a vision that it could be us [winning Season 86] this year. It's pushing me and the team to work harder because we want to be in those shoes again. To witness [Ateneo's] last championship was a great experience and it doesn't get any better than that."
ADVERTISEMENT - CONTINUE READING BELOW ↓
The teenager got his baptism of fire in the international basketball as a key player in Gilas Youth's sixth-place finish at the 2022 FIBA U18 Asian Championship where he averaged 24 points, six rebounds, and an assist per game.
Just months later, he is in the fame for a debut in the senior's side after being named to the 24-man pool for the final window of the the FIBA World Cup Asian qualifiers.
He's understandably thrilled.
"It's not very often where someone my age gets an opportunity to get into the Gilas pool," he said. "It's the biggest blessing that's ever happened to me. Being able to train with PBA players that you've watched growing up, there's nothing more like it."
"Shooting is the biggest thing that I can bring to the table. I work on it a lot and I shoot a lot of shots every day. That, I think, is the reason why I got selected because I can stretch the floor as a big, and with my size, it's easier to get a shot off."
ADVERTISEMENT - CONTINUE READING BELOW ↓
Gilas assistant Tim Cone is so impressed he likened Amos' game to that of all-time PBA great in Allan Caidic, saying the kid has a chance at making the final lineup.
"He is extremely interesting and can shoot from anywhere at any time. He's like an Allan Caidic ... with that ability to put the ball forward," said the 25-time PBA champion coach. "It blew me away when I found out he was just 18, but he really has a shot at making the Final 12 because of the skills that he can bring in."
"[Mason] is a lights-out shooter. I haven't seen anybody shoot like that since Allan Caidic."
Get more of the latest sports news & updates on SPIN.ph