BY now, the lineup for Gilas Pilipinas 3.0 is set and the national team under Tab Baldwin is in the final days of its preparation for the 2015 Fiba Asia Championship set from September 23 to October 3.
Their mission: win the championship and the lone Asia berth to the 2016 Olympics in Rio de Janeiro.
But before they set sail for Changsha, China, now is as good a time as any to compare Gilas 3.0 with its forerunner - the Gilas 2.0 side which, under Chot Reyes, finished runner-up to Iran in the 2013 Fiba Asia Championship in Manila to earn a trip to last year's Fiba World Cup in Spain.
Before we begin, allow us to stress that this is not to undermine coaches or players from either side and is solely meant to gauge the chances of the current Gilas team when it goes to war against the best teams in Asia.
ADVERTISEMENT - CONTINUE READING BELOW ↓
Here, we focus on six categories - backcourt, frontline, depth, three-point shooting, offense, and defense, sometimes using Gilas 3.0's lone tournament appearance in the 37th Jones Cup in Chinese Taipei as basis.
Here also are points to remember: There are four Gilas 2.0 holdovers in Baldwin's team, namely Jayson Castro, Gabe Norwood, Marc Pingris, and Ranidel de Ocampo. Another Gilas 2.0 mainstay, Gary David, has been named by Baldwin as one of his two reserves.
In the case of the Gilas 2.0 team, there are two interchanging parts: Larry Fonacier suited up in the 2013 Fiba Asia but was replaced by Paul Lee in the Fiba Wold Cup; Marcus Douthit played for Gilas in the Fiba Asia but was replaced by Andray Blatche in the World Cup.
For points of comparison, here are the respective lineups:
Gilas 3.0: Jayson Castro, Terrence Romeo, Matt Ganuelas Rosser, Gabe Norwood, Dondon Hontiveros, JC Intal, Calvin Abueva, Ranidel de Ocampo, Marc Pingris, Sonny Thoss, Asi Taulava, Andray Blatche.
Gilas 2.0: LA Tenorio, Jimmy Alapag, Gabe Norwood, Jayson Castro, Gary David, Jeff Chan, Larry Fonacier/Paul Lee, Japeth Aguilar, Ranidel de Ocampo, Marc Pingris, June Mar Fajardo, Marcus Douthit/Andray Blatche
Let's begin: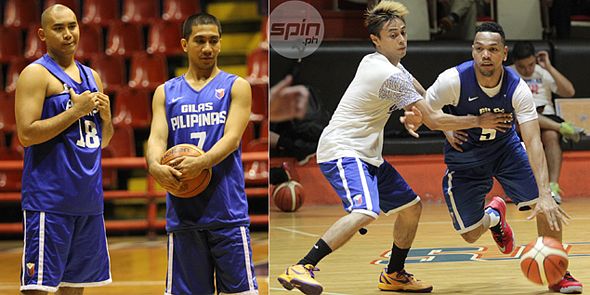 Backcourt
There's no doubt that Gilas 2.0 has more depth and stability in its guard rotation. It in fact has two legitimate point guards in Jimmy Alapag and LA Tenorio, allowing Jayson Castro and later Paul Lee to play in their natural two-guard spot. In contrast what Gilas 3.0 has are two converted point guards in Terrence Romeo and Castro. It may even have to call on Matt Rosser or Gabe Norwood to do the ball-handling skills if Romeo or Castro, or both, are firing blanks. For Gilas 3.0 to do well, Castro and Romeo must be absolutely spot-on in the Fiba Asia. While Castro and Romeo can score in a variety of ways, the lack of a legit playmaker may hurt Gilas 3.0 in grindout games that go down to the wire.
ADVERTISEMENT - CONTINUE READING BELOW ↓
Edge: Gilas 2.0
Frontline
There's a reason why Baldwin kept the door open for June Mar Fajardo for as long as he could: the 6-10 Cebuano was the 'missing link' that could have made a respectable Gilas 3.0 frontline great. If Fajardo had been on board, Taulava would've been perfect coming off the bench without Gilas 3.0 losing any size in its frontline. Without Fajardo, Baldwin has to squeeze out the last ounce of strength from Asi's 42-year old legs to keep the team competitive in the middle. Still, the late addition of Marc Pingris plugged a major hole in the frontline, bringing a lot of strength, stability and experience to Gilas 3.0.
But whether he admits it or not, Baldwin's biggest problem is the shape Andray Blatche is in. As one veteran columnist put it, the former Brooklyn Net reported for training camp 'looking as if he's on the family way.' A crash diet notwithstanding, we all can agree that we won't be able to count on the real Blatche - the one who played so well in the Fiba World Cup and later tore up the Chinese Basketball Association - in the Fiba Asia. The question now is if a 50-60 percent Blatche would still be better than Marcus Douthit was for Gilas 2.0 in the 2013 Fiba Asia.
ADVERTISEMENT - CONTINUE READING BELOW ↓
Edge: Gilas 2.0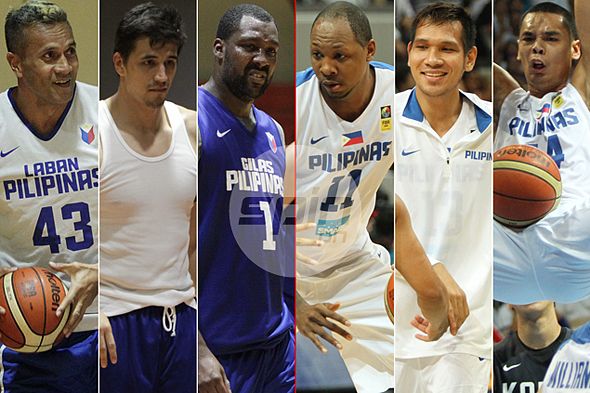 Depth
With a large pool of PBA players to choose from, any Gilas side is assured of a deep lineup notwithstanding the limitations brought about by the politics that has marred the selection process. That said, there's still a stark difference in the two lineups put together by Baldwin and Reyes. What Reyes had where interchangeable pieces like Jeff Chan and Larry Fonacier who play the same role and more or less play the same way. What Baldwin has are distinctly different players like Terrence Romeo, Calvin Abueva and Ranidel de Ocampo who can change a game's complexion the moment they enter the court. The same goes for Gilas 3.0 relievers like Matt Ganuelas Rosser and JC Intal. That's what makes Gilas 3.0 more unpredictable - and tougher to scout.
ADVERTISEMENT - CONTINUE READING BELOW ↓
Edge: Gilas 3.0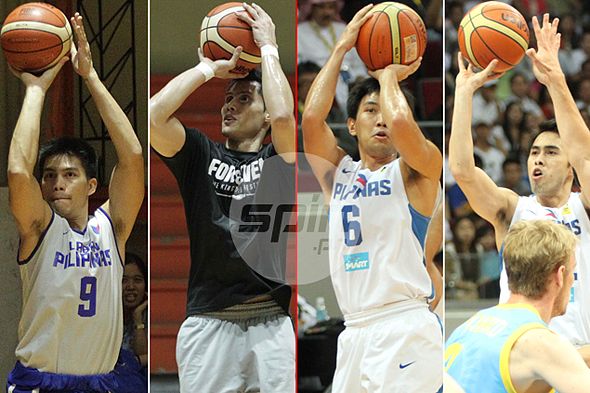 Three-point shooting
Under Reyes' dribble-drive offense, Gilas 2.0 from the beginning was prepared to live and die with the three-point shot. In fact, Gilas took the most number of shots from beyond the three-point arc among all the teams in the 2013 Fiba Asia in Manila with 255 in nine matches for an average of 28.33 three-point shots per game. A big reason for its success was that it made a lot of these shots, ranking only second to Chinese Taipei in terms of three-point accuracy with a 36.32-percent clip behind the guns of Chan, Fonacier, de Ocampo, Alapag, Tenorio and Castro. Gilas 3.0's offense is a lot more deliberate, but Baldwin's team, too, relies a lot on its three-point shooting. In its only full tournament appearance at the Jones Cup, Gilas 3.0 threw up 208 three-point attempts in eight games, which is not far off Gilas 2.0's total. Its accuracy is also respectable, making 68 for a 32.6% clip, thanks to Dondon Hontiveros. But in terms of weapons, there's no question that Gilas 2.0 has a lot more reliable three-point gunners to go to than Gilas 3.0.
ADVERTISEMENT - CONTINUE READING BELOW ↓
Edge: Gilas 2.0
Offense
Baldwin's 'swing' offense is a lot more deliberate than that of Reyes' Gilas 2.0, which didn't hesitate to take the first good attempt available under the premise that - being smaller than most of its opponents - it may not get another good look at the basket further down the shot clock. Both teams also love to run and generate points from the open court. While Baldwin's system has more ball movement, it still maintains aspects of the 'dribble drive,' meaning it is still dependent on its guards to make something happen offensively. Castro and Romeo proved up to the task in the Jones Cup, leading the team with averages of 13.3 and 15.2 points, respectively. Another advantage of Gilas 3.0 is Blatche, who is more offensive-minded than Douthit ever was in the 2013 Fiba Asia and has a far superior range and repertoire. If Blatche's shape can allow him to do some of the things he did for the Philippines in the 2014 Fiba World Cup, then there's no doubt Gilas 3.0 will give rival defenses problems. If not, Gilas 3.0 can only hope the former NBA player still gets a lot of attention from opposing defenses to free up the floor for the rest of the team.
ADVERTISEMENT - CONTINUE READING BELOW ↓
Edge: Even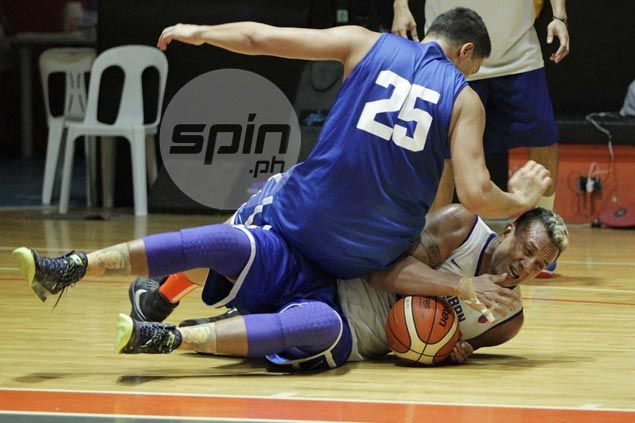 Defense
With a little more polishing, Gilas 3.0's defense can be a lot better than Gilas 2.0 ever was defensively. While Gilas 2.0 relied mainly on shot blockers like Japeth Aguilar and Douthit (remember, Fajardo played only limited minutes in the 2013 Fiba Asia) and went almost exclusively to Pingris to provide the muscle inside, Gilas 3.0's frontline led by Asi Taulava, Sonny Thoss and Pingris is a lot more physical. In fact, Taulava and Co. already had Chinese Taipei players complaining about 'too much physicality' after their first game in the Jones Cup. They also stood their ground against Russia's bangers and stood toe to toe with Iran's Hamed Haddadi. Aside from that, Baldwin has a lot of lockdown perimeter defenders at his disposal like Rosser, Norwood and Abueva - that is, if he stays out of foul trouble. This team gave up an average of just 63.87 points in its eight games in the Jones Cup. At that pace, Gilas 3.0's defense can stand up to a lot of teams in the Fiba Asia.
ADVERTISEMENT - CONTINUE READING BELOW ↓
Edge: Gilas 3.0
Summary
We now know that Gilas 3.0 will go to the Fiba Asia with a better defense, more diverse options from the bench, and an offense that has distinctly different weapons - and therefore is tougher to prepare against. The 'unknown factor' is Blatche. As good as Gilas 3.0 has become under trying circumstances, Blatche's shape and his performance will still largely dictate how far this team will go.