IF there is one positive takeaway from the Kiefer Ravena doping ban, it's the focus the controversy has put on the topic of supplementation — a practice that is common among health buffs.
However, there's so much more to supplementation that gym buffs know about. Many will claim to understand what they're taking but will struggle to name the key components contained in the sports drinks and what these supplements actually do to the body.
Such misinformation leads to career missteps for professional athletes like Ravena, or health risks for the common health buffs.
---
To further understand supplementation, SPIN.ph reached out to strength and conditioning coaches Martin Antonio and Jay Futalan of the Medical and Scientific Athletic Services department of the Philippine Sports Commission (PSC).
More often than not, most athletes do not know what the supplements are for, the two coaches said.
"It's important to understand what supplements are. Sometimes when people work out, they think that supplements can change anything. Na parang magic powder. Hindi ganun," said Futalan.
One important point: supplements are not dietary replacements.
"In a sense it can just change how you work and yung excitement ng katawan mo towards training. Supplements kasi, just to be clear, are not a dietary replacement," he added.
Antonio said that it's common to see top-level athletes like Ravena take supplements to replenish all the things that they're burning during daily training and competition.
After all, the needs of an athlete's body are higher than the needs of your letaverage Joe.
"Kaya ang tawag talaga diyan, ergogenic aids. When you break down the word, ergo means work, genic means body, so it means it helps you work through getting into your goals. Yun ang ginagawa ng mga atleta," Antonio said.
Supplements, Antonio said, give athletes more energy in training and help in the recovery.
"Kiefer is one of the best-conditioned athletes that we have. He might be top five, top ten. If you take into consideration, it just helps them to get more in-tune with their workouts, number two to recover, and three, it's to help 'yung kulang sa kinakain nila. That's the main goal of supplements," he added.
---
ANTONIO admitted he takes pre-workout supplements. But he also stressed that athletes should know what they are taking vis a vis the Wada list of prohibited substances.
In Ravena's case, he got flagged for three banned substances in his system such as 1-methylhexan-2-amine, 1,3-dimethylbutylamine and higenamine. In a statement, Ravena said that he likely ingested these substances from a pre-workout drink called 'Dust.'
So what is Dust?
"Dust is a pre-workout supplement. It's one of the most purchased in the States. Personally, I am taking 'Assault' because it's something that helps me get through my workout. It really helps in your performance," Antonio explained.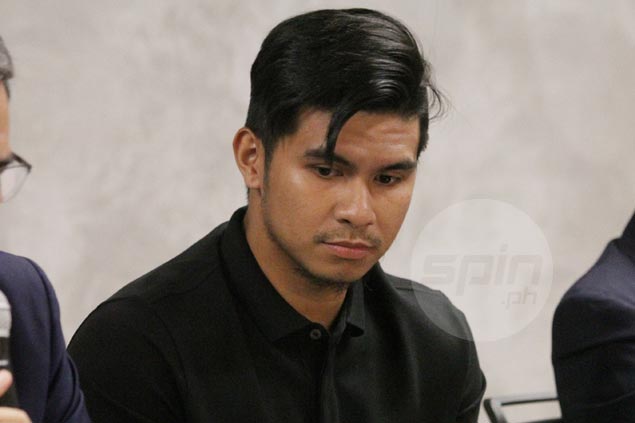 So how can a drink that is accessible all over the world result in an 18-month ban?
Futalan explained that substances on Wada's banned list vary from one sport to another and from one month to the next. That means the substance that led to Ravena's doping ban can be perfectly legal in other sports.
"For different sports, you have different regulations of quantities of substances. Some substances are tolerated in other sports. While others are not," said Futalan.
Antonio said the WADA list is modified from time to time, so substances that weren't banned the last time you checked could be declared illegal the next month, as was the case with the positive test that led to Maria Sharapova's doping ban.
"Ang mahirap kasi sa Wada, every quarter, every month, they put in a lot of different substances, sometimes they add or they take away from the watchlist. When you have a watchlist, anytime that you get positive, pwede ka nilang bigyan kaagad ng summons," said Antonio.
The two coaches warned substances can cause different chemical reactions in a body.
"Sometimes you get tested cross-positive. You take a supplement, and then you take another one. Parang you take pre-workout, an intra-workout supplement and a post-workout supplement," explained Antonio.
"Sometimes dahil chemicals yan, you can't tell how one product will react to another. It's basic chemistry. And maybe, one of the substances inside the supplement, reacted differently or something," he added.
"Even yung reaction ng supplements sa ibang food, kailangan i-monitor."
One common misconception about the issue is how pre-workout drinks have become synonymous to high-level performance-enhancing drugs which other athletes have been flagged for. They couldn't be anymore wrong, the coaches said.
For Antonio, drinking a pre-workout drink is pretty much like a normal person having a coffee to start his or her day – except that it's used to get your body prepared for a workout.
"Pre-workout supplements, pampa-agit 'yan e. It makes you more excited. Yung katawan mo mag-react to it in a manner na mas excited. Mas ready ka to work," Antonio said.
"Karamihan ng laman niyan caffeine. Caffeine, when you drink coffee, you have caffeine, you would be more excited. Caffeine mix it with sugar makes you more excited, add some other stuff, BCAA, amino acids and you can work further," he added.
Antonio added that there's a world of difference between a pre-workout drink and PEDs.
"Mahirap kasi sabihin na PED eh kasi when you say PED, it directly affects the performance and preparation and recovery of an athlete in participating through sports.  Ang ininom ni Kiefer, pre-workout supplements which stimulate you to perform lang during training. Mabilis matapos ang effect ng isang pre-workout supplement. You're looking at the max, 100 to 120 minutes."
It's important to know what you're taking - and just as important to know your medical history, Antonio said.
"It's always about knowing what you're taking. Take in consideration, do you have a health risk, cardiovascular diseases sa pamilya? Know your health history, number two, ask your team physician if it's okay and if it's legal. These tubs will always have nutritional facts at the back, but at the end of the day, they don't write down everything they put in," he said.
Antonio, who is also working as a TV analyst in NCAA and MPBL games, said the Ravena case has become a wake-up call for the entire industry.
Having an athlete in Ravena's caliber be in this position shifts the conversation towards responsible preparation and supplementation, they said. There also couldn't be a better spokesperson and advocate for this than Ravena himself.
"It's a wake-up call for us. At the end of the day, are the athletes educated enough to understand what they are putting in their bodies? Antonio asked.
Futalan said it is paramount that leagues like the PBA and UAAP educate athletes on the issue. The PBA, for one, should be aligned with Fiba and Wada when it comes to doping tests, he added.
Currently, the PBA only holds random tests for recreational drugs.
"Dapat yung PBA should be aligned sa Fiba (drug testing) eh. Kasi you get the players from the PBA to play for the national team. It's important yung alignment kasi pag dating niyan sa competition, magkakaroon ka ng problem."
Bottomline, the two coaches said there is no better replacement for good diet and enough rest for top athletes.
"Most of the time, we don't encourage athletes to take supplementation. We always ask them: 'Is your diet enough?' Supplementation is only when you don't have enough energy," Futalan explained.
"That's the reason why they feel sluggish before a game or in training because they didn't eat well, or didn't sleep enough. Yan yung mga factors. When you fall short doon, that's the time you get additional help," he added.