YENG Guiao isn't one to sugar-coat his statements, and he wasn't about to start doing it when asked about his young NLEX players Kiefer Ravena and Kevin Alas holding the fort for Gilas Pilipinas in a Fiba World Cup qualifier against powerhouse Australia.
"That's quite a challenge," the veteran coach said.
Ravena and Alas are set to backstop Gilas' backcourt in the 4:30 p.m. game on Thursday against the world's 10th-ranked basketball team in the absence of regular starter Jayson Castro and his chief back-up Jio Jalalon, who are both out with injuries.
Guiao stopped short of saying his two youthful guards have been thrown in at the deep end, saying he expects the pair to make the most of the opportunity to play against some of the best players in the world - and hasten their growth as players in the process.
"It's a big responsibility for the two of them," said Guiao. "But you really can't choose the time you get an opportunity like this. You just got to come out and face the challenge.
"This is a game where they will be tested. This game will also mold their character. And we at NLEX can only gain from it."
Continue reading below ↓
Recommended Videos
Ravena, 24, and the 26-year old Alas have been with the national team program for quite a while but are relative newbies at this level.
They also face formidable opposition in the game against the Boomers starting with Jason Cadee, a 6-foot-1 guard who was their third leading scorer (10 points per game), top passer (4.7 assists) and three-point shooter (1.8 triples) in Australia's unbeaten run in Fiba Asia Cup.
In the first window of the 2019 Fiba World Cup qualifiers where the Boomers beat Japan and Chinese Taipei, Cadee led Australia in assists with a 5.5 average while still scoring 10.5 pts and shooting 1.5 triples a game.
The other prominent faces in the Aussie backcourt are Kevin Lisch, 6-foot-2 naturalized player and two-time NBL MVP; Cameron Gliddon, a 6-foot-6 shooting guard, and Mitch McCarron, 6-foot-2 shooting guard.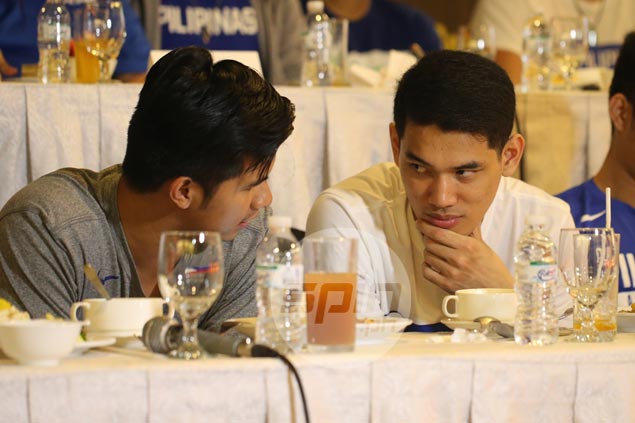 Still, Guiao expressed confidence in his two youngsters.
"They will be up for it," Guiao said. "Their roles here is not to dominate. That will be expecting too much. They are expected to hold the fort and facilitate. As long as they give it their best and adhere to the system, I do not think they can fail."