GILAS Pilipinas practice is already winding down, but assistant coach Jimmy Alapag has one more business to take care of.
The former Gilas captain led son Ian Maximus by the hand to one corner of the Meralco Gym and proceeded to teach the kid the finer points of basketball.
"To have my son be around the guys, it's a great experience for him," Alapag said after father and son went through their paces with dribbling and shooting drills.
"It's just the best feeling to have him around," he added.
Alapag, 39, was for so long the acknowledhed leader of this national basketball team, and now remains as an assistant to Chot Reyes. But at this very moment, he's simply Jimmy the dad.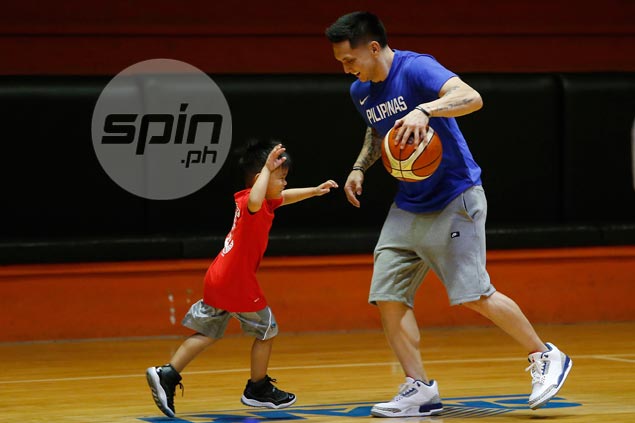 ADVERTISEMENT - CONTINUE READING BELOW ↓
The kids were, in fact, Alapag's biggest motivation when he came out of retirement and played one more season with Meralco last year.
"The biggest reason for coming back to Meralco was really not just an opportunity to compete again and to help the Meralco franchise but to really give my kids one last opportunity to see me play," he said.
Ian, 4, already understands the game while Alapag's other child by actress LJ Moreno, Keona, used to wear a white-and-orange cheerleader costume with 'Alapag' written at the back to games.
Alapag said he won't stand in the way of Ian or Keona if they decide to follow in dad's footsteps. But right now, all dad wants to do is try to make basketball fun for the kids.
"We try to make the game as fun for him as possible. Maybe mamaya, if he really has a passion for it, I'll support him," said Jimmy. "Pero for now, he's still so young and I just want him to have fun."
ADVERTISEMENT - CONTINUE READING BELOW ↓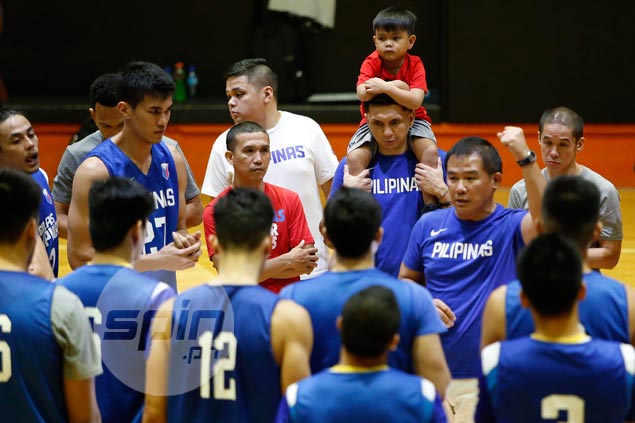 But by exposing him to the Gilas environment and letting him see for himself the hard work that made all these players successful, Alapag also hopes the kids learn at a young age the value of hard work.
"I just try my best to be the best example to my son and my daughter, show them the work ethic that I've used my entire life," the former PBA MVP told SPIN.ph.
ADVERTISEMENT - CONTINUE READING BELOW ↓
"And that doesn't apply to basketball alone but to our everyday life," he added.
By the time the three-hour practice finally ended, the kid looked tired and sleepy, but he has one final task to do. Perched on dad's shoulders, Ian joined the final Gilas huddle as Reyes shouted, "Pilipinas!" and everyone responded with a loud "Puso!"
Class over for the young 'Mighty Mouse.'