FOR the man who achieved the daunting task of bringing together the big names of Philippine basketball in one national team, the job of forming the best team possible for Gilas Pilipinas requires diplomacy, neutrality, and more importantly, patience.
Former Powerade Team Pilipinas manager JB Baylon bared how he had to create bridges with team owners and make sure the interest of everyone was taken into consideration when he formed the training pool for the 2009 Fiba-Asia Men's Championship.
A known political strategist, Baylon said what went Powerade's way was its neutrality, allowing the national team sponsor to tap all the players needed by coach Yeng Guiao from all 10 PBA ballclubs.
Baylon had a ready answer when asked what approach he did to the team owners when he was trying to borrow players?
"I never clashed with them. I asked them what they wanted. Most of them were afraid of the dangers it might pose their players, and I gave them an assurance," said the former Coca-Cola PBA board of governor.
ADVERTISEMENT - CONTINUE READING BELOW ↓
Unfortunately, that's a benefit the latest batch of Gilas Pilipinas doesn't have right now, according to Baylon.
"Ang mahirap kasi dyan may corporate rivalry ang dalawa eh (Samahang Basketbol ng Pilipinas head and PLDT big boss Manny V. Pangilinan and San Miguel Corporation)," stressed Baylon. "We were able to do it, kasi wala kaming rivals sa dalawa,"
"Tapos it was easier for us to get the players, kasi we decided to let the team owners and teams choose the coach. They chose Yeng Guiao, so we got the players we wanted," he added.
[See Salud eyes meeting among PBA team owners to seek united stand for Gilas]
Baylon, the former PBA board vice chairman, believes Powerade Team Pilipinas was perhaps the last national squad where the two rival teams readily loaned their players.
The team that made it to the knockout stage of the world basketball championship was composed of James Yap, Asi Taulava, Willie Miller, Jayjay Helterbrand, Sonny Thoss, Kerby Raymundo, Arwind Santos, Gabe Norwood, Cyrus Baguio, Jarred Dillinger, Ryan Reyes, Mick Pennisi, Ranidel de Ocampo, and Japeth Aguilar.
ADVERTISEMENT - CONTINUE READING BELOW ↓
Baylon recalled that during the formation of the team, no one was ready to shoulder the expenses to be incurred during the training and actual participation in the meet held in Tianjin, China.
"At that time kasi, no one wanted to foot the bill eh. So sinalo ng Coke, at alam ng board yun," he said. "Sinabi nga namin na for the country na lang."
Baylon is keeping his fingers crossed that a major company, not belonging or related to any teams in the PBA right now, will one day move forward and pick up the cudgels for the national team.
"Sana nga may lumabas na ganun. It will be easier - like us during our time when we borrowed players," he said.
"It will be beautiful if one company will appear one day and say: 'Sige kami na ang aako sa national team'," he explained.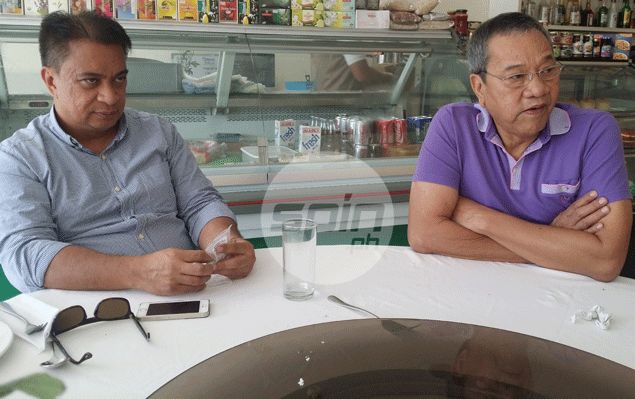 ADVERTISEMENT - CONTINUE READING BELOW ↓
At the same time, Baylon believes outside forces like the common fans can step in and persuade their favorite players to answer the call of national cause following the withdrawal of players from the Gilas Pilipinas of coach Tab Baldwin gearing up for the 2015 Fiba-Asia men's championship.
"Kung ako, public outcry 'yan. Somebody will get the fans together and say: 'Hey, as PBA fans dapat tayo mismo ang mag-urge sa mga favorite players natin na maglaro ka, Kasi public ang ultimate audience mo eh," he said.
"Naniniwala ako na ang social media, public opinion, you might be able to force them (to play). From shame to kunsensya to whatever which way," he said.
Baylon thinks the fans are barking up the wrong tree as they continue criticizing the companies which employ the PBA players.
The former UP law student thinks the fans' voices are very powerful especially in an endeavor where the country's pride is at stake.
ADVERTISEMENT - CONTINUE READING BELOW ↓
"Mahirap talaga yan eh. Dapat talaga may mamumuno dyan. Ang daming fan bases, imagine if they join forces. That's a loud voice," he said.
"Sa akin kasi, I wish the players and the teams will realize that though it is not an obligation ( to play for national team), parang bayad mo yan sa mga fans na tumatangkilik sa inyo," Baylon said.