A SPRINKLING of good luck wishes and wise words summed up the pep talk delivered by Filipino basketball greats for the Team Pilipinas side that will be competing in the fifth window of the Fiba World Cup qualifiers.
Rafael Hechanova and Tony Genato, teammates in the Philippine team in the 1952 Olympics in Helsinki, both encouraged the 19-man national pool squad of winning their games against Kazakhstan and Iran in this fifth window of the qualifier while Jaworski stressed the importance of leaving a legacy for flag and country.
"I can see all of you are great talent. But this time, forget about your name. Just think of the word Pilipinas, yun po ang importante," said the 72-year-old Jaworski, the most popular figure among the former national players in attendance.
"Kapag nag-represent kayo sa Pilipinas that would be your legacy. Legacy na ang ibig sabihin you will leave behind. In general kabutihan, po ito."
Hechanova, a member of the PH team that won the basketball gold during the inaugural Asian Games in New Delhi, is amazed that unlike in his time, almost the entire Team Pilipinas members can shoot the ball.
"Unlike our generation when only two or three people can score, now all of you, each one of you can score. And each one of you can score 10 points. So be confident that you can do it and that we can win," said the 90-year-old former star of University of Santo Tomas.
Continue reading below ↓
Recommended Videos
"I don't agree with Mr. Hechanova," Genato, a stalwart of the 1954 national squad that bagged the bronze medal in the FIBA World Cup in Rio De Janeiro and brother of veteran sportswriter and broadcaster Quinito Henson's father in-law, said.
"I don't think you cannot win. You will win," the 89-year-old Genato repeatedly said.
Fellow Olympian Arturo Valenzona and Jimmy Mariano likewise said their piece, the same with Chito Loyzaga and Dickie Bachmann, whose surnames easily evoke memories of their great dads Caloy Loyzaga and Kurt Bachmann, both deceased.
Team Pilipinas players took their words to heart.
"It's humbling," admitted longtime national player Gabe Norwood. "It helps everybody get into the same page by understanding the sacrifices that were made before us and how the game was approached, and what it meant to them and what it meant to the country at the time."
"Very fortunate and very privileged to be part of this," added LA Tenorio. "Perfect timing na nakita namin sila. They gave us inspiration and words of encouragement. Napaka-simple lang ng sinabi nila pero tatatak sa puso natin especially us na maglalaro."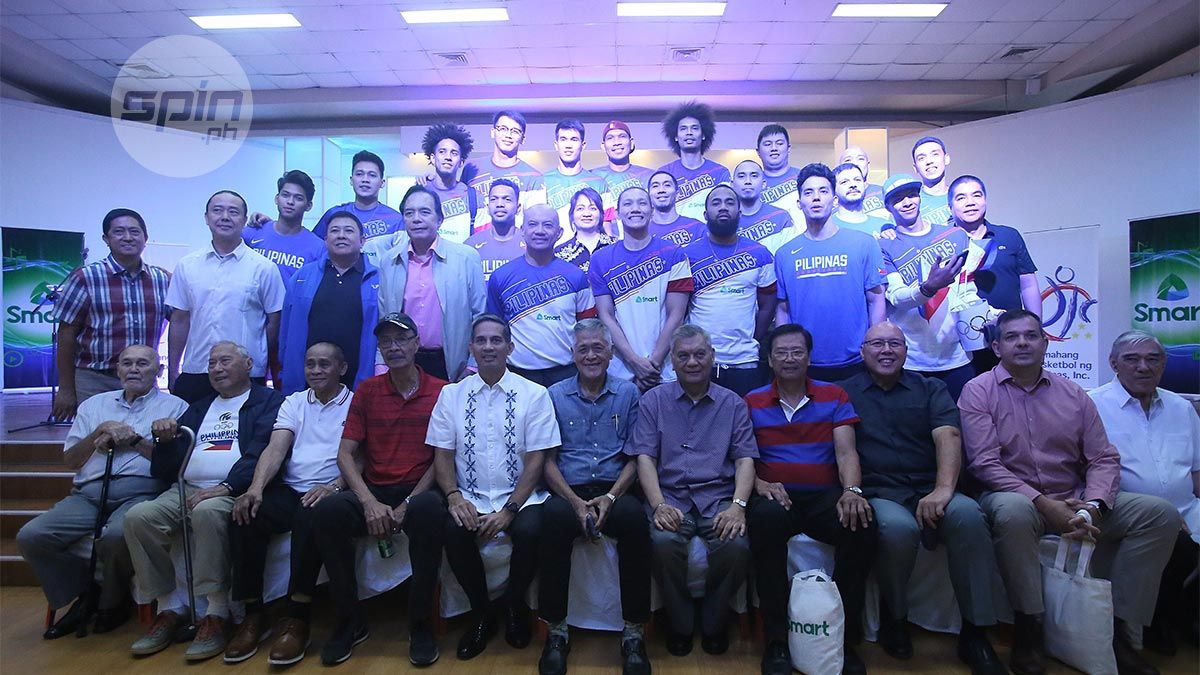 Coach Yeng Guiao said the idea of bringing together some of the country's past cage heroes to help inspire Team Pilipinas for qualifiers against Kazakhstan and Iran, all started during a chat about a soon-to-be-launched book about the legends of Philippine basketball.
The national coach said he was just supposed to write the foreword of the book authored by veteran sportswriters Ignacio Dee and Noel Albano.
"Nangyari po ito kasi they presented me a book which is the story of all former Olympians and national teams and I was really impressed because it was a well-researched book," said Guiao.
"And I think it was only proper that as coach of the national team, we should link up with the past, and link up with the future," added Guiao. "May kasabihan nga po tayo sa Tagalog na kapag hindi ka lumingon sa pinanggalingan, hindi ka makararating sa paroroonan. Kaya po lumilingon tayo ngayon sa ating pinanggalingan."