KUALA LUMPUR - Kobe Paras was thrilled to play major minutes on Tuesday and made the most of it in Gilas' rout of Myanmar in the 29th Southeast Asian Games at MABA Stadium.
Getting his longest exposure since joining the Gilas men's program, Paras, 18, finished with 20 points, eight rebounds, four assists, seven steals, and four blocks in 27 minutes in the Philippines' 129-34 rout of a hapless Myanmar side.
The 6-foot-6 high-flyer said he was happy to be back playing on the court.
"I feel great. I've been waiting for an opportunity like this. I'm thankful that coach Jong (Uichico) and coach Jimmy (Alapag) gave me the opportunity to play this game. Hopefully, it spreads through the whole tournament," said Paras.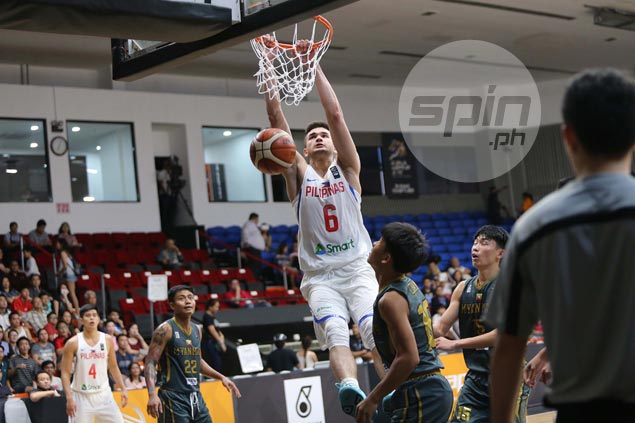 Continue reading below ↓
Recommended Videos
The son of former PBA rookie-MVP Benjie Paras admitted he has been longing to play longer minutes, something that he hasn't done for quite a while since his days with Creighton in the US NCAA Division 1.
"I miss playing. It's been a while since I played. I just feel happy that I was able to show my worth at a young age," said Paras.
[See Kobe Paras shrugs off bench incident, says all he wants to do is bring energy to Gilas]
Paras also provided the highlight plays of the day, none more breathtaking than an alley-oop dunk off a lob pass from Mike Tolomia in the second quarter.
"I don't really pay attention to that," said Paras, adding he was more focused on doing his job for Gilas regardless of the quality of the opposition.
"We never see them as mahina. Coach Jong said before the game that we play every game hard and play the game as if it is your last. He was happy in the first half that we played like (Myanmar was) the strongest team," Paras said.
"Coach Jimmy is right. You can never ever take any team lightly because it is the SEA Games and anything can happen," he added.
For your all-in-one solution to your flight and hotel booking to Southeast Asian countries and other destinations, visit Traveloka.com