THE Korean curse has come alive again.
A once-promising Gilas Pilipinas campaign in the 2017 Fiba Asia Cup came to a stunning end at the hands of nemesis South Korea, 118-86, in their quarterfinal face-off on Thursday morning (Manila time) at the Nouhad Nawfal Stadium in Beirut, Lebanon.
Gilas had won its first three games to top Pool B and head straight into the Final Eight stage but simply had no answers for an in-form Korean side that executed flawlessly, shot impeccably from all angles and left a throng of shocked Filipino fans with so little to cheer about.
The Koreans shot so well they missed just five of their 21 attempts from beyond the arc. The team, in fact, shot better from three-point land (76.19 percent) that it did from two-point distance (62.22%) or from the free-throw line (63 .64%).
The team shot 66.67 percent overall, had 20 more assists than Gilas, 34-14, and dominated the boards, 34-30.
The win was all but sealed after the Koreans opened a 26-point lead late in the third quarter and left a shellshocked Philippine side to ponder another defeat at the hands of a side that has dealt it more than a fair share of heartbreaks in the past.
Continue reading below ↓
Recommended Videos
The Koreans' fourth straight win after an opening setback to host Lebanon enabled them to advance to the semifinals against the winner of the other quarterfinal pairing between Pool A topnotcher and 2013 champion Iran and Lebanon.
Gilas, on the other hand, will move down to the classification phase after reaching the finals both in 2013 in Manila and in 2015 in Changsha, China.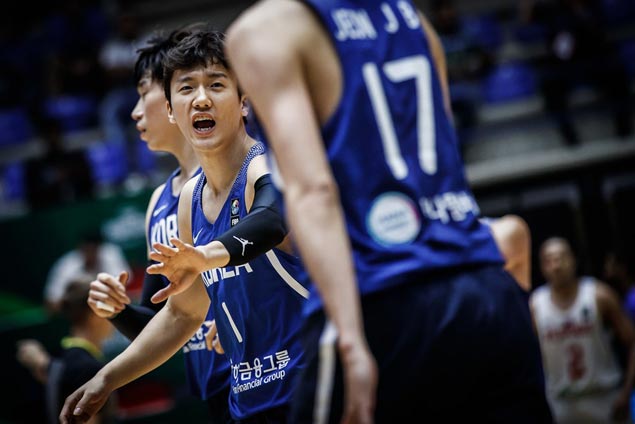 Gilas made 53 percent (19-of-34) of its shots in the first half but found itself trailing by as much as 16 points as the Filipinos couldn't find a way to stop Korea's juggernaut led by Kim Sun Heung (13 points), Ho Sekeun (10) and Jeon Junbeaom (13).
Only a 22-point explosion by Terrence Romeo and a barrage of three-pointers by both Romeo (six) and Castro (three) kept Gilas within striking distance, 47-59, at the halftime break.
Korea, however, went on another run in the third quarter and Gilas never recovered.
Korea opened a 70-53 lead with 6:25 left in third quarter when Ho turned a Romeo turnover into an easy fastbreak basket. A three-pointer by Choi Jun Yong made it a 22-point spread, 77-55, with 3:37 left in quarter.
Korea lead reached a 26 points, 85-69, on free throws by Ho Sekeun late in the third period and ballooned to 28 points as Gilas totally lost its composure - and eventually its fighting spirit.
Oh paced the Koreans with 22 points as Kim added 21 points. Veteran guard Park Chan Hee ran the Korean offense to perfection with nine points and nine assists.
Romeo led the Gilas with 22 points but that all came in the dazzling second quarter where he single-handily carried the country on his shoulders.
Christian Standhardinger added 17 while Roger Pogoy chipped in 12 but Jayson Castro, the best point guard in Asia in the final two Fiba Asia competition, was quiet with 11 points and four assists.
The scores:
KOREA - Oh 22, S. Kim 21, J. Kim 15, S. Lee 14, J. Lee 11, Park 9, Choi 9, Heo 9, Hyang 5, Jeon 3, Lim 0
Philippines - Romeo 22, Standhardinger 17, Pogoy 12, Castro 11, Aguilar 7, Wright 6, Abueva 2, Fajardo 2, Almazan 2, Jalalon 0, Cruz 0
Quarterscores: 26-18, 57-49, 86-62, 118-86