GILAS Pilipinas brought in a slew of imports to practice on Monday night, with the specific mission of simulating the way Australia will likely play in its coming face-off with the Philippines in the 2019 FIBA World Cup qualifiers.
The team of imports led by former San Beda stalwart Ola Adeogun and Ateneo's Chibueze Ikeh provided heft, size, and the challenge the Filipinos are expected to encounter when they clash with the Boomers in Melbourne on Feb. 22.
"That's exactly why they are here for," said coach Chot Reyes in explaining the presence of Adeogun and Co. – which also included fellow Nigerian Eugene Toba, also of San Beda - at the Meralco gym.
"We have to get used to attacking against long, athletic players, that's why we got them here," he added. "And also to be able to defend against those kind of players."
The imports played Gilas on the defensive end, on five-on-five half court drills as Reyes and his coaching staff watched at how the Filipinos react when ranged against teams bigger than them.
ADVERTISEMENT - CONTINUE READING BELOW ↓
Of course, Gilas is aware that the Boomers are way much better than the team of imports which Gilas faced.
"What we know about them is that they're very strong, they've got great size, great outside shooting, and they have great chemistry," noted Reyes.
And even in the absence of NBA players in their rosters, the Boomers remain a very formidable team, which has been under Reyes' radar since the FIBA Asia Championship in Beirut, Lebanon last year.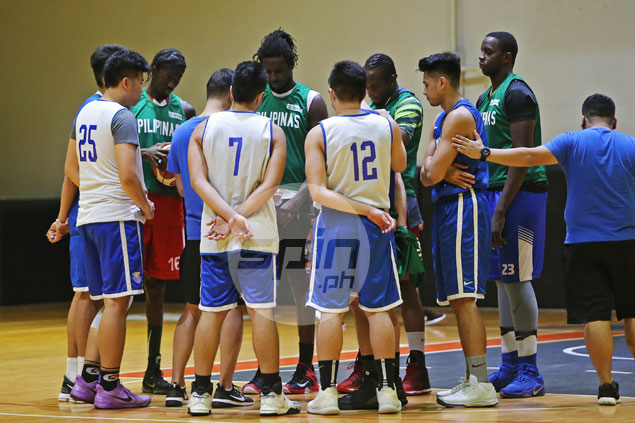 "I think the thing with Australia, the blessing about their not having their NBA players is that they've been able to get this pool practicing for a long time. They've been practicing for a couple of months already. And that's a very big blessing to their program," said the Gilas coach.
"They're very well coached, they got a great program together, and so we're going to have a really, really tough time (against them)."
Both Gilas and Australia, currently ranked no. 10 in the world, are unbeaten in two games in Group B of the qualifiers heading to their confrontation.