CHOT Reyes gathers the players at midcourt at the end of Gilas Pilipinas practice as the television camera zoomed in to take a tight angle of the final huddle, where the national coach gives out a few more words of inspiration that he punctuated with his by now, all-too-familiar battle cry.
"PUSO!" the Gilas players shouted in unison, echoing their coach's word.
The impassioned shouts that reverberated across the Splendido gym in Tagaytay trumpeted the dawn of a new era for the Philippine team, now made up of a younger cast of players, a handful of holdovers, and a returning coach handed the rare chance to set things right after a strange end to his first run in the Gilas hot seat.
Back in 2013, Reyes was bright, driven, bold and full of fire and bravado that rubbed off on a group of PBA players who put the Philippines back on the basketball map with a runner-up finish in the Fiba Asia championship in Manila. Success was exhilarating but, it turned out, ephemeral as just months after a historic win over Senegal in the 2014 Fiba World Cup in Spain, Reyes and Gilas came undone in a chaotic Asian Games campaign in Incheon that was effectively doomed after the coach launched a damning tirade against Marcus Douthit.
Four years later, Reyes has reclaimed the reins from Tab Baldwin - older and hopefully wiser from the lessons of the past as he charts a path for Gilas to the 2019 Fiba World Cup in China and the 2020 Summer Olympics in Tokyo.
ADVERTISEMENT - CONTINUE READING BELOW ↓
The jury is still out on the 'wiser' part. But as it is, Reyes has already become much more.
From the Gilas misstep in 2014, Reyes has reinvented himself to become a heavy hitter in the corporate world, where he now sits as president of the TV5 media organization. He is also a sought-after motivational speaker as he evolved into some kind of a brand unto himself.
The two personas - Reyes the coach and Reyes the brand - now morph into one as the bench strategist returns to the Gilas hot seat, to the point that it has become increasingly difficult to distinguish one from the other.
As Gilas 5.0 holed up in Tagaytay for its first training camp, coaches and players looked more like performers than sportsmen as they were tailed every step of the way by television cameras that zealously captured every chest-beating moment, every Reyes speech, every 'Puso' chant.
The pictures are all good, but at some point you wonder if they're too good.
Players laughing, everyone getting along; head coach commanding undivided attention, not a wrinkle on his shirt and not a single strand of hair out of place. Is this a national team practice or just another of those TV commercials and teasers they've been asked to do in Gilas' name? Truth is, it's hard to tell.
Playing for flag and country is a noble calling, but it's time to stop rhapsodizing this mission and start focusing on what is important. The melodrama has gone overboard, reaching a point when it is already hard to tell what is real and what is reel; what is true and what is contrived.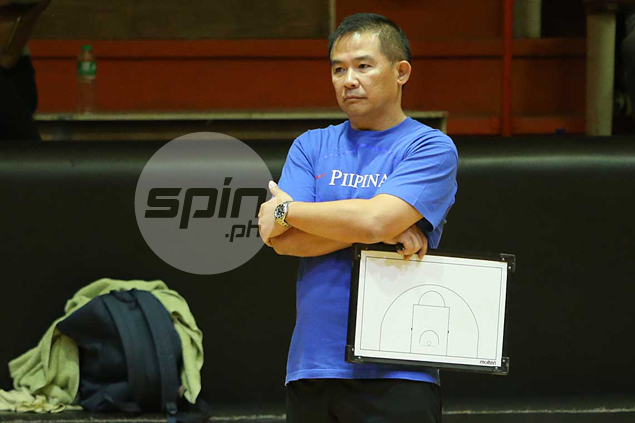 A reboot will be good for Chot Reyes, too.
There has never been any doubt that Reyes is a master bench tactician. But only after we peel off, piece by piece, the excesses that have made him look like a master showman more than a coach can we appreciate him for what he truly means to Gilas - a tough, straight-talking drill master who can bring the best out of his players.
As for Gilas, never forget that a team forged by fire is the most resilient of all. So let's stop baby-sitting the team, refrain from sugar-coating the images. Let the difficult process of molding a team out of players of contrasting personalities and varying corporate affiliations play out before the world.
Politics, conflict, controversy will inevitably get in the team's way. That's all right. They need to go through all that before we can ever know if this new batch of nationals has what it takes to rise above adversity and - just like the Gilas teams before them - show the world what the Filipino's indomitable spirit is all about.
ADVERTISEMENT - CONTINUE READING BELOW ↓
Then, and only then, can we hope to see a team that is all heart.