TAIPEI - Moala Tautuaa was the best player for Gilas Pilipinas in the Jones Cup match against Japan on Wednesday, but inside the team bus and in and around the hotel, he is no more than Asi Taulava's 'butler.'
That, of course, is part of the 'initiation' that all Gilas newcomers go through - a long-held tradition in the national team program that started a couple of years ago and now continues with Gilas 3.0 new boys like Tautuaa and Troy Rosario.
Tautuaa and Rosario are the top two picks in the last rookie draft and are certified future PBA stars, but with this team they still have to do much of the laundry for teammates and carry most of the luggage during transit.
"That butler thing started as a private joke among Matt (Ganuelas Rosser) and Mo and I and eventually it caught on," said Taulava, denying, with a wink, that he bosses around the new kids on the block.
"I've mellowed," he told Spin.ph with a chuckle. "Besides, I want them to be kinder to this old man when we play against each other again in the PBA."
Taulava, 42, and Jimmy Alapag are among the acknowledged leaders of this Gilas batch. While Alapag is more formal and speaks only when he has to, Taulava is all business in practices and games yet keeps the mood light off the court.
Continue reading below ↓
Recommended Videos
So much so that youngsters like Terrence Romeo, Calvin Abueva, Tautuaa and Rosario tend to gravitate toward him. Another Gilas old hand, Gary David, never runs out of jokes - not always funny, but never failing to draw laughter for the way these are delivered like only 'El Granada' can.
David and Alapag were among the six remnants from Gilas 2.0 under former coach Chot Reyes, who is the first to admit that chemistry was the biggest reason for the success of a team that finished runner-up to Iran in the 2013 Fiba Asia in Manila and made a sentimental journey back to the Fiba World Cup.
This current Gilas batch is a more diverse group put together under contentious circumstances and therefore had so little time to forge its own identity and find chemistry.
Yet lo and behold, this group finally bonded in - of all places - faraway Estonia, where these national players failed to buy a single win in three games against Eastern European teams yet found something more important than what any victory could bring.
Chemistry.
"That was our first trip overseas together and it was different," said Taulava. "During practices back home, we would see each other on the court then go back home to our respective families and friends. But when you're abroad, you'll get to know more of each other since you room together, eat together, do everything together.
"Take the case of Calvin. We used to see each other in the PBA, and it's mostly, 'Hi, Calvin,' then it's already, 'Bye, Calvin.' But when you're together overseas, you get to know him more and realize he's a good kid."
Alapag definitely knows that chemistry was one of the 'biggest strengths' of the old Gilas team, so he, too, was happy to see this current group draw closer during that trip to old Europe.
"The Estonia trip gave this version of Gilas the opportunity to be away and sharing rooms and sharing meals and spending off-court time, not just on-court time," said the former PBA MVP. "So you can see this team is starting to find its own identity.
"That part of the process is just as important as what happens on the court."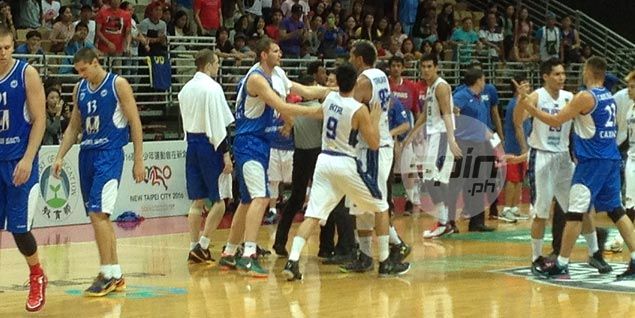 This group now is more tightly knit, the reason you see Taulava standing up for 'little brother' Romeo in a skirmish against Russia and Ranidel de Ocampo and Tautuaa picking up the cudgels when Iranian 7-2 center Hamed Haddadi tried to throw his weight around on Thursday afternoon.
Even LA Lakers guard Jordan Clarkson has bought into it, cheering animatedly from the sidelines when he was here. The feeling it turned out was mutual, with the guys saying the Fil-Am NBA player is 'easy to be with' and is a 'source of inspiration' for young guys like Romeo and Rosario.
National coach Tab Baldwin, a veteran internationalist, knew this off-court chemistry would eventually flow into the court, and he was happy to see it all come together in a Jones Cup game against Japan on Wednesday which Gilas won handily, 75-60.
There was no better proof of that than a 29-point explosion in the fourth quarter of that Japan game when this Gilas batch clicked both on offense and defense and everything flowed so easily, like a nice conversation with your best pal on a lazy Sunday afternoon.
"This is when you know things are starting to go right, when the off-court chemistry starts to flow on to the court," said Baldwin. "The team has great spirit, and they enjoy each other's company, enjoy each other's ability on the floor."
This Gilas batch has not had the most ideal preparation and may not have all the parts it needs to do well in the Fiba Asia Championship less than three weeks from now in Changsha, China. But what Baldwin is now certain of is that this group will fight together and stand up for each other - like a team should.
"They're really taking care of their national team, like they're supposed to do," Baldwin said.