LIKE a ruthless lion pinning down its hapless prey, Gilas Pilipinas men's national team tore Singapore to shreds with a 110-58 mauling to open its campaign in the 30th Southeast Asian Games on Wednesday.
Stanley Pringle led from the front for the Philippines, scoring the team's first eight points on the way to unloading 11 in the first quarter alone, just two points short of Singapore's total output of 13 in that stretch.
The Fil-Am guard finished with 14 points and five assists for the hosts in a runaway win in their Group A opener- the perfect way to launch their bid for an 18th gold medal in the 20 men's basketball tournament at the Games.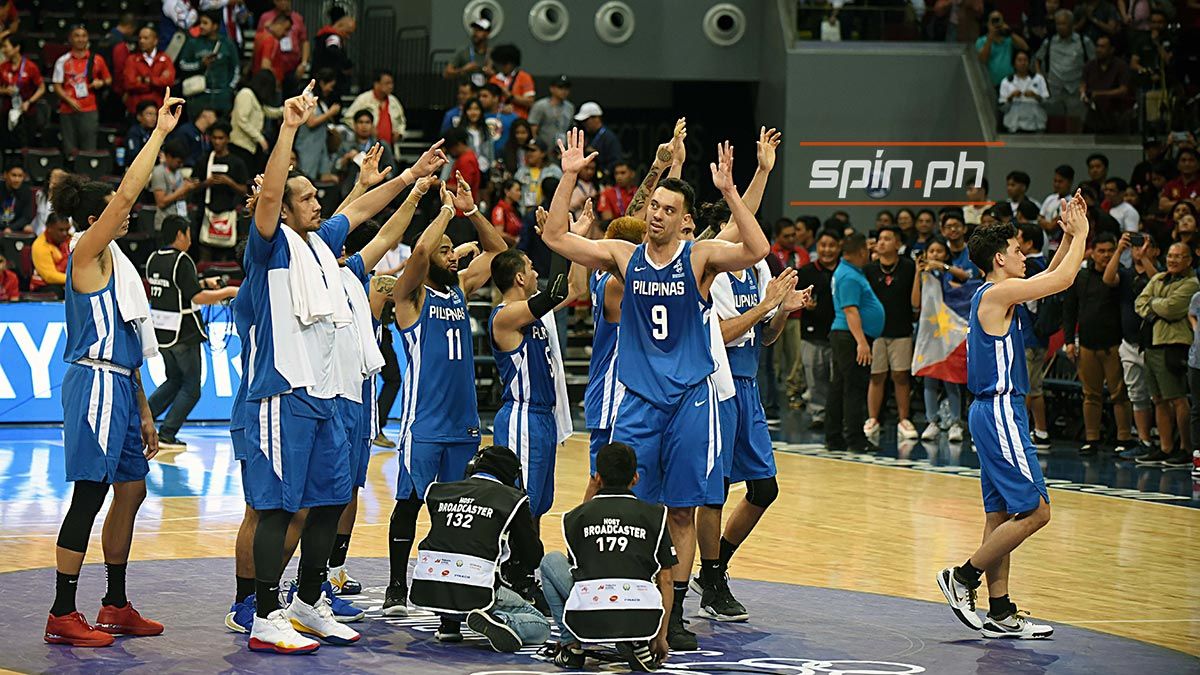 The game was one-sided from the start, but it hardly bothered the big crowd at the Mall of Asia Arena which savored every highlight, from Japeth Aguilar's aerial artistry to Christian Standhardinger's nifty moves inside.
ADVERTISEMENT - CONTINUE READING BELOW ↓
It was all over but the shouting by the time five-time PBA MVP June Mar Fajardo went to work, scoring eight of his 12 points in the second half, alongside six rebounds and two assists in just 17 minutes.
Greg Slaughter, Vic Manuel, and Troy Rosario put the finishing touches to the romp.
Gilas coach Tim Cone, however, remained unsatisfied no matter how decisive this first outing was.
"It's fun coaching such a powerhouse team, no doubt about it, but I don't think we played our best basketball tonight," he said.
"We're a little bit herky-jerky, we weren't smooth offensively, we had to make adjustments defensively at halftime. But I think honestly, I believe, we'll get better and better as the games go along. We'll get more comfortable with each other."
Vietnam is Gilas' next foe on Friday with Myanmar set on Saturday.
Rosario led the Philippines scoring with 15 points to go with eight rebounds, as Manuel got 14 points and four boards. Slaughter and Aguilar both notching nine.
On point also were Gilas' gunslingers, with Wright scoring 13 on a 3-of-4 shooting as the hosts shot 11-of-23 from deep.
Leon Kwek led the way with 10 points and five rebounds for Singapore as two-time ABL MVP Wong Wei Long was checked and only got six points in the defeat.
The scores:
PHILIPPINES 110 - Rosario 15, Pringle 14, Manuel 14, Wright 13, Fajardo 12, Aguilar 9, Slaughter 9, Standhardinger 8, Lassiter 7, Ravena 6, Tenorio 3, Ross 0.
SINGAPORE 58 - Kwek 10, Wong ZH 8, Goh 8, Toh 8, Wong WL 6, Lim 6, Raj 5, Rengarajan 4, Liew 3, Low 0, Han 0.
Quarters: 30-13, 48-28, 77-48, 110-58.