IMAGINE a starting five for Gilas Pilipinas that will have a Jordan Clarkson (6-3) at point guard, Kobe Paras (6-5) at two-guard, AJ Edu (6-8) at small forward, Kai Sotto (6-9) at power forward and Ethan Kirkness (6-9) at center.
The thought alone understandably excites Gilas team manager Butch Antonio.
"The future looks good, right?" Antonio, also the deputy director for international affairs of the Samahang Basketbol ng Pilipinas (SBP), said a day after local basketball officials finally saw Edu in the flesh and saw what the social media fuss over the Cyprus-born, UK-based prospect was all about.
Edu, 16, is just the latest overseas-based basketball prospect to make formal contact with the SBP and signify what Gilas coach Tab Baldwin said was an 'unequivocal' intent to play for the Philippines in the future, following in the footsteps of Los Angeles Laker Clarkson and Kirkness.
The Australia-based Kirkness, in fact, has secured a Philippine passport early this year and is undergoing personalized, thrice-a-week training back home supervised by an Australian coach tapped by the SBP.
The three - along with homegrown prospects Paras and Sotto - represent the future of a national team that has made great strides over the years under the Gilas program but now faces an uncertain future as it is being weaned off its dependence on PBA players following the change in Fiba's qualifying format.
Continue reading below ↓
Recommended Videos
[See Fil-Nigerian AJ Edu in town, signifies interest to play for Batang Gilas]
"Nothing is sure about these kids, but they look promising," said Andrew Teh, who, as Batang Gilas manager, has helped bring the prospects together under the SBP youth program. "Of course, we want them for Batang Gilas but eventually, you hope they graduate to the cadets and men's team."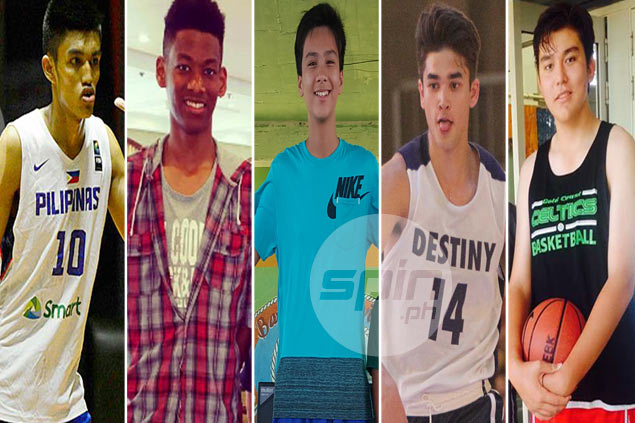 Teh, however, was also the first to admit the wait will be long before that happens. Sotto and Kirkness, after all, are just 14 years old and Edu 16. Clarkson (24) and Paras (18) are older, but both need to clear hurdles with their NBA and US NCAA teams before they can even think about suiting up for Gilas.
Another US-based prospect which Gilas is looking at, 6-5 guard Dwight Ramos, is only 18 and has just recently committed to play for a US Division I school.
Despite the obvious potential in terms of size and skills, Baldwin also warned that the process will be long - and arduous - before kids like Edu, Kirkness, Sotto and another big kid currently with Gilas, 6-8 Jemark Carino, can become the players Gilas hopes they would be. That is, if they even get there at all.
Hailing them as the saviors of the national team is 'putting the cart before the horse,' Baldwin said.
"It's natural to be excited, especially about big kids. But in all honesty, we're talking about wanting them to be players that will make our Gilas national team a better team," he said, "but there's so much to be done in terms of their development and so much to be done in terms of them proving themselves before we should get excited about that."
[See Baldwin says AJ Edu quite a talent, but warns against heightened expectations]
Until that happens, a Gilas team in transition can only hope for the best in a new phase without PBA players, beginning with the Fiba Asia Challenge Cup next month in Iran where an all-amateur Philippine side will also be without naturalized player Andray Blatche, Kiefer Ravena and Rayray Parks.
And unless the PBA and the SBP can come up with a workable solution to the non-availability of pro players under Fiba's new home-and-away format for the 2019 World Cup qualifiers and Olympics, expect the down years to be long and painful for a Gilas side that Baldwin said is 'back to zero' with the return to the cadets program.
"We have to measure our expectations based on what the reality is," Baldwin said.
But with tall, promising kids like Edu, Sotto and Kirkness on board, and with Paras bound to raise his level of play in the US NCAA, Teh said the national team program can at least look forward to having a wider pool of players to pick from in the future.
These kids not only started their development at a young age (remember, June Mar Fajardo didn't undergo serious basketball training until late in his high school years), but they are also all Philippine passport holders before turning 16, thus eliminating the eligibility problems that have kept players like Stanley Pringle and Chris Ross out of the Gilas lineup.
While guarded with his expectations, Baldwin is nonetheless excited to see how these prodigies turn out to be.
Talking about Edu, Baldwin said, "Any opportunity in which he is available, I would like him to represent whether it's Batang Gilas or someday in the future, Gilas. I think that would be wonderful, if he continues to develop and become the kind of player that he looks like he has the potential to become."
[See Kobe Paras says playing for flag and country 'the best thing ever']