BOCAUE — Fate works in mysterious ways.
For Tatsuhito Noro, his sport became a bridge for his reunion with his mother.
"I was fortunate and lucky to be here and I feel like it was destiny to have this reunion," said the Fil-Japanese through a translator after he met his mother Alma Miwa for the first time in a year at the Philippine Arena during the 2018 Fiba 3x3 World Cup.
The 29-year-old Noro came to the country representing the Land of the Rising Sun in the halfcourt game, but aside from competing against the best 3x3 players in the world, he also had another goal — to once again meet his Filipina mother.
Miwa, 49, used to stay with her daughter in Nagoya and only sees Noro, who is based in Hokkaido, occassionally whenever his son has a game in town with RBC Tokyo.
But she suffered a mild stroke last year and after going under the knife to take out a tumor on her brain, chose to fly home to the Philippines for her recovery back in December.
"When she was diagnosed with her illness, I wasn't able to meet her since," he admitted.
Noro said he longed to see his mother and hoped for the opportunity to be named to Japan's tean for the 3x3 World Cup staged in her mother's native country.
However, the moment almost didn't happen as Noro was initially left out of the squad.
"The first time I found out that the World Cup was in the Philippines, this was my biggest goal, to make it here and to be on the national team," he said.
Fortunately for Noro, he was named a late replacement for the Japanese squad in lieu of Shuta Hara which paved the way for this memorable meeting.
"Luckily, I made the team at the last moment. I couldn't see her until now," he said.
Noro reached out to her cousins Kazuki Tanaka and Inoue Kazuo, who are both comedians in the country, to fetch Miwa and the family from Dau, Pampanga and take them to the venue, where the they cheered their hearts out for Team Japan.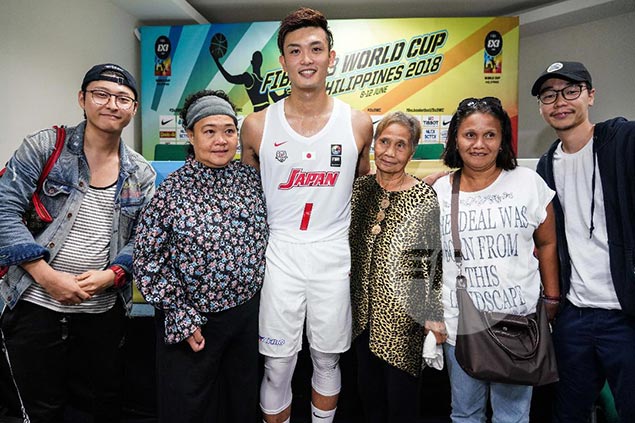 Though the Japanese bowed out of the men's tournament with their 1-3 card in Pool B, the Philippine visit meant more for Noro, who was able to meet Miwa, his maternal grandmother Cely Miranda, and some of his relatives on Sunday.
"Noong nakita ko yung anak ko, nawala na 'yung sama ng loob ko," said Miwa. "Happy ako ngayon na makita siya. Pati yung nanay ko, happy na nakita nita yung apo niya."
And for Noro, he couldn't be anymore grateful for the sport and the people who made this moment possible.
"I'm very appreciative of their support and for those who helped me meet my mother," he said. "Playing basketball and going to different places led me to her. That is one of the biggest things for me.
"Basketball always connects people, and that includes me and my mother. I'm really thankful to basketball."