CANADA arrived in the country on Friday night for the Olympic Qualifying Tournament without its best player and minus one of its greatest athletes ever.
But Corey Joseph is hardly concerned as help is expected to come the team's way once the six-day tournament gets underway.
The Canadian point guard said big man Tristan Thompson is definitely coming over to help the country nail the lone berth at stake here for the Rio De Janeiro Olympics.
"Yes," was his curt reply when asked if Thompson, coming fresh from an NBA championship stint with the Cleveland Cavaliers, is going to play with them.
"I'm not sure exactly about the details, but he'd be here."
Airport insiders however, said Thompson will be flying over by Saturday morning.
Canada also came over without team manager Steve Nash, the retired two-time NBA MVP. But Samahang Basketbol ng Pilipinas (SBP) assistant executive director Bernie Atienza said the 42-year-old Canadian great won't be arriving here until July 5 during the opener of the Olympic qualifier.
But even in their temporary absence, Joseph and the rest of Team Canada are hardly undeterred.
"It's going to be a great experience, what a great country (this is). It's my first time here and I'm looking forward to it," said Joseph, who plays for the Toronto Raptors.
"I heard basketball is crazy here, the country's number one sport, and I'm looking forward to play."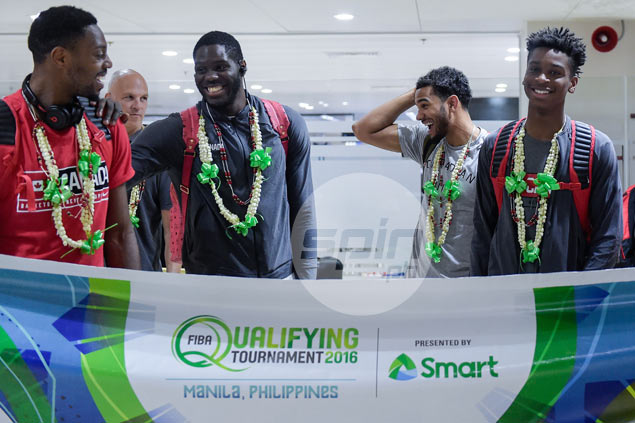 Joseph is one of a few players in the team who has NBA experience along with Thompson, Anthony Bennett, Tyler Ennis, and Joel Anthony, making Canada the logical choice to give world No. 5 France a run for its money during the short tournament.
But the 24-year-old Joseph still thinks France has enough firepower in its arsenal to emerge as the favorite to run away with the Olympic berth here.
"We know they have a lot of talent there. I played a lot of guys out there, I played with Nando (de Colo), I played with Tony. They really have a lot of talent," he said. "There's a lot of talented group here, but they're (French) definitely got a lot of talent."
Canada, which has not made it to the Olympics since 2000 in Sydney, is bracketed with Senegal and Turkey in Group A, and won't meet France, which is bracketed with Gilas Pilipinas and New Zealand in Group B, until the semis or finals at least.
Joseph is not discounting Gilas Pilipinas as well, aware how the crowd factor could work wonders on the host country.
"I don't know much about them (Philippine team), but I'm sure with the country behind them, they'll going to compete very hard," said the 6-foot-3 playmaker.