To many, Gilas Pilipinas coach Chot Reyes is still unworthy of praise even after the Philippines beat China last Saturday night, 96-75, to mark a bittersweet end to a dismal FIBA World Cup campaign.
Fans are giving credit for the victory not to him but to Jordan Clarkson, the half-Filipino half-American NBA star who bludgeoned the Chinese almost singlehandedly with 34 points, 24 in the third quarter in a stretch where he made four triples. That burst of brilliance all but settled the issue with perennial rival China, which has so often in the past embarrassed Filipinos and broke their hearts.
The Philippines needed the win. Four games in a row and the country was devoid of victory, sending millions of Filipino fans in despair and torment. The country had prepared years for this tournament, spending giga millions in hopes of redemption and respect, and getting only public humiliation.
Losing to Italy was probably expected, but defeats to the Dominican Republic and Angola in the group eliminations, and then to South Sudan in the race for the Olympic slot, were too much even for local diehards.
ADVERTISEMENT - CONTINUE READING BELOW ↓
After four setbacks, the country totally needed a triumph. But to my mind, Chot Reyes needed the triumph even more. The polarizing coach has had it with the vitriol and the insult and the hate. His reputation and, ultimately, his career that appeared headed for the valley of no return, had become a matter of survival.
With this win, he finally got some redemption.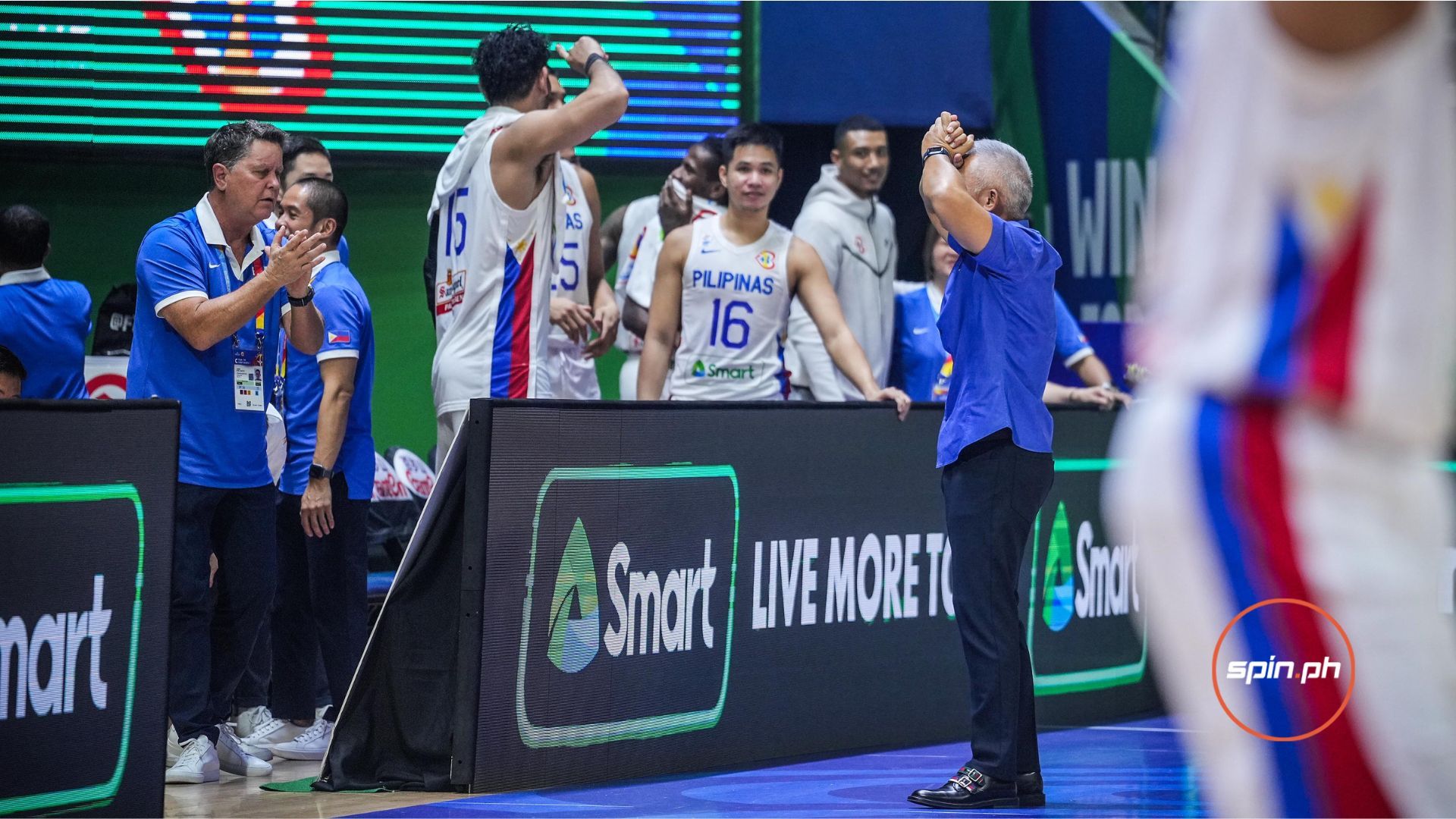 The victory, of course, is not a defining moment for him, but it certainly provided him with some air. The recipient of six PBA Coach of the Year awards and mentor of the Gilas team that won silver in the prestigious 2013 FIBA Asian Cup, Chot was headed for oblivion until Saturday night's victory over China. Immediately after the game, he stepped down as Gilas coach.
Even with the win, no one expects Chot to be deluged with coaching offers. After his earlier FIBA mishaps, his PBA career remains uncertain. Although he is still officially TNT coach, Jojo Lastimosa led the MVP flagship franchise to a championship while he was on leave. But he has earned some rest and can savor the sweet taste of beating a country that has ruled Asian basketball for decades. I predict that sometime soon he shall be resurrected. After all, save for a few topnotch local coaches, Chot's quality of mentorship, his experience and his collected knowledge, are hard to come by.
ADVERTISEMENT - CONTINUE READING BELOW ↓
While the coach may bask in the glory of Gilas' surprisingly easy win over China, much of the credit does go to Clarkson. Although, it can be said, Clarkson's heroics are too little, too late. He could've taken over the game way earlier when Gilas played any of the following — the Dominican Republic, Angola, Italy, and South Sudan — to help notch a win or two for the Philippines.
But he shot poorly, gelled with the team tentatively, and his late arrival, a week or so before the start of the World Cup, did not improve the situation. Clarkson is one of the NBA's current sharpshooters who can hold his own against that league's best defenders, but coming off a long vacation and joining his Filipino teammates only for a few days of practice are hardly the formula for success.
In the end, people will still say he was worthy of the millions of dollars he was paid. He's not here for free, that's for sure, and the insurance for his NBA contract alone can probably bankrupt any other national sports association with far less private sector support as the Samahang Basketball ng Pilipinas.
ADVERTISEMENT - CONTINUE READING BELOW ↓
No doubt his presence lifted the other members of Gilas. Given his reputation, Clarkson attracted every rival team's attention, allowing teammates to get open looks at the basket, except that the shots were not falling.
Gilas is back on the drawing board. There will be no Clarkson in the Asian Games and now no Chot Reyes for bashers to have a field day with in coming international campaigns.
The Philippine team will have to rely on its homegrown talents and some Fil-Ams, while local basketball officials will have a bit of time to assess the situation and come up with solutions.
They just have to take in stride the pundits and the armchair coaches who behave like they know more about coaching, rotation, techniques, tactics, training, and nutrition than those who have spent their lives invested in these.
ADVERTISEMENT - CONTINUE READING BELOW ↓
Maybe it's goodbye for Chot for now but, as I said, don't count the guy out. He's leaving Gilas and the national team, but the guy's always said quitting is not in his vocabulary.
Get more of the latest sports news & updates on SPIN.ph