CHICAGO - NBA team executives, coaches and scouts have assembled here in the Windy City where 78 prospects make their open audition to enter the league via the NBA Draft Combine at the Wintrust Arena.
Although he is not officially entered in these proceedings, one name is being considered by multiple teams in closed-door meetings.
A free agent, the 7-foot-4, 232-pound phenom went undrafted in 2022.
But his quest to become the first full-blooded Filipino to reach the NBA was ill-fated, hindered by changes in agent representation and exacerbated by an inglorious exit from the G-League Ignite.
This time, though, with powerhouse Wasserman Sports curating his dreams and aspirations, Sotto has a clearer path to the NBA, one that still requires a lot of hard work on his end.
"His journey starts now," a source familiar with Sotto's NBA flight told me during an interview at the Marriott Marquis in downtown Chicago where the draft combine is headquartered.
ADVERTISEMENT - CONTINUE READING BELOW ↓
"He is only 21 years old and he has shown marked improvement in his all-around game after playing in the NBL and, most recently, the Japan B. League," the source added.
JAPAN FLING
In 19 games with the Hiroshima Dragonflies, Sotto logged 19.1 minutes per and averaged 8.9 points, 6.1 rebounds and 1.4 assists. He shot 51.8 percent from the field and 75.5 percent from the free throw stripe.
Although Sotto needs improvement shooting the 3 (he went just 11 percent from the arc in limited attempts in Japan), there is considerable appetite among teams that need size and a nimble big who can protect the rim.
As the old hoops saying says, "you can't teach height."
Sotto is expected to fly to Los Angeles next week where he will immediately immerse himself in training as his camp prepares him to have workouts with multiple teams.
And there is now certainty that Sotto will indeed play in the NBA Summer League in Las Vegas this July.
As for his availability in the 2023 FIBA World Cup this August in the Philippines, Wasserman couldn't comment as East West Private (EWP) manages that side of Kai's career.
But the calendar doesn't appear to be Kai's ally if he wants to navigate the NBA and play for the national team.
Gilas is expected to leave for Lithuania in June to train. The Summer League is in July. And the World Cup is in August.
It's going to be a tough juggling act for sure.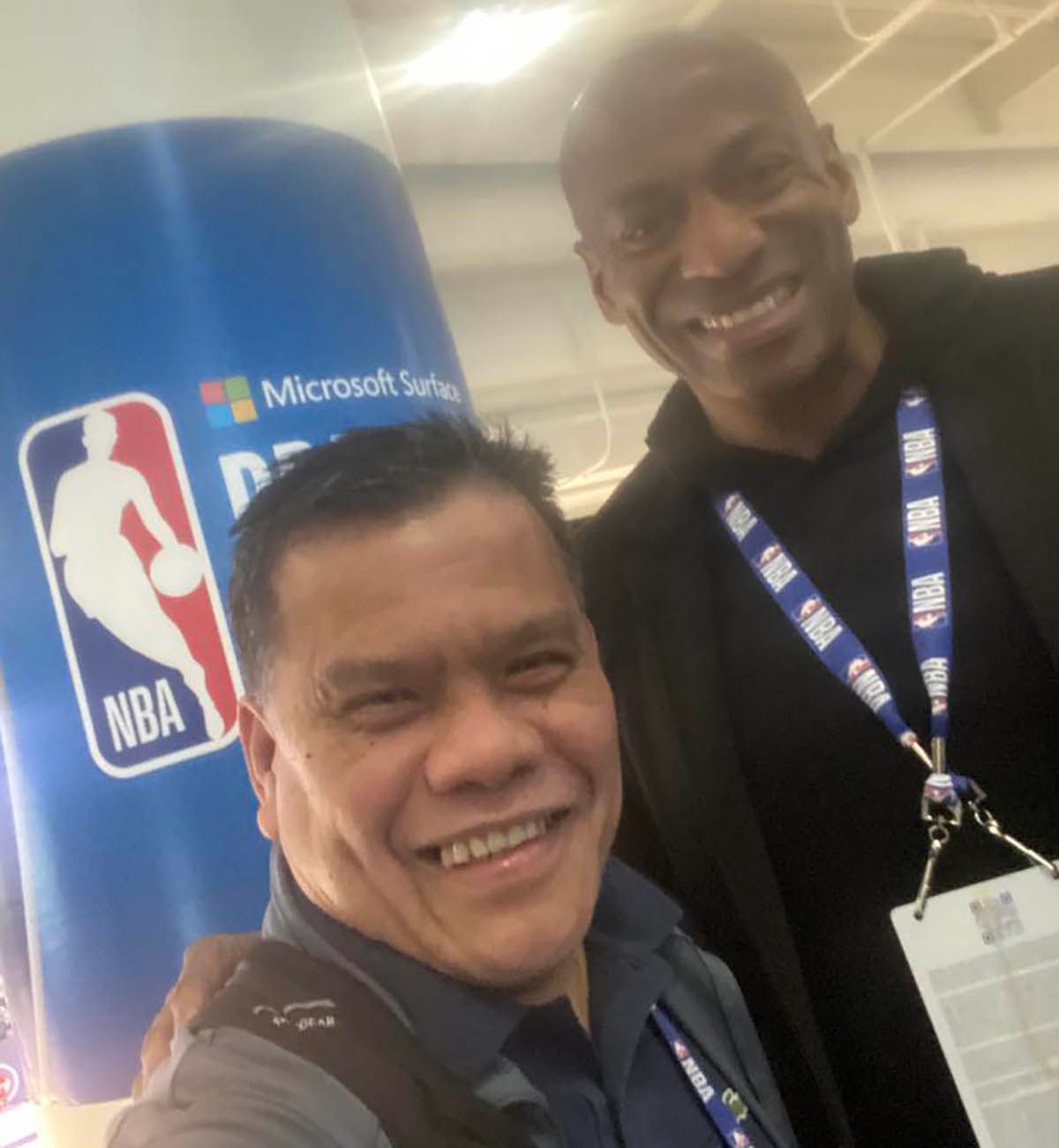 ADVERTISEMENT - CONTINUE READING BELOW ↓
DELL DEMPS IN DA HAUS.
While watching the draft combine proceedings today I ran into a familiar face --- former PBA import Dell Demps.
Prior to assuming the post as general manager of the New Orleans Pelicans, Demps played for 7-up and Shell in the 90s. He is currently a front office assistant for the Minnesota Timberwolves.
A lean 6-foot-3 and 205 pounds, Demps did not look a day older than 53. But he did look like a guy who can bench press a BMW.
When he was still with the Pels a year ago, Demps and I facilitated a swap of signed items between Anthony Davis and Manny Pacquiao.
Get more of the latest sports news & updates on SPIN.ph