Poor Chot Reyes — when the going is bad, the coach gets all the blame; when the going is good, the players get all the praise.
Looking at his basketball history, Reyes has never been a favorite of the country's rabid and very invested basketball fans or even, for that matter, of non-basketball fans. The Internet is replete with comments on his coaching ability, much of it unprintable.
Now he's been browbeat again for Gilas' woeful FIBA World Cup performance: three losses in three games. Before this, he was blamed for losing the Southeast Asian Games basketball title. People say, who else to blame? The guy's at the helm of the national team's campaign, the brains behind its strategy, the driving force of its goals.
All right, he's to blame — but only partly. It's not in his control that international basketball has developed by leaps and bounds. Globally, basketball has become one of the world's most popular sports, thanks to the Dream Team and the NBA, whose televised games in more than 100 countries have inspired young and old alike to BE LIKE MIKE. (That's Michael Jordan to the uninitiated.)
ADVERTISEMENT - CONTINUE READING BELOW ↓
And that is why we give credit to countries like the Dominican Republic and Angola, two of the teams that beat the Philippines in the World Cup. They, like many countries which languished in the fringes of world basketball and worked for a long time for respectability, have gone on to gain recognition, thanks to proper coaching, adequate training, good nutrition. Add personal desire and patriotic motivation to that package and you have the teams that beat the Philippines on home soil.
Granted that the Philippine team may have those prerequisites themselves, we don't seem to have other stuff that they've got: height, speed, big bodies. Maybe it's all about genetics?
Have we ever considered that basketball may not be a game for Filipinos? This idea was floated long ago, this is not the first time, but what's wrong with considering the idea again?
We can have all the basketball we want in our neighborhood, in clubs, in schools, in colleges, and in barangays everywhere in the country. But no matter how much we have always adored this sport, we can't seem to shine internationally. We can't even win the Asian Games and our SEA Games dominance is under siege.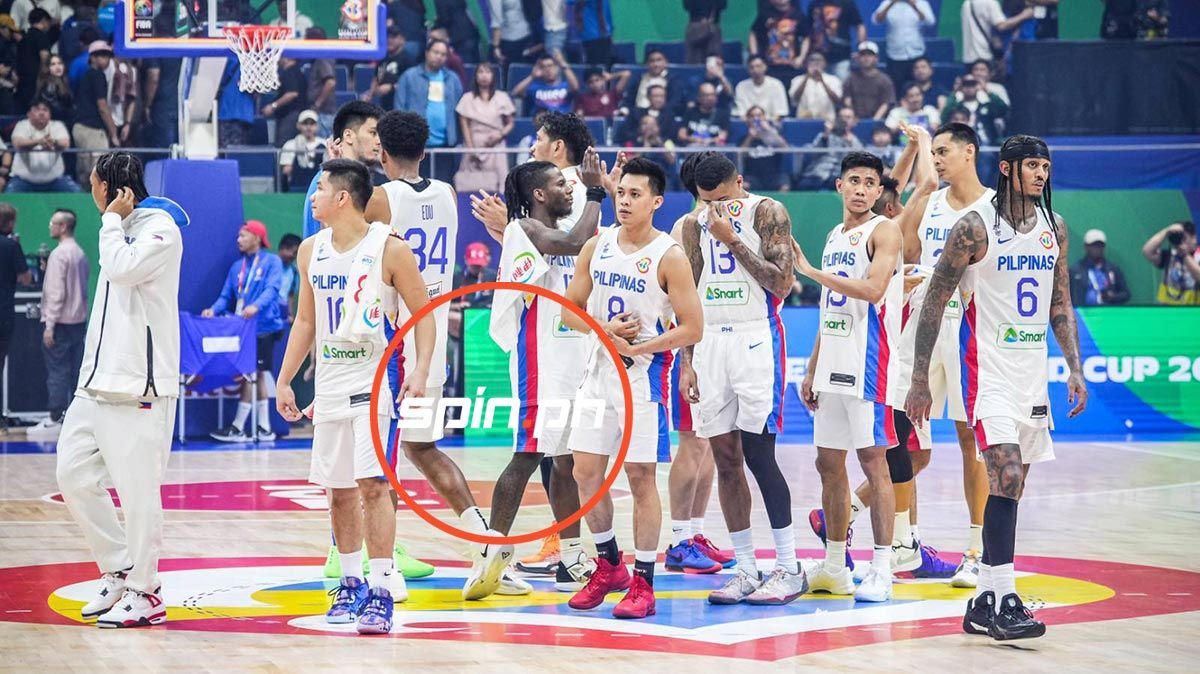 We have our PBA, our NCAA and UAAP, and all the minor sponsored tournaments. We can fill our stadiums and coliseums and gyms. But this does not take away from the reality that, in the world of basketball, we are Lilliputians. Yes, we can set the record for attendance in a FIBA World Cup game, but I'd exchange that for win in a World Cup game anytime.
ADVERTISEMENT - CONTINUE READING BELOW ↓
Take the current FIBA World Cup. The Philippine team's average height compares favorably with that of the other teams in our bracket (about 6-5). Credit that largely to Kai Sotto (7-3), AJ Edu (6-11), Japeth Aguilar (6-10), and JuneMar Fajardo (6-10), who count only 4 of 12 players whose height gives the team a fighting chance. However, their skill, speed, and build do not measure up to their opponents' bigs, and their rivals' guards are likewise swifter and wiser, leaving the national team still gravely disadvantaged.
What we are built for are sports like football, gymnastics, track and field, weightlifting, boxing, swimming, and many more. Look at the wiry Africans winning long-distance running, small wonders like Simone Biles in gymnastics, Lionel Messi in football, and other athletes who shine using gut, desire, and perseverance in place of height and built.
Actually, we don't have to look far. We should be inspired by our own already proven sports heroes: Hidelyn Diaz in weightlifting, Ernest Obiena in pole vault, and Carlos Yulo in gymnastics.
ADVERTISEMENT - CONTINUE READING BELOW ↓
Then think of the P1,000,000,000.00 — yes, one billion — that the government so quickly handed over to organizers of the FIBA World Cup. Think of what that money could have done for Philippine sports, not just basketball, but for all sports! Or, even this: think of how many schools, health centers, roads and bridges that P1 billion could have built, but that's another story.
So, let's be kinder to Coach Chot. I am betting no one wants to win more badly than he does. I also bet that we can put Steve Kerr or Gregg Popovich or Erik Spoelstra as Gilas coach and the team will still find it hard to win.
Surely, no one is forgetting that we were once Asia's basketball kings and that in a past World Cup, we placed third. Maybe we can be Asia's best again, or a respected global force, if we heed the advice of PBA coaching guru Yeng Guiao to change tactics, advance basketball knowledge, up the ante on coaching standards, learn from mistakes and modernize our game's techniques, and get a serious, funded basketball youth development program going.
ADVERTISEMENT - CONTINUE READING BELOW ↓
It's not the coach, folks!
Get more of the latest sports news & updates on SPIN.ph