HE may be focused now on his role as TV5 president and its recent partnership with ESPN, but don't think for a moment that Chot Reyes is neglecting his duty as coach of the Philippine men's basketball team.
Even if it's a job he's been doing for free.
When Reyes announced on Twitter that Gilas Pilipinas' training camp for the World Cup qualifiers will resume on November 3, a fan replied that he should make a sacrifice and step aside for a change from what the fan implied was an already predictable dribble-drive system.
Reyes replied that he had already retired from coaching, only to get an offer from Manny V. Pagnilinan to coach the country's national team again - an offer which Reyes said he will never turn down, even if it means serving without pay and with "no contract to this day."
Asked if MVP didn't offer him compensation, Reyes reiterated he's coaching pro bono for "the love of the country."
"Wala kaming usapan (ni MVP), ni walang nga akong kontrata," Reyes said after the press launch of ESPN5. "I can be fired anytime, but I can also resign anytime."
"For us, this is a labor of love," he added. "If they give me something down the road – maybe if we achieve something, maybe we'll get something – like nag-silver nung Fiba Asia 2013, we got something there. But other than that, there are no promises."
Continue reading below ↓
Recommended Videos
Asked what keeps him motivated to take on a high-profile job that entails plenty of pressure and not much compensation, Reyes said it's simply because of his love for the country.
"Yun nga tinatanong nga mga tao, pati asawa ko eh, but realistically, how can I turn my back on the country?" Reyes said. "We preach serving the country, serving flag, and all that, and then tayo ang unang aano dun?"
"I must admit, it's very, very difficult," the 54-year-old mentor, who has let his white hair grow recently, was quick to add. "It's very stressful. We get a lot of negative feedback."
"But name me one coach who will do this for free," he continued. "There's a lot of great coaches in the Philippines, but….So yun lang. for me, this is my service to the country and that service means I'm not going to ask for anything."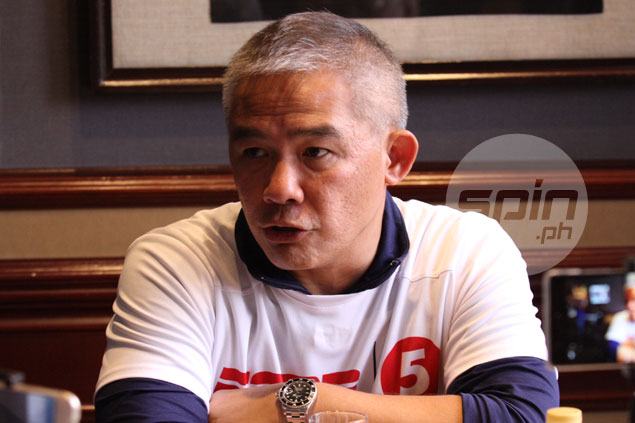 The five-time PBA Coach of the Year awardee also stood behind his proven dribble-drive system, but added he is open to making changes if given more time to prepare.
"People were telling me laspag, lamog na yung sistema – eh bakit natin tinalo yung China, 'di ba?" Reyes said, citing the breakthrough Gilas win over the Chinese in the last Fiba Asia Cup in Lebanon.
"When we went to China (for the Fiba Asia Champions Cup), we played the national team of Kazakhstan with two imports, and we brought what? Nobodies essentially, and we beat them. So what more if we have more time to prepare?"
"Bigyan niyo ako ng isang buwan, we'll see how good we are in breaking the zone," he added. "But with one-week preparation? Wala. How can you expect any system…"
"You can't do that if you have one-week preparation, even two weeks," he added. "So tayo, we just rely really on instinct and inspiration; yun lang talaga – abilidad lang talaga."