LA Salle big man Abu Tratter not only made the Gilas Pilipinas pool for the second window of the 2019 Fiba World Cup qualifiers, but he was also named to the 12-man lineup for the match against powerhouse Australia on Thursday.
But that could've easily been Robert Bolick or CJ Perez.
On Wednesday, national coach Chot Reyes revealed that he also considered bringing in the high-flying Perez or Bolick to the team that went Down Under to take on the world's No. 10-ranked basketball team on Thursday in Melbourne.
However, both Perez and Bolick became unavailable after San Beda and Lyceum both made the finals of the PCCL. Bolick also suffered an injury that ruled him out of the final which the Pirates won.
Tratter, Bolick, and Perez were all members of the 23-man Gilas training pool put together with the 2023 Fiba World Cup in mind.
"When we put this program together, aside from Abu, we had Robert Bolick and CJ Perez as well in the pool. And they would've come here except that Bolick injured himself and then Cj Perez, (Lyceum) went to the finals of the PCCL which ended last Thursday.
"So the only time he could join us for practice was Friday and it was just too late for him to be able to catch up with everything that we were doing."
Reyes said the plan is to slowly integrate members of the training pool into the senior team, the reason he also looked at Ateneo standouts Thirdy Ravena, Matt Nieto, and Isaac Go.
ADVERTISEMENT - CONTINUE READING BELOW ↓
All three were unavailable due to school commitments.
"When we announced the 23 for 23 pool, the plan was really to integrate a lot of those guys into the senior team. We took a long hard look, we really wanted to bring Isaac Go and Matt Nieto, and even Thirdy Ravena, but you know a lot of the guys are in school, or some of them played in the PCCL," he said.
"There were others also who we were considering but they were either playing in the D-League or some other tournament and they couldn't commit a hundred percent as well to coming to practice.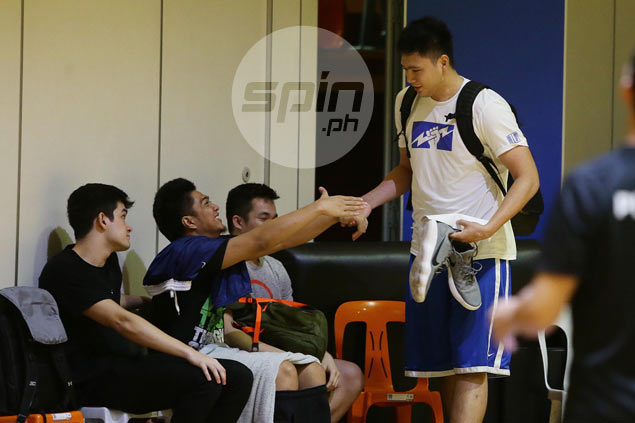 "That's why we ended up with the kind of, also that we brought here, and we just brought 14 guys, we always want to bring 15 guys but you know, ganun talaga, kulang for one reason or the other circumstances where just too difficult.
"That's why you know that's the kind of lineup that we are ending up with here in Melbourne."