THEY are referred to as 'imports' during Gilas Pilipinas' practices for the second window of the FIBA World Cup qualifiers. They're the ones responsible for providing defensive drills against the national team.
Chibueze Ikeh doesn't mind the tag, saying he considers it a great honor to be able to help Gilas prepare for a big tournament such as the world basketball championships.
"It's a big privilege to be called by the Gilas team. It's an awesome experience, a good opportunity to be able to practice with them. I really appreciate it," said the Cameroonian big man from Ateneo.
For three weeks before its departure for Melbourne on Monday afternoon, Gilas played against a band of foreign college players led by Ikeh and Ola Adeogun who were brought to camp specifically to simulate the way the tall and physical Boomers play.
Based on the many times they went up against the team, there was no doubt in Ikeh's mind the Filipinos could give their highly-favored opponents from Down Under a good run for their money.
ADVERTISEMENT - CONTINUE READING BELOW ↓
"They're pretty good, they're in pretty good shape. So I know they're gonna be a tough (contender)," said Ikeh, who had his last practice against Gilas on Sunday night at the Upper Deck gym.
The 6-foot-8 Ikeh was part of the Ateneo Blue Eagles team that won the UAAP men's basketball championship last year against rival De La Salle. He got invited to become part of the team that scrimmaged against Gilas in practice through national team deputy Ryan Betia.
It was the first time he played under coach Chot Reyes, who he said, 'kept telling me what to do.'
"We came over to specifically help them in their defensive drills," he pointed out.
Ikeh singled out big men June Mar Fajardo and Japeth Aguilar as among the two who impressed him out of the 16-man Gilas training pool.
"Yes, June Mar and Japeth," he said. "The others, I didn't know their names, but I've been watching them play in the PBA. Of course, playing against them help improve my game and my skills."
ADVERTISEMENT - CONTINUE READING BELOW ↓
"Playing against my idols is really a great experience for me and I'm really grateful for the opportunity. Being able to step on the same court with them is an honor."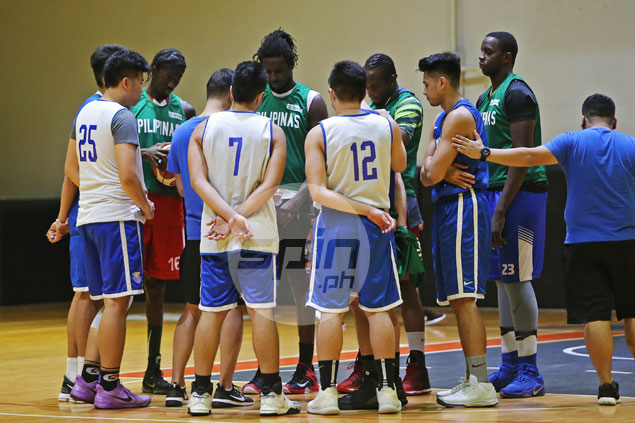 Ikeh is bent on finishing his studies and doesn't mind settling in the country for good.
He doesn't know whether their services will still be needed by Gilas as it gets ready in the future windows of the World Cup qualifiers. But just the same, he's always available when needed by the team.
ADVERTISEMENT - CONTINUE READING BELOW ↓
"I'll be ready when the opportunity presents itself again," said Ikeh.